International journal of endocrinology Том 14, №4, 2018
Role of genetic factors in the development of diabetic distal symmetric polyneuropathy (review of literature and own researches)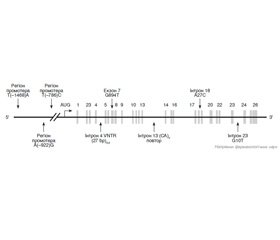 Authors:

Зорій І.А., Пашковська Н.В.
Вищий державний навчальний заклад України «Буковинський державний медичний університет», м. Чернівці, Україна



Categories:

Endocrinology



Sections:

Specialist manual
Summary
У статті подані дані огляду літератури та власні спостереження з питання вивчення ролі генетичних чинників у ризику розвитку та прогресування тяжких ускладнень діабетичної дистальної симетричної полінейропатії. Встановлено, що у хворих із дистальною симетричною полінейропатією на тлі цукрового діабету типу 2 відзначається асоціація гомозиготного генотипу ТТ поліморфізму G894T гена ендотеліальної NO-синтази з вірогідно вираженими ознаками суб'єктивної симптоматики, наявністю аксонального ураження моторних нервів за електронейроміографічними параметрами, із зростанням рівня глікованого гемоглобіну, а також зі збільшенням вмісту продуктів пероксидного окиснення ліпідів.
В статье представлены данные обзора литературы и собственные наблюдения по вопросу изучения роли генетических факторов в риске развития и прогрессирования тяжелых осложнений диабетической дистальной симметрической полинейропатии. Обнаружено, что у больных с дистальной симметрической полинейропатией на фоне сахарного диабета типа 2 имеет место ассоциация гомозиготного генотипа ТТ полиморфизма G894T гена эндотелиальной NO-синтазы с достоверно выраженными признаками субъективной симптоматики, наличием аксонального поражения моторных нервов по электронейромиографическим признакам, с увеличением уровня гликозилированного гемоглобина, а также с повышением содержания продуктов перекисного окисления липидов.
The article presents data of the literature review and own observations on studying the role of genetic factors in the risk of development and progression of severe complications of diabetic distal symmetric polyneuropathy. It was found that in patients with non-insulin-dependent (type 2) diabetes mellitus complicated by distal symmetric polyneuropathy, there is an association between the homozygous ТТ genotype of endothelial nitric oxide synthase gene G894T polymorphism and significant subjective symptoms, the presence of axonal lesion of motor nerves according to electroneuromyography, with an increase in the level of glycated hemoglobin, and also in the content of lipid peroxidation products.
Keywords
цукровий діабет типу 2; дистальна симетрична полінейропатія; генетичі чинники; поліморфізм G894T гена ендотеліальної NO-синтази; огляд
сахарный диабет типа 2; дистальная симметрическая полинейропатия; генетические факторы; полиморфизм G894T гена эндотелиальной NO-синтазы; обзор
diabetes mellitus type 2; distal symmetric polyneuropathy; genetic factors; endothelial nitric oxide synthase gene G894T polymorphism; review
For the full article you need to subscribe to the magazine.
Bibliography
1. Wilson N., Wright D. Inflammatory mediators in diabetic neuropathy // J. Diabetes. 2011; S5: 004.10.4172/2155-6156.S5-004.
2. Tesfaye S., Boulton A.J.M., Dyck P.J., Freeman R., Horo–witz M., Kempler P. et al. Diabetic neuropathies: update on definitions, diagnostic criteria, estimation of severity, and treatments // Diabetes Care. 2010; 33(10): 2285-93. 10.2337/dc10-1303.
3. Vinik A.I., Maser R.E., Ziegler D. Neuropathy: the crystal ball for cardiovascular disease? // Diabetes Care. 2010; 33(7): 1688-90. 10.2337/dc10-0745.
4. Ciccacci C., Di Fusco D., Cacciotti L., Morganti R., D'Amato C., Novelli G. et al. TCF7L2 gene polymorphisms and type 2 diabetes: association with diabetic retinopathy and cardiovascular autonomic neuropathy // Acta Diabetol. 2013; 50(5): 789-99. 10.1007/s00592-012-0418-x.
5. Osztovits J., Horváth T., Littvay L., Steinbach R., Jermendy A., Tárnoki A. et al. Effects of genetic vs. environmental factors on cardiovascular autonomic function: a twin study // Diabet. Med. 2011; 28: 1241-8. 10.1111/j.1464-5491.2011.03363.x.
6. Basile K.J., Johnson M.E., Xia Q., Grant S.F. Genetic susceptibility to type 2 diabetes and obesity: follow-up of findings from genome-wide association studies // Int. J. Endocrinol. 2014; 2014: 769671. 10.1155/2014/769671.
7. Dimitropoulos G., Tahrani A.A., Stevens M.J. Cardiac autonomic neuropathy in patients with diabetes mellitus // World J. Diabetes. 2014; 5(1): 17-39. 10.4239/wjd.v5.i1.17.
8. Kota S., Meher L., Jammula S., Modi K. Diabetic periphe–ral neuropathy-recent trends and future perspectives in management // Int. J. Clin. Cases Investig. 2012; 4(2): 44-59.
9. Tesfaye S., Selvarajah D. Advances in the epidemiology, pathogenesis and management of diabetic peripheral neuropathy // Diabetes Metab. Res. Rev. 2012; 28(1): 8-14. 10.1002/dmrr.2239.
10. A polymorphism (T894G) in eNOS increases the risk of coronary atherosclerosis rather than intracranial atherosclerosis in Koreans. B.W. Min, J.Y. Na, S.W. Juhng et al. // Acta Neuro–logy. 2010; 5: 255-262.
11. Analysis of nitrate, nitrite and [15N] nitrate in biological fluids. L.C. Green et al. // Analyt. Biochem. 1982; 126: 131-138.
12. Association between the endothelial nitric oxide synthase gene glu298asp polymorphism and coronary heart disease: A metaanalysis of 39 casecontrol studies. G.X. Tian, X.T. Zeng, X.B. Wang et al. // Mol. Med. Rep. 2013; 7: 1310-1318.
13. Association of eNOS Gene Polymorphisms T-786C and G894T With Blood Pressure Variability in Man. M. Jíra, E. Závodná, N. Honzíková et al. // Physiol. Res. 2011; 60: 193-197.
14. Association of gene with diabetic polyneuropathy in Russian patients with type 1 diabetes / V.V. Nosikov, I.A. Strokov, A.G. Nikitin, A.M. Burdennyy, Z.S. Albekova, G.A. Melnichenko // 20th Annual Meeting of Diabetic Neuropathy Study Group of the EASD. — Stockholm, Sweden, 2010: 90.
15. Association of renin-angiotensin and endothelial nitric oxi–de synthase gene polymorphisms with blood pressure progression and incident hypertension: prospective cohort study / D. Conen, R.J. Glynn, J.E. Buring et. al. // Journal of Hypertension. 2008; 26: 1780-1786.
16. Association of the 894G>T polymorphism in the endothelialnitric oxide synthase gene with risk of venous thromboembolism in Chinese population / Y. Li, Z. Zhai, Y. Yang et al. // Thromb. Res. 2011; 127(4): 324-327.
17. Association of the G894T Polymorphism of the Endothelial Nitric Oxide Synthase Gene with Diabetic Foot Syndrome Foot Ulcer, Diabetic Complications, and Comorbid Vascular Diseases: A Turkish Case-Control Study / D. Corapcioglu, M. Sahin, R. Emral et al. // Genet. Test Mol. Biomarkers. 2010; 14(4): 483-488.
18. Association of the genetic polymorphisms of the ACE gene and the eNOS gene with lupus nephropathy in northern Chinese population. X. Li, J. An, R. Guo et al. // BMC Med. Genet. 2010; 11: 94-97.
19. Butugan M.K. Multichannel EMG-based estimation of fiber conduction velocity during isometric contraction of patients with different stages of diabetic neuropathy / M.K. Butugan, C.D. Sartor, R. Watari, M.C. Martins. // J. Electromyogr. Kinesiol. 2014; 24(4): 465-72.
20. Deleterious effects of silymarin on the expression of genes controlling endothelial nitric oxide synthase activity in carbon tetrachloride-treated rat livers / Y.K. Cho, J.W. Yun, J.H. Park et al. // Life Science. 2009; 7–8: 281-290.
21. Differential regulation of vascular endothelial growth factor and its receptor fms-like-tyrosine kinase is mediated by nitric oxide in rat renal mesangial cells. S. Frank, B. Stallmeyer, H. Kampfer et al. // Biochem J. 1999; 338: 367-374.
22. Dyck PJ. Detection, characterization, and staging of polyneuropathy: assessed in diabetics // Muscle Nerve. 1988; 11: 21-32.
23. Endothelial nitric oxide synthase G894T (Glu298Asp) polymorphism was predictive of glycemic status in a 5-year prospective study of Chinese subjects with impaired glucose tolerance. A.W. Tso, K.C.B. Tan, N.M.S. Wat et al. // Metabolism. 2006; 55(9): 1155-1158.
24. Endothelial nitric oxide synthase gene haplotypes and diabetic nephropathy among Asian Indians / T.S. Ahluwalia, M. Ahuja, T.S. Rai et al. // Molecular and Cellular Biochemistry. 2008; 314(1–2): 9-17.
25. Endothelial Nitric Oxide Synthase Gene Polymorphism (G894T) and Diabetes Mellitus (Type II) among South Indians. T. Angeline, H.R. Krithiga, W. Isabel et al. // Oxidative Medicine and Cellular Longevity. 2011. http://dx.doi.org/10.1155/2011/462607.
26. Endothelial nitric oxide synthase gene polymorphism and type 2 diabetic retinopathy among Asian Indians / B.S. Cheema, H.S. Kohli, R. Sharma, A. Bhansali, M. Khullar // Acta Diabetol. 2012; 49: 481-488.
27. Endothelial nitric oxide synthase genotypes in the etiology of re–tinopathy of prematurity in premature infants / K. Yanamandra, D. Napper, A. Pramanik et al. // Ophthalmic. Genetic. 2010; 4: 173-177.
28. Endothelial nitric oxide synthase polymorphism (T894G) and nonarteritic anterior ischemic optic neuropathy / S. Giannopoulos, S. Markoula, I. Asproudis et al. // Vis. Neurosci. 2010; 15: 1-3.
29. Endothelial nitric oxide synthase polymorphisms are associated with type 2 diabetes and the insulin resistance syndrome / L.D. Monti, C. Barlassina, L. Citterio et al. // Diabetes. 2003; 52(5): 1270-1275.
30. eNOS and ACE genes influence peripheral arterial di–sease predisposition in smokers / E. Sticchi, F. Sofi, I. Romagnuolo et al. // Journal of Vascular Surgery. 2010; 1: 97-102.
31. Forstermann U. Nitric oxide synthases: regulation and function / U. Forstermann, W. Sessa. // Europian Heart Journal. 2012; 33: 829-837.
32. Gene polymorphisms of superoxide dismutases and catalase in diabetes mellitus / Milan Flekac, Jan Skrha, Jirina Hilgertova et al. // BMC Medical Genetics. 2008: 1-9.
33. Genome-wide association scan for diabetic nephropathy susceptibility genes in type 1 diabetes. M.G. Pezzolesi, G.D. Poznik, J.C. Mychaleckyj et al. // Diabetes. 2009; 58: 1403-1410.
34. Heltianu C. Genetic determinants of microvascular complications in type 1 diabetes: Type 1 Diabetes Pathogenesis, Gene–tics and Immunotherapy / C. Heltianu, C. Guja, S.A. Manea // In Tech, 2011. ISBN 978-953-307-362.
35. Huizinga M. Painful Diabetic Neuropathy: A Management-Centred Review / M. Huizinga, A. Peltier // Clinical Diabetes. 2007; 25(1): 6-15.
36. Impact of the endothelial nitric oxide synthase gene g894t polymorphism on renal endothelial function in patients with type 2 diabetes / M. Ritt, C. Ott, C. Delles, M.P. Schneider, R.E. Schmieder // Pharmacogenet Genomics. 2008; 18: 699-707.
37. International Diabetes Federation (IDF). Diabetes Atlas. – 7th ed. – Vancouver, Canada, 2015.
38. Jude E.B. Effect of L-arginine on the microcirculation in the neuropathic diabetic foot in Type 2 diabetes mellitus: a double-blind, placebo-controlled study / E.B. Jude, C. Dang, A.J. Boulton // Diabet. Med. 2010; 27(1): 113-116.
39. Lack of association between Glu298Asp polymorphism of endothelial nitric oxide synthase (eNOS) gene and coronary artery disease in Tamilian population / J. Mathew, P. Narayanan, R. Sundaram et al. // Indian Heart Journal. 2008; 60(3): 223-227.
40. Marchesi C. Role of the renin-angiotensin system in vascular inflammation / C. Marchesi, P. Paradis, E.L. Schiffrin // Trends Pharmacol. Sci. 2008; 29: 367-374.
41. Nishevitha N.S. Endothelial nitric oxide synthase (eNOS) Glu298→Asp polymorphism (G894T) among South In–dians / N.S. Nishevitha, T. Angeline, N. Jeyaraj // Indian Journal of Medical Research. 2009; 129: 68-71.
42. Polymorphisms of eNOS gene are associated with diabetic nephropathy: a meta-analysis / Y. He, Z. Fan, J. Zhang et al. // Mutagenesis. 2010; 11: 234-236.
43. Poncelet A.N. Diabetic polyneuropathy: risk factors, cli–nical picture, diagnostics and treatment // International Neurological Journal. 2010; 5: 81-86.
44. Rate, affinity and calcium dependence of nitric oxide synthase isoform binding to the primary physiological regulator calmodulin / J.L. McMurry, C.A. Chrestensen, I.M. Scott et. al. // FEBS Journal. 2011; 78: 4943-4954.
45. Relationship between endothelial nitric oxide synthase gene polymorphisms and ischemic stroke: A meta-analysis / P.P. Niu, Yang G., B.K. Zheng, Z.N. Guo et al. // Acta Neurol. Scand. 2013; 128: 202-212.
46. Review article: endothelial progenitor cells in renal di–sease / M.S. Goligorsky, M.C. Kuo, D. Patschan, M.C. // Verhaar. Nephrology (Carlton). 2009; 14(3): 291-297.
47. Risk factors involved in symmetrical distal diabetic neuropathy / V.N. Gomes, S.A. Lavastatida, S.H. Rosello et al. // Rev. Neurol. 2001; 32: 806-812.
48. Shah V.N. Endothelial Nitric Oxide Synthase Gene Polymorphism and the Risk of Diabetic Neuropathy in Asian Indian Patients with Type 2 Diabetes. Viral N. Shah, Balneek Singh Cheema, Harbir Singh Kohli // J. Diabetes Metab. 2013; 4(2). http://dx.doi.org/10.4172/2155-6156.1000243.
49. Spinas G. The dual role of nitric oxide in islet beta-cells // News in Physiological Sciences. 1999; 14: 49-54.
50. The endothelial nitric oxide synthase gene and risk of diabetic nephropathy and development of cardiovascular disease in type 1 diabetes / A. Mollsten, M. Lajer, A. Jorsal, L. Tarnow // Mol. Genet. Metab. 2009; 97: 80-84.
51. The endothelial nitric oxide synthase gene is associated with coronary artery disease: a meta-analysis / J. Li, X. Wu, X. Li et al. // Cardiology. 2010; 4: 271-278.
52. Xin Y. A common variant of the eNOS gene (E298D) is an independent risk factor for left ventricular hypertrophy in human essential hypertension / Y. Xin, X. Song, H. Xue // Clinical –Science. 2009; 117: 67-73.
53. Vanhoutte PM. Arginine and arginase: endothelial NO synthase double crossed? // Circ. Res. 2008; 102: 866-868.
54. Volmer-Thole M. Neuropathy and Diabetic Foot Syndrome / M. Volmer-Thole, R. Lobmann // Int. J. Mol. Sci. 2016; 17(6). https: //doi./ 10.3390/ijms17060917.
55. Zintzaras E. Endothelial nitric oxide synthase gene polymorphisms and diabetic nephropathy: A huge review and meta-analysis / E. Zintzaras, A.A. Papathanasiou, I. Stefanidis // Genet Med. 2009; 11: 695-706.
Similar articles

Authors: Зорій І.А., Пашковська Н.В.
Вищий державний навчальний заклад України «Буковинський державний медичний університет», м. Чернівці, Україна
International journal of endocrinology Том 14, №2, 2018
Date: 2018.06.18
Categories: Endocrinology
Sections: Clinical researches



Authors:
Пархоменко А.Н., Лутай Я.М., Иркин О.И., Кожухов С.Н., Скаржевский А.А. - ННЦ «Институт кардиологии имени академика Н.Д. Стражеско» НАМН Украины, г. Киев; Досенко В.Е., Мойбенко А.А. - Институт физиологии им. А.А. Богомольца НАН Украины, г. Киев


"Emergency medicine" 3 (58) 2014
Date: 2014.06.17
Categories: Medicine of emergency, Cardiology
Sections: Clinical researches


Authors:
Voronkov L.H., Mazur I.D., Horovenko N.H., Shkurat I.A. - "National Scientific Center" Institute of Cardiology named after M.D. Strazhesko" NAMS of of Ukraine", Kiev


"Hypertension" 6 (44) 2015
Date: 2016.01.26
Categories: Cardiology
Sections: Specialist manual