"Kidneys" Том 7, №3, 2018
Пам'ятка пацієнту Профілактика розвитку хронічної хвороби нирок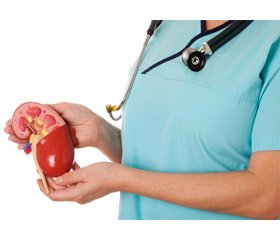 Хронічна хвороба нирок (ХХН) зустрічається в 10–12 % населення, а у віковій групі старше 60 років може сягати 25–35 %. З урахуванням ризиків можливого розвитку ХХН існують профілактичні засоби, що зменшують імовірність виникнення та прогресування ХХН. До них належать такі:
1. Вимірюйте артеріальний тиск при кожному візиті до лікаря та не менше 1 разу на місяць, якщо у вас немає підвищеного тиску, та щонайменше 1 раз на добу, якщо страждаєте від гіпертензії.
2. Підтримуйте систолічний тиск менше за 130 мм рт.ст. та діастолічний менше за 80 мм рт.ст. будь-якими немедикаментозними та лікарськими засобами.
3. Якщо у вас наявна ...
For the full article you need to subscribe to the magazine.
Similar articles