International journal of endocrinology Том 14, №5, 2018
Epidemiology and socio-economic features of myocardial infarction and stroke in patients with type 2 diabetes mellitus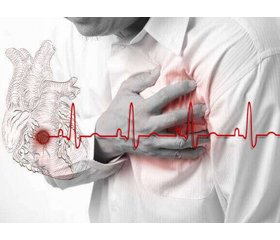 Authors:

Крушинська З.Г., Юзвенко Т.Ю., Паньків В.І.
Український науково-практичний центр ендокринної хірургії, трансплантації ендокринних органів і тканин МОЗ України, м. Київ, Україна



Categories:

Endocrinology



Sections:

Clinical researches
Summary
Мета. Вивчення епідеміологічних та соціально-економічних особливостей інфаркту міокарда (ІМ) та інсульту у хворих на цукровий діабет (ЦД) 2-го типу. Матеріали та методи. Пацієнти були розподілені на 3 групи: першу групу становили всі хворі на ЦД, які взяли участь у дослідженні (n = 1999), другу групу — хворі (n = 201) на ЦД із першої групи з ІМ, третю групу — хворі на ЦД із першої групи з інсультом (n = 155). Результати. Встановлено суттєві відмінності між частотою ЦД і частотою ІМ та інсульту у цих хворих залежно від статі пацієнта. Середній вік хворих на ЦД з ІМ та інсультом вище порівняно із загальною популяцією хворих на ЦД. Переважну більшість пацієнтів становлять соціально не захищені верстви населення, які не мають фінансової змоги отримувати медичну допомогу, зокрема терапію, адекватну їх стану, наявним ускладненням і супутній патології. Висновки. Повторний ІМ зареєстровано у 3 % хворих на ЦД, більше ніж утричі частіше за повторний ІМ траплявся повторний інсульт (9,7 %), при цьому вдвічі частіше — у жінок (12,2 проти 6,2 % у чоловіків). Частка хворих на ІМ серед хворих на інсульт удвічі вища за аналогічний показник серед усіх хворих на ЦД (20,7 та 10,1 % відповідно).
Цель. Установить эпидемиологические и социально-экономические особенности инфаркта миокарда (ИМ) и инсульта у больных сахарным диабетом (СД) 2-го типа. Материалы и методы. Пациенты были распределены на 3 группы: первую группу составили все больные СД, которые участвовали в исследовании (n = 1999), вторую группу — больные (n = 201) СД из первой группы с ИМ, третью группу — больные СД из первой группы с инсультом (n = 155). Результаты. Установлены существенные отличия между частотой СД и частотой ИМ и инсульта у этих больных в зависимости от пола пациента. Средний возраст больных СД с ИМ и инсультом выше в сравнении с общей популяцией больных СД. Подавляющее большинство пациентов представляют социально не защищенные слои населения, которые не имеют финансовой возможности получать медицинскую помощь, в частности терапию, адекватную их состоянию, имеющимся осложнениям и сопутствующей патологии. Выводы. Повторный ИМ зарегистрирован у 3 % больных СД, более чем в 3 раза чаще, чем повторный ИМ, встречался повторный инсульт (9,7 %), при этом в 2 раза чаще — у женщин (12,2 против 6,2 % у мужчин). Удельный вес больных с ИМ среди больных инсультом в 2 раза выше аналогичного показателя среди всех больных СД (20,7 и 10,1 % соответственно).
Background. The purpose was to study epidemiology and socio-economic features of myocardial infarction (МI) and stroke in patients with the type 2 diabetes mellitus (DM). Materials and methods. Patients were divided into 3 groups: first group consisted of all patients with type 2 DM included in the research (n = 1,999), second group — of patients (n = 201) with DM from the first group with МI, third group were patients with DM from the first group with stroke (n = 155). Results. Significant differences were established between the incidence of DM and the incidence of МI and stroke depending on the sex of patients. The average age of DM patients with МI and stroke was higher as compared to the general population of DM patients. Majority of patients was presented by the socially vulnerable people, who do not have the financial opportunity to get medical care, in particular therapy adequate for their state, present complications and concomitant pathology. Conclusions. Repeated МI was registered in 3 % of patients with DM; more than three times often, the recurrent stroke (9.7 %) occurred, more often among women (12.2 vs 6.2 % in men). A proportion of patients with МI among those with stroke is 2 times greater than the same index among all patients with DM (20.7 and 10.1 %, respectively).
Keywords
цукровий діабет 2-го типу; інфаркт міокарда; інсульт
сахарный диабет 2-го типа; инфаркт миокарда, инсульт
type 2 diabetes mellitus; myocardial infarction; stroke
For the full article you need to subscribe to the magazine.
Bibliography
1. International Diabetes Federation. IDF Diabetes Atlas. — 8th ed. — Brussels: IDF, 2017.
2. Introduction: Standards of Medical Care in Diabetes — 2018 // Diabetes Care. — 2018. — Vol. 41(Suppl. 1). — P. 1-2. — doi: 10.2337/dc18-Sint01.
3. Zheng Y., Ley S.H., Hu F.B. Global aetiology and epidemiology of type 2 diabetes mellitus and its complications // Nat. Rev. Endocrinol. — 2018. — Vol. 14(2). — P. 88-98. — doi: 10.1038/nrendo.2017.151.
4. Guariguata L., Whiting D.R., Hambleton I. et al. Global estimates of diabetes prevalence for 2013 and projections for 2035 // Diabetes Res. Clin. Pract. — 2014. — Vol. 103. — P. 137-49. 10.1016/j.diabres.2013.11.002.
5. Low W.C.C., Hess C.N., Goldfine A.B. Clinical update: cardiovascular disease in diabetes mellitus: atherosclerotic cardiovascular disease and heart failure in type 2 diabetes mellitus — mechanisms, management, and clinical considerations // Circulation. — 2016. — Vol. 133. 24.10.1161/CIRCULATIONAHA.116.022194.
6. Benjamin E.J., Blaha M.J., Chiuve S.E. et al. Heart di–sease and stroke statistics-2017 update: a report from the American Heart Association // Circulation. — 2017. — Vol. 135. — P. 146-603. 10.1161/CIR.0000000000000485.
7. Collaboration Emerging Risk Factors. Diabetes mellitus, fasting blood glucose concentration, and risk of vascular disease: a collaborative meta-analysis of 102 prospective studies // Lancet. — 2010. — Vol. 375(9733). — P. 2215-2222. — doi: 10.1016/S0140-6736(10)60484-9.
8. D'Agostino R.B., Hamman R.F., Karter A.J. et al. Insulin Resistance Atherosclerosis Study I. Cardiovascular disease risk factors predict the development of type 2 diabetes: the insulin resistance atherosclerosis study // Diabetes Care. — 2004. — Vol. 27(9). — P. 2234-2240. — doi: 10.2337/dia-care.27.9.2234.
9. Odegaard A.O., Jacobs D.R., Sanchez O.A. et al. Oxidative stress, inflammation, endothelial dysfunction and incidence of type 2 diabetes // Cardiovasc. Diabetol. — 2016. — Vol. 15. — P. 51. — doi: 10.1186/s12933-016-0369-6.
10. Shu L., Chan K.H.K., Zhang G. et al. Shared genetic regulatory networks for cardiovascular disease and type 2 diabetes in multiple populations of diverse ethnicities in the United States // PLoS Genet. — 2017. — Vol. 13(9). — P. 1007040. — doi: 10.1371/journal.pgen.1007040.
11. Alberti K.G., Eckel R.H., Grundy S.M. et al. Harmonizing the metabolic syndrome: a joint interim statement of the International Diabetes Federation Task Force on Epidemiology and Prevention; National Heart, Lung, and Blood Institute; American Heart Association; World Heart Federation; International Atherosclerosis Society; and International Association for the Study of Obesity // Circulation. — 2009. — Vol. 120(16). — P. 1640–1645. — doi: 10.1161/CIRCULATIONAHA.
109.192644.
Similar articles

Authors: Крушинська З.Г., Юзвенко Т.Ю., Паньків В.І.
Український науково-практичний центр ендокринної хірургії, трансплантації ендокринних органів і тканин МОЗ України, м. Київ, Україна
International journal of endocrinology Том 14, №6, 2018
Date: 2018.11.20
Categories: Endocrinology
Sections: Clinical researches


Authors:
Радченко Г.Д., Салащева Т.Г., Сіренко Ю.М., Муштенко Л.О. — ДУ ННЦ «Інститут кардіології імені академіка М.Д. Стражеска» НАМН України, м. Київ


"Hypertension" 6 (38) 2014
Date: 2015.02.26
Categories: Cardiology
Sections: Clinical researches


Authors:
Сіренко Ю.М., Радченко Г.Д., Поліщук С.А., Сідоренко П.І. — ДУ «ННЦ «Інститут кардіології ім. акад. М.Д. Стражеска» НАМН України, м. Київ


"Hypertension" 2 (40) 2015
Date: 2015.07.07
Categories: Cardiology
Sections: Clinical researches


Authors: Мушегян М.М., Літовченко Т.А., Войтюк А.О.
Харківська медична академія післядипломної освіти, м. Харків, Україна
International neurological journal №4 (106), 2019
Date: 2019.08.06
Categories: Neurology
Sections: Clinical researches