International journal of endocrinology Том 14, №5, 2018
Therapeutic 'masks' of hypothyroidism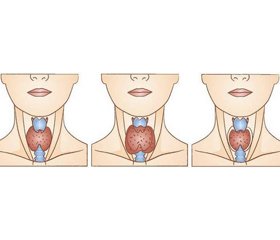 Authors:

Вернигородский В.С., Власенко М.В., Паламарчук А.В., Нежинская-Остапенко З.П., Литвинова С.В., Вильчинская Н.В., Шкаровская С.В.
Винницкий национальный медицинский университет им. Н.И. Пирогова, г. Винница, Украина
Винницкий областной клинический специализированный эндокринологический центр, г. Винница, Украина



Categories:

Endocrinology



Sections:

Specialist manual
Summary
У статті наведені дані про різні клінічні варіанти перебігу гіпотиреозу. Автори акцентували увагу на те, що в інтересах ранньої та вірогідної діагностики не слід обмежуватися уявленнями про типову клінічну картину гіпотиреозу, описану в підручниках, оскільки гіпофункція щитоподібної залози все частіше проявляється атиповими, субклінічними формами. Особ­ливо це стосується гіпотиреозу у літніх людей, який трапляється значно частіше, ніж у осіб молодого віку, і його прояви нерідко вислизають серед симптомів інших захворювань або сприймаються як звичайні ознаки старіння. Наводяться два клінічних випадки, що перебігали під різними терапевтичними масками гіпотиреозу.
В статье приведены данные о различных клинических вариантах течения гипотиреоза. Авторы акцентировали внимание на том, что в интересах ранней и достоверной диагностики не следует ограничиваться представлениями о типичной клинической картине гипотиреоза, описанной в учебниках, поскольку гипофункция щитовидной железы все чаще проявляется атипичными, субклиническими формами. Особенно это касается гипотиреоза у пожилых людей, который встречается значительно чаще, чем у лиц молодого возраста, и его проявления нередко ускользают среди симптомов других заболеваний или воспринимаются как обычные признаки старения. Приводятся два клинических случая, которые протекали под различными терапевтическими масками гипотиреоза.
The article deals with the data on various clinical variants of hypothyroidism course. The authors emphasized that establishing early and reliable diagnosis suggests no limitations in ideas about the typical clinical picture of hypothyroidism described in the textbooks, since thyroid hypofunction increasingly manifests by atypical, subclinical forms. This is especially true of hypothyroidism in the elderly, which occurs much more often than in young people, and its manifestations often slip out among the symptoms of other diseases or are perceived as common signs of aging. The article presents two clinical cases with various therapeutic masks of hypothyroidism.
Keywords
гіпотиреоз; діагностика; терапевтичні маски; клінічні варіанти
гипотиреоз; диагностика; терапевтические маски; клинические варианты
hypothyroidism; diagnostics; therapeutic masks; clinical variants
For the full article you need to subscribe to the magazine.
Bibliography
1. Taylor P.N., Albrecht D., Scholz A. et al. Global epidemio–logy of hyperthyroidism and hypothyroidism // Nat. Rev. Endocrinol. — 2018. — Vol. 14(5). — P. 301-316. — doi: 10.1038/nrendo.2018.18.
2. Паньків В.І. Рівень тиреотропного гормона в крові як основний діагностичний маркер і критерій успішності лікування захворювань щитоподібної залози / В.І. Паньків // Репродуктивна ендокринологія. — 2017. — № 3(35). — С. 84-88.
3. Пашковська Н.В. Лікування гіпотиреозу згідно із сучасними клінічними настановами // Міжнародний ендокринологічний журнал. — 2016. — № 6(78). — С. 48-58. — doi: 10.22141/2224 0721.6.78.2016.81860.
4. Qari F. Hypothyroidism in Clinical Practice // J. Fa–mily Med. Prim. Care. — 2014. — Vol. 3(2). — P. 98-101. — doi: 10.4103/2249-4863.137609.
5. Krysicki M., Jaworska M., Popowicz B. et al. The incidence of hypothyroidism symptoms and risk factors for cardiovascular events in subclinical hypothyroidism // Pol. Merkur Lekarski. — 2014. — Vol. 37(217). — P. 10-16.
6. Древаль А.В. Гипотиреоз // 100 избранных лекций по эндокринологии (второй выпуск) / Под ред. Ю.И. Караченцева, А.В. Казакова, Н.А. Кравчун, И.Ю. Ильиной. — Харьков: С.А.М., 2014. — 1000 с.
7. Паньків І.В. Вплив призначення вітаміну D на рівень антитіл до тиреоїдної пероксидази у хворих на гіпотиреоз автоімунного ґенезу / І.В. Паньків // Міжнародний ендокринологічний журнал. — 2016. — № 5. — С. 78-82.
Similar articles

Authors:
Вернигородский В.С., Власенко М.В., Паламарчук А.В., Нежинская-Остапенко З.П., Литвинова С.В., Вильчинская Н.В., Шкаровская С.В. Винницкий национальный медицинский университет им. Н.И. Пирогова, г. Винница, Украина Винницкий областной клинический специализированный эндокринологический центр, г. Винница, Украина


"News of medicine and pharmacy" №14 (674), 2018
Date: 2018.11.29
Categories: Endocrinology
Sections: Specialist manual