"News of medicine and pharmacy" №12 (667), 2018
Поздравляем с юбилеем!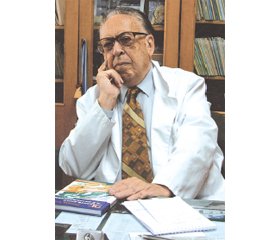 11 ноября 2018 года исполняется 95 лет знаменитому ученому-гигиенисту, доктору медицинских наук, профессору, академику НАМН Украины, член-корреспонденту НАН Украины, заслуженному деятелю науки и техники Украины (1994), лауреату Государственной премии Украины (2002), премии имени А.А. Богомольца, премий НАМН по профилактической и теоретической медицине, руководителю отдела промышленной токсикологии и гигиены труда при использовании химических веществ Института медицины труда АМН Украины Исааку Михайловичу Трахтенбеaргу.
В этом году мы отмечаем и 70-летие научной деятельности юбиляра. Исаак Михайлович — автор более 400 научных работ, посвященных общим и частным проблемам токсикологии, гигиены и медицинской экологии, из них 25 монографий, учебников, справочников. Значителен вклад ученого и в ...
For the full article you need to subscribe to the magazine.