"Emergency medicine" №6(93), 2018
The use of prolonged epidural anesthesia in the perioperative period of major liver resections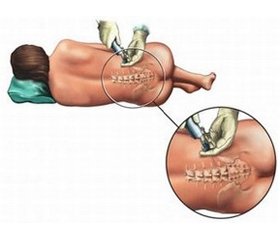 Authors:

Черній В.І.(1), Колганова К.А.(2), Фрейгофер М.В.(3)
(1) — Державна наукова установа «Науково-практичний центр профілактичної та клінічної медицини» Державного управління справами, м. Київ, Україна
(2) — Державний заклад «Дніпропетровська медична академія Міністерства охорони здоров'я України», м. Дніпро, Україна
(3) — Комунальний заклад «Клінічний онкологічний диспансер Дніпропетровської обласної ради», м. Дніпро, Україна



Categories:

Medicine of emergency



Sections:

Clinical researches
Summary
Використано та проаналізовано оптимізовану схему мультимодальної аналгезії в 121 пацієнта в періопераційному періоді великих резекцій печінки з приводу новоутворень. Пацієнти розподілені на 3 групи залежно від методики анестезіологічного забезпечення: загальна, комбінована загальна й епідуральна анестезія. Для оцінки адекватності цієї методики застосований аналіз параметрів центральної гемодинаміки, варіаційної пульсометрії, сироваткових концентрацій кортизолу, глюкози, ступеня вираженості післяопераційного болю, частоти післяопераційних ускладнень. Установлено, що максимально ефективною та безпечною для пацієнтів є схема комбінованої низькопоточної інгаляційної анестезії з епідуральною аналгезією завдяки оптимальним гемодинамічним показникам, мінімальним рівням стресових маркерів та післяопераційного болю, зменшенню частоти ускладнень.
Использована и проанализирована схема мультимодальной аналгезии у 121 пациента в периоперационном периоде обширных резекций печени. Пациенты распределены на 3 группы в зависимости от методики анестезиологического обеспечения: общая, комбинированная общая и эпидуральная анестезия. Для оценки адекватности этой методики использован анализ параметров центральной гемодинамики, вариационной пульсометрии, сывороточных концентраций кортизола, глюкозы, степени выраженности послеоперационной боли, частоты послеоперационных осложнений. Установлено, что максимально эффективной и безопасной для пациентов является схема комбинированной низкопоточной ингаляционной анестезии с эпидуральной аналгезией благодаря оптимальным гемодинамическим показателям, минимальным уровням стрессовых маркеров и послеоперационной боли, уменьшению частоты осложнений.
Background. Major liver resections are the gold standard of medical care for patients with hepatocellular carcinoma. Such surgical procedure are traumatizing and cause massive nociceptive stimulation, intraoperative bleeding, total hypothermia. This requires using effective analgesic techniques and quality anesthesia control at all stages of anesthesia. The objective of the work was to improve the efficiency of anesthesia and to assess the adequacy of anesthesia during major liver resections in surgical oncology. Materials and methods. 121 patients scheduled for liver resections were enrolled in the clinical prospective randomized cohort study. All patients were randomized to one of three groups depending on the anesthesia and postoperative analgesia regimen. The groups were matched for age, sex, diagnosis, anthropometric indicators, nature and duration of operative intervention. The first group of patients (n = 41) underwent general anesthesia (total intravenous anesthesia (TIVA) with propofol and fentanyl) and opioid-based postoperative analgesia (morphine). The second group (n = 40) received thoracic epidural anesthesia (bupivacaine, no opioids) with TIVA (using propofol and fentanyl). The low-flow volatile regimen with sevoflurane combined with prolonged thoracic epidural bupivacaine analgesia was administered to the third group of patients (n = 40). Thromboprophylaxis with anticoagulants (bemiparin and enoxaparin) was started the day before liver resection and lasted for 10–14 days. The comparative analysis of efficacy and safety of described regimens has been made with important indicators of central hemodynamics, cardiac rhythm variability, serum cortisol concentration, glycemia, postoperative morbidity, clinical indicators of postoperative recovery period. Duration of mandatory mechanical ventilation, pain intensity by visual analog scale (VAS), level of sedation by the Richmond agitation-sedation scale (RASS), the duration of postoperative ileus, length of hospital stay, the incidence of complications were registered in the early postoperative period. Analyzing the research results, methods of biostatistics were used. Results. Initial parameters of central hemodynamics, heart rhythm variability, glycemia, serum cortisol were not statistically different in all three groups. Sympathetic surge was maximally presented in patients of the group 1 at all stages of liver resection. Parameters of mean arterial pressure, heart rate, total peripheral vascular resistance, heart rate variability (LF/HF), glycemia and cortisol were increased in the first group. During the early postoperative period, the quality of anesthesia was higher in patients with epidural anesthesia compared to opioid anesthesia. Pain intensity (VAS), hyperglycemia and level of sedation (RASS) were more significant in patients of the group 1 as compared to the groups 2 and 3. The use of epidural anesthesia in patients of the groups 2 and 3 compared with the group 1was found to reduce opioid and muscle relaxant consumption during surgery, to decrease the duration of mandatory lung ventilation, to start postoperative enteral feeding and to activate patients earlier, to reduce length of hospital stay and morbidity rate. Pleural effusions after liver resection were diagnosed in 2 patients (4.9 ± 3.4 %) of the group 1, one patient (2.5 ± 2.5 %) of the group 2 (p = 0.37), and subphrenic abscesses — in 6 patients (14.6 ± 5.5 %) of the group 1 (p = 0.002). Conclusions. Implementation of low flow sevoflurane anaesthesia combined with prolonged thoracic epidural analgesia prevents sympathetic surge, suppresses surgical stress response and improves recovery after major liver resections in surgical oncology.
Keywords
епідуральна анестезія; резекції печінки; періопераційне знеболювання; оцінка адекватності
эпидуральная анестезия; резекции печени; периоперационное обезболивание; оценка адекватности
epidural anesthesia; liver resection; perioperative anesthesia; adequacy assessment
For the full article you need to subscribe to the magazine.
Bibliography
1. Вишневский В.А., Кубышкин В.А., Чжао А.В., Икрамов Р.А. Операции на печени. — М.: МИКЛОШ, 2008. — 157 с.
2. Заречнова Н.В., Бельский В.А., Загайнов В.Е. и др. Периоперационное сопровождение обширных резекций печени // Эфферентная терапия. — 2009. — 15(1–2). — С. 57-58.
3. Tzimas P., Prout J., Papadopoulos G., Mallett S.V. Epidural anaesthesia and analgesia for liver resection // Anaesthesia. — 2013. — 68(6). — Р. 628-635.
4. Salman N., Durukan A.B., Gurbuz H.A. Comparison of effects of epidural bupivacaine and intravenous meperidine analgesia on patient recovery following elective abdominal aortic surgery // Med. Sci. Monit. — 2013. — 19. — Р. 347-352.
5. Zimmitti G., Soliz J., Aloia T.A., Gottumukkala V., Cata J.P., Tzeng C.W., Vauthey J.N. Positive Impact of Epidural Analgesia on Oncologic Outcomes in Patients Undergoing Resection of Colorectal Liver Metastases // Ann. Surg. Oncol. — 2016. — 23(3). — Р. 1003-1011. doi: 10.1245/s10434-015-4933-1. Epub. 2015, Oct 28.
6. Kampe S., Weinreich G., Darr C., Eicker K., Stamatis G., Hachenberg T. The impact of epidural analgesia compared to systemic opioid-based analgesia with regard to length of hospital stay and recovery of bowel function: retrospective evaluation of 1555 patients undergoing thoracotomy // J. Cardiothorac. Surg. — 2014. — 23(9). — Р. 175. doi: 10.1186/s13019-014-0175-8.
7. Revie E.J., Massie L.J., McNally S.J., McKeown D.W., Garden O.J., Wigmore S.J. Effectiveness of epidural analgesia following open liver resection // HPB (Oxford). — 2011. — 13(3). — Р. 206-211. doi: 10.1111/j.1477-2574.2010.00274.x.
8. Song J.C., Sun Y.M., Yang L.Q. et al. A comparison of liver function after hepatectomy with inflow occlusion between sevoflurane and propofol anesthesia // Anesth. Analg. — 2010. — 111(4). — Р. 1036-1041.
9. Taurá P., Fuster J., Blasi A., Martinez-Ocon J., Anglada T., Beltran J., Balust J., Tercero J., Garcia-Valdecasas J.C. Postoperative pain relief after hepatic resection in cirrhotic patients: the efficacy of a single small dose of ketamine plus morphine epidurally // Anesth. Analg. — 2003. — 96(2). — Р. 475-480. PMID: 12538199.
10. Кирячков Ю.А., Салтанов И.А., Хмелевский Я.М. Компьютерный анализ вариабельности сердечного ритма. Новые возможности для анестезиолога и врачей других специальностей // Вестник интенсивной терапии. — 2002. — 1. — С. 3-8.
11. Різник Л., Пшесмицкі K. Варіабельність серцевого ритму як індикатор вегетативного балансу та глибини наркозу. 20-річний досвід застосування в анестезіології // Біль, знеболювання і інтенсивна терапія. — 2005. — 1. — С. 28-35.
12. Greisen J., Nielsen D.V., Sloth E., Jakobsen C.J. High thoracic epidural analgesia decreases stress hyperglycemia and insulin need in cardiac surgery patients // Acta Anaesthesiol. Scand. — 2013. — 57(2). — Р. 171-177.
13. Kawagoe I., Tajima K., Kanai M. et al. Comparison of intraoperative stress hormones release between propofol-remifentanil anesthesia and propofol with epidural anesthesia during gynecological surgery // Masui. — 2011. — 60(4). — Р. 1324-1327.
14. Nishimori M., Ballantyne J.C., Low J.H. Epidural pain relief versus systemic opioid-based pain relief for abdominal aortic surgery // Cochrane Database Syst. Rev. — 2006. — 19(3). — CD005059. doi: 10.1002/14651858.CD005059.pub2.
15. Oliveira R.M., Tenório S.B., Tanaka P.P., Precoma D. Control of pain through epidural block and incidence of cardiac dysrhythmias in postoperative period of thoracic and major abdominal surgical procedures: a comparative study // Rev. Bras. Anestesiol. — 2012. — 62(1). — Р. 10-18.
16. Wranicz P., Andersen H., Nordbø A., Kongsgaard U.E. Factors influencing the quality of postoperative epidural analgesia: an observational multicenter study // Local Reg. Anesth. — 2014. — 7(5). — Р. 39-45. doi: 10.2147/LRA.S67153.
Similar articles

Authors: Черній В.І.(1), Колганова К.А.(2), Фрейгофер М.В.(2)
(1) — Донецький національний медичний університет ім. М. Горького, м. Лиман, Україна
(2) — Комунальний заклад «Клінічний онкологічний диспансер Дніпропетровської обласної ради», м. Дніпро, Україна
"Emergency medicine" 7 (78) 2016
Date: 2016.12.21
Categories: Medicine of emergency
Sections: Clinical researches


Authors:
M.V. Krasnoselskiy(1), Ye.M. Krutko(1), E.S. Protcenko(2), Ye.V. Shulga(2), M.V. Shulga(1) (1) — State Institution "Grigoriev Institute for Medical Radiology of National Academy of Medical Sciences of Ukraine", Kharkiv, Ukraine (2) — V.N. Karazin Kharkiv National University, Kharkiv, Ukraine


"Emergency medicine" №6(101), 2019
Date: 2019.10.14
Categories: Medicine of emergency
Sections: Clinical researches


Authors:
Ничитайло M.Ю., Загрійчук М.С., Mасюк Ю.І., Присяжнюк В.В., Босий О.А. - Національний інститут хірургії та трансплантології ім. О.О. Шалімова НАМНУ, м. Київ, Україна


Ukrainian journal of surgery 1 (24) 2014
Date: 2014.03.14
Categories: Surgery
Sections: Specialist manual


Authors: Tarasenko S.O., Dubrov S.O., Tovkay O.O., Lishhynskyi P.O., Kvitka D.M., Kunatovskyi M.V.
Ukrainian Research and Practical Centre of Endocrine Surgery, Transplantation of Endocrine Organs and Tissues of the Ministry of Health of Ukraine, Kyiv, Ukraine
International journal of endocrinology Том 14, №6, 2018
Date: 2018.11.20
Categories: Endocrinology
Sections: Clinical researches