International neurological journal №7 (101), 2018
Использование противоэпилептических лекарственных средств у детей с коморбидностью эпилепсии и расстройств аутистического спектра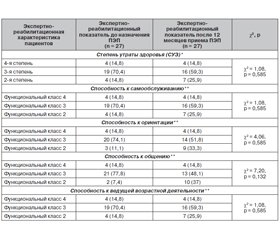 Authors:

Кудлач А.И.(1), Шалькевич Л.В.(1), Литвинова О.С.(2) (1) — ГУО «Белорусская медицинская академия последипломного образования», г. Минск, Республика Беларусь (2) — УЗ «Городской клинический детский психиатрический диспансер», г. Минск, Республика Беларусь



Categories:

Neurology



Sections:

Clinical researches
Summary
Актуальність. У статті розглядаються питання застосування протиепілептичних препаратів у лікуванні пацієнтів дитячого віку з коморбідністю розладів аутистичного спектра і епілепсії (або субклінічних епілептиформних розрядів на електроенцефалографії). Матеріали та методи. Використовується оригінальний підхід до вивчення результатів призначення антиконвульсантів у даної групи пацієнтів, заснований на зіставленні клініко-анамнестичних і електроенцефалографічних параметрів з основними і додатковими симптомами розладів аутистичного спектра. Результати. Виявлено ефективність протиепілептичних препаратів щодо корекції неврологічного і психічного статусу. Статистично вірогідно встановлено нормалізацію м'язового тонусу і координаторної функції, зменшення моторних стереотипних актів, зниження аномалій сенсорного сприйняття, а також поліпшення мовної функції і здатності до спілкування, зниження рівня агресії, підвищення інтелектуального потенціалу, нормалізацію сну. Висновки. Завдяки проведеному аналізу ефективності протиепілептичних препаратів намічений підхід до лікування симптомів аутизму у коморбідних пацієнтів.
Актуальность. В статье рассматриваются вопросы применения противоэпилептических препаратов в лечении пациентов детского возраста с коморбидностью расстройств аутистического спектра и эпилепсии (или субклинических эпилептиформных разрядов на электроэнцефалографии). Материалы и методы. Используется оригинальный подход к изучению результатов назначения антиконвульсантов у данной группы пациентов, основанный на сопоставлении клинико-анамнестических и электроэнцефалографических параметров с основными и дополнительными симптомами расстройств аутистического спектра. Результаты. Выявлена эффективность противоэпилептических препаратов в отношении коррекции неврологического и психического статуса. Статистически достоверно установлены нормализация мышечного тонуса и координаторной функции, уменьшение моторных стереотипных актов, снижение аномалий сенсорного восприятия, а также улучшение речевой функции и способности к общению, снижение уровня агрессии, повышение интеллектуального потенциала, нормализация сна. Выводы. Благодаря проведенному анализу эффективности противоэпилептических препаратов намечен подход к лечению симптомов аутизма у коморбидных пациентов.
Background. The article discusses the use of antiepileptic drugs in children with comorbidity of autistic spectrum disorders and epilepsy (or subclinical epileptiform discharges on the electroencephalogram). Materials and methods. To study the results of antiepileptic drugs prescription in this group of patients an original approach is used. It is based on the comparison of anamnestic, clinical and electroencephalographic data with the main and additional symptoms of autism spectrum disorders. Results. The efficacy of antiepileptic drugs for correction of neurological and mental state has been revealed. The normalization of muscle tone and coordination, reduction of motor stereotyped movements and sensory perception abnormalities, as well as improvement of speech and ability to communicate, decrease of aggression level, increase of intelligence quotient, and normalization of sleep were statistically established. Conclusions. Due to the analysis of antiepileptic drugs effectiveness, an approach to the treatment of autistic symptoms in comorbid patients is planned.
Keywords
діти; розлади аутистичного спектра; аутизм; епілепсія; протиепілептичні препарати; когнітивні функції; поведінкові функції
дети; расстройства аутистического спектра; аутизм; эпилепсия; противоэпилептические препараты; когнитивные функции; поведенческие функции
children; autism spectrum disorders; autism; epilepsy; antiepileptic drugs; cognitive functions; behavioral functions
For the full article you need to subscribe to the magazine.
Bibliography
1. American Psychiatric Association, DSM-5 Task Force. Diagnosticand Statistical Manual of Mental Disorders: DSM-5. 5th ed. — Washington, DC: American Psychiatric Association, 2013.
2. Harstad E.B., Fogler J., Sideridis G., Weas S., Mauras C., Barbaresi W.J. Comparing diagnostic outcomes of autism spectrum disorder using DSM-IV-TR and DSM-5 criteria / Е.В. Harstad // J. Autism Dev. Disord. — 2015. — № 45(5). — Р. 1437-1450.
3. Levy F. Child and adolescent changes to DSM-5 / F. Levy // Asian J. Psychiatr. — 2014. — № 11. — Р. 87-92.
4. Charman T., Loucas T., Pickles A., Simonoff E., Chandler S., Meldrum D., Baird G. Autistic symptomatology and language abi-lity in autism spectrum disorder and specific language impairment / Т. Charman // J. Child. Psychol. Psychiatry. — 2008. — № 49. — Р. 1184-1192.
5. Bishop-Fitzpatrick L., Minshew N.J., Eack S.M. A systematic review of psychosocial interventions for adults with autism spectrum disorders / L. Bishop-Fitzpatrick // J. Autism Dev. Disord. — 2013. — № 43(3). — Р. 687.
6. Seida J.K., Ospina M.B., Karkhaneh M., Hartling L., Smith V., Clark B. Systematic reviews of psychosocial interventions for autism: an umbrella review / J.K. Seida // Dev. Med. Child. Neurol. — 2009. — № 51(2). — Р. 95.
7. Kreslins A., Robertson A.E., Melville C. The effectiveness of psychosocial interventions for anxiety in children and adolescents with autism spectrum disorder: a systematic review and meta-analysis / А. Kreslins // Child. Adolesc. Psychiatry Ment. Health. — 2015. — № 9(1). — Р. 22.
8. Parsons L., Cordier R., Munro N., Joosten A., Speyer R. A systematic review of pragmatic language interventions for children with autism spectrum disorder / L. Parsons // PLoS One. — 2017. — № 12(4). — Р. e0172242.
9. Spence S.J., Schneider M.T. The role of epilepsy and epileptiform EEGs in autism spectrum disorders / S.J. Spence // Pediatr. Res. — 2009. — № 65(6). — Р. 599-606.
10. Viscidi E.W., Triche E.W., Pescosolido M.F., McLean R.L., Joseph R.M., Spence S.J. et al. Clinical characteristics of children with autism spectrum disorder and co-occurring epilepsy / E.W. Viscidi // PLoS One. — 2013. — № 8. — Р. e67797.
11. Kavros P.M., Clarke T., Strug L.J., Halperin J.M., Dorta N.J., Pal D.K. Attention impairment in rolandic epilepsy: systematic review / P.M. Kavros // Epilepsia. — 2008. — № 49(9). — Р. 1570-1580.
12. Nicolai J., Aldenkamp A.P., Arends J., Weber J.W., Vles J.S. Cognitive and behavioral effects of nocturnal epileptiform discharges in children with benign childhood epilepsy with centrotemporal spikes / J. Nicolai // Epilepsy Behav. — 2006. — № 8(1). — Р. 56-70.
13. Hughes J.R. A review of recent reports on autism: 1000 studies published in 2007 / J.R. Hughes // Epilepsy Behav. — 2008. — № 13(3). — Р. 425-37.
14. Trevathan E. Seizures and epilepsy among children with language regression and autistic spectrum disorders / Е. Trevathan // J. Child. Neurol. — 2004. — № 19(1). — Р. 49-57.
15. Tuchman R. Autism and social cognition in epilepsy: implications for comprehensive epilepsy care / R. Tuchman // Curr. Opin Neurol. — 2013. — № 26. — Р. 214-218.
16. Binnie C.D. Significance and management of transitory cognitive impairment due to subclinical EEG discharges in children / C.D. Binnie // Brain Dev. — 1993. — № 15(1). — Р. 23-30.
17. Hollander E., Dolgoff-Kaspar R., Cartwright C., Rawitt R., Novotny S. An open trial of divalproex sodium in autism spectrum disorders / Е. Hollander // J. Clin. Psychiatry. — 2001. — № 62(7). — Р. 530-534.
18. Hartley-McAndrew M., Weinstock A. Autism spectrum disorder: correlation between aberrant behaviors, EEG abnormalities and seizures / М. Hartley-McAndrew // Neurol. Int. — 2010. — № 2(1). — Р. e10.
19. Sansa G., Carlson C., Doyle W., Weiner H.L., Bluvstein J., Barr W. et al. Medically refractory epilepsy in autism / G. Sansa // Epilepsia. — 2011. — № 52. — Р. 1071-1075.
20. Психиатрия детского и подросткового возраста / Под ред. К. Гиллберга, Л. Хеллгрена. Рус. изд. под общ. ред. П.И. Сидорова; Пер. со швед. — М.: ГОЭТАР-МЕД, 2004. — 544 с.
21. Aman M.G. Management of hyperactivity and other acting-out problems in patients with autism spectrum disorder / M.G. Aman // Semin. Pediatr. Neurol. — 2004. — № 11. — Р. 225-228.
22. Kanemura H., Sano F., Tando T., Sugita K., Aihara M. Can EEG characteristics predict development of epilepsy in autistic children? / Н. Kanemura // Eur. J. Paediatr. Neurol. — 2013. — № 17(3). — Р. 232-237.
Similar articles

Authors:
Кириллова Л.Г., Мирошников А.А., Лисица В.В., Грабовенская И.Е., Михайлец Л.П. - ГУ «Институт педиатрии, акушерства и гинекологии НАМН Украины», г. Киев


International neurological journal 2 (72) 2015
Date: 2015.12.07
Categories: Neurology
Sections: Specialist manual


Authors:
Кирилова Л.Г., Мірошников О.О., Юзва О.О. ДУ «Інститут педіатрії, акушерства і гінекології імені академіка О.М. Лук'янової НАМН України», м. Київ, Україна


International neurological journal Том 16, №5, 2020
Date: 2020.08.08
Categories: Neurology
Sections: Specialist manual


Authors: Хапченкова Д.С.(1), Дубина С.А.(1), Черкай В.И.(2)
1 - Донецкий национальный медицинский университет, г. Лиман, Украина
2 - Частный психотерапевтический центр, г. Краматорск, Украина
International neurological journal №5 (99), 2018
Date: 2018.10.26
Categories: Neurology
Sections: Specialist manual