International journal of endocrinology Том 14, №7, 2018
Pathogenic mechanisms of erectile dysfunction development in men with type 1 and type 2 diabetes mellitus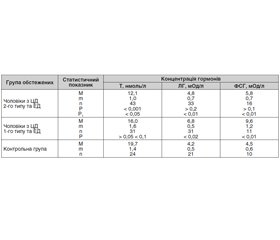 Authors:

Лучицький В.Є., Лучицький Є.В.
ДУ «Інститут ендокринології та обміну речовин імені В.П. Комісаренка НАМН України», м. Київ, Україна



Categories:

Endocrinology



Sections:

Clinical researches
Summary
Актуальність. Статеві розлади — одні з найпоширеніших ускладнень цукрового діабету (ЦД). Найчастіше у чоловіків із ЦД спостерігається еректильна дисфункція (ЕД). Мета. Дослідження впливу судинних і гормональних чинників на розвиток ЕД у чоловіків із ЦД. Матеріали та методи. Обстежені чоловіки (n = 491), хворі на ЦД. Імуноферментним методом визначали концентрацію фолікулостимулюючого та лютеїнізуючого гормонів, загального тестостерону. Проводилося анкетування з використанням опитувальника «Міжнародний індекс еректильної функції». Виконано допплерівську ультрасонографію судин статевого члена. Результати. У пацієнтів із ЦД 2-го типу спостерігалася вікова залежність частоти ЕД, яка у чоловіків віком до 40 років становила 6,3 %, у віковій групі 41–50 років — 25,4 %, в осіб старше 60 років — 36,1 %. В той же час у чоловіків із ЦД 1-го типу найбільша частка пацієнтів із порушенням статевої функції була у віковій групі 41–50 років (35,6 %). При проведенні допплерівської ультрасонографії виявлено зниження пікової систолічної швидкості кровотоку в a. dorsalis penis у чоловіків, хворих на ЦД, порівняно з контролем. Резистентний і пульсаційний індекси у хворих на ЦД також були вірогідно нижчими. Реакція на введення вазоактивного препарату інтракавернозно у хворих на ЦД була менш інтенсивною порівняно з контролем. У чоловіків із ЦД 2-го типу виявлено вірогідне зниження рівнів тестостерону порівняно з контрольною групою. Висновки. Патогенез ЕД у хворих на ЦД є багатокомпонентним і переважно зумовлений васкулогенними, а у хворих на ЦД 2-го типу — і гормональними чинниками.
Актуальность. Половые расстройства — одни из самых распространенных осложнений сахарного диабета (СД). Чаще всего у мужчин с СД наблюдается эректильная дисфункция (ЭД). Цель. Исследование влияния сосудистых и гормональных факторов на развитие ЭД у мужчин с ЦД. Материалы и методы. Обследованы мужчины (n = 491), больные СД. Иммуноферментным методом определяли концентрацию фолликулостимулирующего и лютеинизирующего гормонов, общего тестостерона. Проводилось анкетирование с использованием опросника «Международный индекс эректильной функции». Выполнена допплеровская ультрасонография сосудов полового члена. Результаты. У пациентов с СД 2-го типа наблюдалась возрастная зависимость частоты ЭД, которая у мужчин в возрасте до 40 лет составляла 6,3 %, в возрастной группе 41–50 лет — 25,4 % и у лиц старше 60 лет — 36,1 %. В то же время у мужчин с СД 1-го типа наибольшая часть пациентов с нарушением половой функции была в возрастной группе 41–50 лет (35,6 %). При проведении допплеровской ультрасонографии выявлено снижение пиковой систолической скорости кровотока в a. dorsalis penis у мужчин, больных СД, по сравнению с контролем. Резистентный и пульсационный индексы у больных СД также были достоверно ниже. Реакция на введение вазоактивного препарата интракавернозно у больных СД была менее интенсивной по сравнению с контролем. У мужчин с СД 2-го типа выявлено достоверное снижение уровней тестостерона в сравнении с конт­рольной группой. Выводы. Патогенез ЭД у больных СД является многокомпонентным и преимущественно определяется васкулогенными, а у больных СД 2-го типа — и гормональными факторами.
Background. Sexual disorders are one of the most common complications of diabetes mellitus (DM). Often, men with diabetes mellitus have erectile dysfunction (ED). The purpose of the study was to investigate the influence of vascular and hormonal factors on the development of erectile dysfunction in men with DM. Materials and methods. A survey of 491 men with DM was conducted. Using immune enzyme method, we determined the concentration of follicle-stimulating hormone, luteinizing hormone, total testosterone. A questioning was conducted using the International Index of Erectile Function. Penile Doppler ultrasonography was carried out. Results. In patients with type 2 DM, there was age dependence of the frequency of ED, which in men up to 40 years old was 6.3 %, in the age group of 41–50 years — 25.4 %, and in persons over the age of 60 — 36.1 %. At the same time, among men with type 1 DM, the majority of patients with impaired sexual function were aged 41–50 years (35.6 %). Doppler ultrasonography revealed a decrease in peak systolic velocity in a.dorsalis penis in men with DM as compared to the controls. Resistance and pulsatility indices in patients with diabetes were also significantly lower. The response to intracavernous administration of vasoactive substance in patients with DM was less intense than in controls. In men with type 2 DM, a significant decrease in testosterone levels was observed as compared to the control group. Conclusions. Pathogenesis of ED in patients with DM is multicomponent and, predominantly, predetermined by vasculogenic factors, and in patients with type 2 DM — by hormonal factors, as well.
Keywords
цукровий діабет; еректильна дисфункція; патогенез
сахарный диабет; эректильная дисфункция; патогенез
diabetes mellitus; erectile dysfunction; pathogenesis
For the full article you need to subscribe to the magazine.
Bibliography
1. Гомула А. Влияние половых гормонов и нейротрансмиттеров на сексуальную функцию и поведение человека // Андрология и сексуальная медицина. — 2006. — № 1. — С. 36-46.
2. Gooren L., Lunenfeld B. Screening of the aging male: Textbook of men's health / B. Lunenfeld, L. Gooren. — London: The Parthenon Publish. Group, 2002. — P. 15-43.
3. Feldman H.A., Goldstein I., Hatzichristou D.G. et al. Impotence and its medical and psychosocial correlates: results of the Massachusetts Male Aging Study // J. Urol. — 1994. — Vol. 151. — P. 54-61.
4. Lewis R.W., Fugl-Meyer K.S. et al. Definitions/еpidemiology/risk factor of sexual dysfunction // J. Sex. Med. — 2010. — Vol. 4. — P. 1598-1607.
5. Shabsigh R., Mattern A. REVITALISE: A Large Observational Study Assessing the Safety and Effectiveness of Vardenafil in Men With Erectile Dysfunction and Metabolic Syndrome // J. Sex. Med. — 2016. — Vol. 4. — P. 135-144.
6. Antonio L., Wu F.C., O'Neil T.W. et al. EMAS Study Group. Associations between sex steroids and the development of metabolic syndrome: a longitudinal study in European men // Diabetes Care. — 2015. — Vol. 100. — P. 1396-1404.
7. Ganz M., Wintfeld N., Li Q. et al. The association of body mass index witn the risk of type 2 diabetes: a case-control study nested in an electronic health records system in the United States // Diabetol. Metabolic Syndr. — 2014. — Vol. 6. — P. 50.
8. Johannes C.B., Araujo A.B., Feldman H.A. et al. Incidence of erectile dysfunction in men 40 to 69 years old: longitudinal results from the Massachusetts male aging study // J. Urol. — 2000. — Vol. 163(2). — P. 460-463.
9. Yaman O. et al. The Effect of Diabetes Mellitus Treatment and Good Glycemic Control on the Erectile Function in Men with Diabetes Mellitus-Induced Erectile Dysfunction: A Pilot Study // J. Sex. Med. — 2006. — Vol. 3. — P. 344-348.
10. Lowe G., Costabile R.A. 10-year analysis of adverse event reports to the Food and Drug Administration for phosphodiesterase type-5 inhibitors // J. Sex. Med. — 2011. — Vol. 9(1). — Р. 265-270.
11. Yamah O., Akand M., Gursoy A. et al. The effect of diabetes mellitus treatment and good glycemic control on the erectile function in men with diabetes mellitus-induced erectile dysfunction: a pilot study // J. Sex. Med. — 2006. — Vol. 3. — P. 344-48.
12. Kamenov Z.A. A comprehensive review of erectile dysfunction in men with diabetes // Exp. Clin. Endocrinol. Diabetes. — 2015. — Vol. 123. — P. 141-158.
13. Shen Q. et al. Doppler Characteristics of Cavernosal-Spongiosal Communications in Patients with Erectile Dysfunction // Ultrasound Med. Biol. — 2016. — Vol. 42. — P. 159-166.
14. Shabsigh R., Arver S., Channer K.S. et al. The triad of erectile dysfunction, hypogonadism and the metabolic syndrome // Int. J. Clin. Pract. — 2008. — Vol. 62. — P. 791-798.
15. Верткин А.Л. Распространенность эректильной дисфункции и ее связь с сердечно-сосудистой патологией у больных сахарным диабетом / А.Л. Верткин, А.Н. Демидов, Ю.С. Полупанова [и др.] // Consilium medicum. — 2005. — Т. 7(11). — С. 973-979.
Similar articles



Authors:
Luchytskyi V.Ye. - SI «Institute of Endocrinology and Metabolism named after V.P. Komissarenko of NAMS of Ukraine», Kyiv, Ukraine


International journal of endocrinology 8 (72) 2015
Date: 2016.02.12
Categories: Endocrinology
Sections: Specialist manual