"Emergency medicine" №7(94), 2018
Features of the correlation of neuroimaging data in patients with post-traumatic disorders of consciousness and the stages of its recovery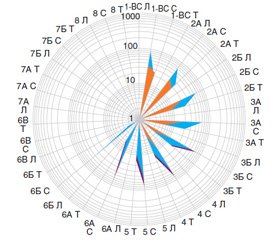 Summary
Проведено аналіз обстеження 220 хворих з посткоматозними порушеннями свідомості на різних стадіях її відновлення після тяжкої черепно-мозкової травми. З'ясовано клінічні кореляти стадій відновлення свідомості з даними комп'ютерно-томографічних досліджень. Виявлені особливості, що демонструють сильну кореляцію саме дифузних органічних змін головного мозку, і динаміка стадійного відновлення свідомості, що слід враховувати для вибору тактики і лікувальної стратегії на етапі реабілітації.
Проведен анализ исследования 220 больных с посткоматозными нарушениями сознания на разных стадиях его восстановления после тяжелой черепно-мозговой травмы. Выяснены клинические корреляты стадий восстановления сознания с данными компьютерно-томографических исследований. Выявлены особенности, демонстрирующие сильную корреляцию именно диффузных органических изменений головного мозга, и динамика стадийного восстановления сознания, что следует учитывать для выбора тактики и лечебной стратегии на этапе реабилитации.
The analysis of a survey of 220 patients with post-coma disorders of consciousness at different stages of its recovery after severe traumatic brain injury was carried out. The clinical correlates of the stages of recovery of consciousness and the data of computed tomography were identified. The revealed features demonstrating a strong correlation between diffuse organic changes of the brain and the dynamics of the staged recovery of consciousness should be taken into account when choosing treatment strategy at the rehabilitation stage.
Keywords
черепно-мозкова травма; кома; посткоматозні порушення свідомості; комп'ютерна томографія; нейрореабілітація
черепно-мозговая травма; кома; посткоматозные нарушения сознания; компьютерная томография; нейрореабилитация
traumatic brain injury; post-coma disorders of consciousness; computer tomography; neurorehabilitation
For the full article you need to subscribe to the magazine.
Bibliography
1. Кондратьева Е.А. Вегетативное состояние: диагностика, интенсивна терапия, прогнозирование исхода: Дис… на соискание ученой степени кандидата медицинских наук. — СПб., 2004. — С. 91-92.
2. Коновалов А.Н., Лихтерман Л.Б., Потапов А.А. Нейротравматология: Справочник. — М.: Вазар-Ферро, 1994. — С. 354-355.
3. Гринберг М.С. Нейрохирургия: Пер. с англ. — М.: Медпресс-информ, 2010. — 679 с.
4. Матяш М.Н. Современные томографические методы визуализации изменений в отдаленном периоде закрытой черепно-мозговой травмы // Променева діагностика, променева терапія. — 2011. — С. 11-15.
5. Променева діагностика: В 2 т. / Коваль Г.Ю., Сиваченко Т.П., Мечов Д.С. та ін. / За ред. Г.Ю. Коваль. — К.: Орбис, 2002. — Т. ІІ. — С. 332-342.
6. Andriessen C.J.M.T., Jacobs B., Vos E.P. Clinical characteristics and pathophysiological mechanisms of focal and diffuse traumatic brain injury // J. Cell. Mol. Med. — 2010. — Vol. 14, № 10.
7. Conde V., Andreasen H.S., Petersen H.T., Larsen B.K., Madsen K., Andersen W.K., Akopian I., Madsen H.K., Hansen P.C., Poulsen I., Kammersgaard P.L., Siebner R.H. Alterations in the brain's connectome during recovery from severe traumatic brain injury: protocol for a longitudinal prospective study // BMJ Open. — 2017. — Vol. 7, № 6.
8. Dance F., Brule J.F., Haddad K. Chronic vegetative state after severe head injury: clinical study; electrophysiological invastigations and CT scan in 15 cases // Neurosurg. Rev. — 1989. — 12(Suppl. 1). — Р. 477-499.
9. ICH Guidelines // Good Clin. Pract. J. — 1998. — Vol. 5, № 4. — P. 27-37.
10. Kinney H.C. Neuropathology of the persistent vegetative state — a review / H.C. Kinney, M.A. Samuels // J. Neurophatol. Exp. Neurol. — 1994. — 53. — Р. 548-558.
11. Steppacher I., Kaps M., Kissler J. Will time heal? A long-term follow-up of severe disorders of consciousness // Ann. Clin. Transl. Neurol. — 2014. — Vol. 1, № 6. — Р. 401-408.
12. Yao J., Wang V.L. Photoacoustic brain imaging: from microscopic to macroscopic scales // Neurophotonics. — 2014. — Vol. 1, № 1.
Similar articles



Authors:
Квасніцький М.В. - Державна наукова установа «Науково-практичний центр профілактичної та клінічної медицини», Державного управління справами, м. Київ


"Emergency medicine" 3 (50) 2013
Date: 2013.06.07
Categories: Medicine of emergency, Neurology
Sections: Medical forums


Authors:
Polishchuk M.Ye., Honcharuk O.M. - Department of Neurosurgery of National Medical Academy named after P.L. Shupyk, Kyiv, Ukraine


International neurological journal 6 (76) 2015
Date: 2016.02.05
Categories: Neurology
Sections: Specialist manual