«Practical Oncology» Том 1, №1, 2018
Level of topoisomerase IIα expression as a prognostic indicator in patients with breast cancer (literature review)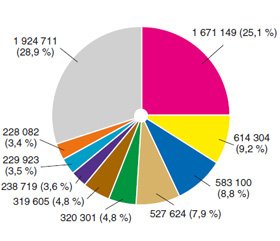 Authors:

Самусєва А.А.
Національний медичний університет імені О.О. Богомольця, м. Київ, Україна



Categories:

Oncology



Sections:

Specialist manual
Summary
Топоізомерази є важливими ферментами, що забезпечують цілісність геному. Вони є мішенню антрациклінових антибіотиків, що використовуються при хіміотерапії раку молочної залози. У статті розглядається ряд досліджень, у яких вивчали зв'язок між топоізомеразою ІІα і чутливістю до хіміотерапії антрацикліновими антибіотиками у хворих на рак молочної залози, однак прогностична цінність цього маркера досі залишається суперечливою.
Топоизомеразы — важные ферменты, обеспечивающие целостность генома. Они являются мишенью антрациклиновых антибиотиков, использующихся при химиотерапии рака молочной железы. В статье рассматривается ряд исследований, в которых изучали связь между топоизомеразой IIα и чувствительностью к химиотерапии антрациклиновыми антибиотиками у больных раком молочной железы, однако прогностическая ценность этого маркера все еще остается спорной.
Topoisomerases are important enzymes that ensure the genomic integrity. It is a target for anthracycline antibiotics which are used in the breast cancer chemotherapy. A series of studies that researched connection between topoisomerase IIα and the sensitivity to chemotherapy with anthracycline antibiotics in patients with breast cancer are considered in the article, however, the predictive value of this marker is still controversial.
Keywords
рак молочної залози; топоізомераза ІІα; інгібітори топоізомераз; антрациклінові антибіотики
рак молочной железы; топоизомераза IIα; ингибиторы топоизомеразы; антрациклиновые антибиотики
breast cancer; topoisomerase IIα; topoisomerase inhibitors; anthracycline antibiotics
For the full article you need to subscribe to the magazine.
Bibliography
1. Федоренко З.П., Гулак Л.О., Михайлович Ю.Й. та ін. Рак в Україні 2016–2017 // Бюлетень Національного канцер-–реєстру України. — 2018. — № 19. — С. 7.
2. Ferlay J., Soerjomataram I., Dikshit R. еt al. Cancer incidence and mortality worldwide: Sources, methods and major patterns in GLOBOCAN 2012 // IJC. — 2015. — Vol. 136(5). — Р. 359-386.
3. Hanahan D., Weinberg R.A. Hallmarks of cancer: The next generation // Cell. — 2011. — Vol. 144. — Р. 646-674.
4. Wang J.C. Interaction between DNA and an Escherichia coli protein ω // J. Mol. Biol. — 1971. — Vol. 55(3). — Р. 523-533.
5. Gellert M., Mizuuchi K., O'Dea M.H., Nash H.A. DNA gyrase: an enzyme that introduces superhelical turns into DNA // Proc. Natl. Acad. Sci. USA. — 1976. — Vol. 73(11). — Р. 3872-3876.
6. Woessner R.D., Mattern M.R., Mirabelli C.K. et al. Proli–feration- and cell cycle-dependent differences in expression of the 170 kilodalton and 180 kilodalton forms of topoisomerase II in NIH-3T3 cells // Cell Growth Differ. — 1991. — Vol. 2. — Р. 209-214.
7. Fry A.M., Chresta C.M., Davies S.M., Walker M.C., Harris A.L., Hartley J.A., Masters J.R., Hickson I.D. Relationship between topoisomerase II level and chemosensitivity in human tumor cell lines // Cancer Res. — 1991. — Vol. 51(24). — Р. 6592-6595.
8. Деженкова Л.Г., Цветков В.Б., Штиль А.А. Ингибиторы топоизомераз I и II: химическая структура, механизмы действия и роль в химиотерапии опухолей // Успехи химии. — 2014. — T. 83, № 1. — С. 82-94.
9. Almeids D., Gerhard R., Leitao D. et al. Topoisomerase II-alfa gene as a predictive marker of response to anthracyclines in breast cancer // Pathol. Res Pract. — 2014. — Vol. 210(10). — Р. 675-679.
10. Nikolenyi A., Uhercsak G., Csenki M. et al. Tumour Topo–isomerase II Alpha Protein Expression and Outcome After Adjuvant Dose-Dense Anthracycline-Based Chemotherapy // Pathol. Oncol. Res. — 2012. — Vol. 18. — Р. 61-68.
11. An X., Xu F., Luo R. et al. The prognostic significance of topoisomerase II alpha protein in early stage luminal breast cancer // BMC Cancer. — 2018. — Vol. 18. — Р. 331.
12. Norimura S., Kontani K., Kubo T. et al. Candidate biomar–kers predictive of anthracycline and taxane efficacy against breast cancer // J. Cancer Res Ther. — 2018. — Vol. 14(2). — Р. 409-415.
13. Järvinen T.A., Holli K., Kuukasjärvi Т. et al. Predictive va–lue of topoisomerase II alpha and other prognostic factors for epirubicin chemotherapy in advanced breast cancer // Br. J. Cancer. — 1998. — Vol. 77(12). — Р. 2267-73.
14. Petit T., Wilt M., Velten M. et al. Comparative value of tumour grade, hormonal receptors, Ki-67, HER-2 and topoisomerase II alpha status as predictive markers in breast cancer patients treated with neoadjuvant anthracycline-based chemotherapy // Eur. J. Cancer. — 2004. — Vol. 40(2). — Р. 205-11.
Similar articles

Authors:
Готько Є.С., Цигика Д.Й., Жеро С.В., Пригара Д.В., Погорєлова Н.Є., Ігнатко В.Я. - Ужгородський національний університет; Інститут післядипломної освіти та доуніверситетської підготовки, кафедра радіології і онкології, м. Ужгород


«Neoplasm» 1(13) 2014
Date: 2014.06.13
Categories: Oncology
Sections: Clinical researches


Authors:
Лігостаєва В.В., Зотов О.С., Брайцара М.В. Національний медичний університет ім. О.О. Богомольця, м. Київ, Україна


«Practical Oncology» Том 3, №2, 2020
Date: 2020.11.20
Categories: Oncology
Sections: Specialist manual


Authors: Божок Є.М.(1), Зотов О.С.(2)
(1) — ДУ «Інститут ядерної медицини та променевої діагностики НАМН України», м. Київ, Україна
(2) — Національний медичний університет ім. О.О. Богомольця, м. Київ, Україна
«Practical Oncology» Том 2, №4, 2019
Date: 2020.02.24
Categories: Oncology
Sections: Clinical researches


Authors:
Мотузюк І.М., Сидорчук О.І., Понятовський П.Л., Славута Г.Б. Національний медичний університет імені О.О. Богомольця, м. Київ, Україна


«Practical Oncology» Том 3, №1, 2020
Date: 2020.08.27
Categories: Oncology
Sections: Specialist manual