«Practical Oncology» Том 1, №1, 2018
Case report of treatment of granulomatous mastitis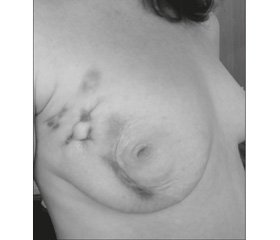 Authors:

Чешук В.Є.
Національний медичний університет імені О.О. Богомольця, м. Київ, Україна



Categories:

Oncology



Sections:

Specialist manual
Summary
Гранулематозний мастит — це хронічне запалення молочної залози. Розрізняють специфічний та ідіопатичний гранулематозний мастит. В статті наведено випадок ефективного лікування гранулематозного маститу антибіотиками та кортикостероїдами. Антибіотикотерапію призначали залежно від результатів бактеріологічних досліджень. Надано рекомендації щодо тактики лікування таких хворих.
Гранулематозный мастит представляет собой хроническое воспаление молочной железы. Различают специфический и идиопатический гранулематозный мастит. В статье приведен случай эффективного лечения гранулематозного мастита антибиотиками и кортикостероидами. Антибиотикотерапию назначали в зависимости от результатов бактериологических исследований. Даны рекомендации по тактике лечения таких больных.
Granulomatous mastitis is a chronic inflammation of the mammary gland. A distinction is made between specific and idiopathic granulomatous mastitis. The article presents the case of effective treatment of granulomatous mastitis with antibiotics and corticosteroids. Antibiotic therapy was prescribed depending on the results of bacteriological investigation. Author gives recommendations on the method of treatment of such patients.
Keywords
ідіопатичний гранулематозний мастит
идиопатический гранулематозный мастит
idiopathic granulomatous mastitis
For the full article you need to subscribe to the magazine.
Bibliography
1. Wilson J.P., Massoll N., Marshall J., Foss R.M., Copeland E.M., Grobmyer S.R. Idiopathic granulomatous mastitis: in search of a therapeutic paradigm // Am. Surg. — 2007. — 73. — Р. 798-802.
2. Baslaim M.M., Khayat H.A., Al-Amoudi S.A. Idiopathic gra–nulomatous mastitis: a heterogeneous disease with variable clinical presentation // World J. Surg. — 2007. — 31. — Р. 1677-81.
3. Al-Khaffaf B., Knox F., Bundred N.J. Idiopathic granulomatous mastitis: a 25-year experience // Amer. Col. Surg. — 2008. — 206. — Р. 269-72.
4. Schmajuk G., Genovese M.C. First report of idiopathic granulomatous mastitis treated with methotrexate monotherapy // J. Rheumatol. — 2009. — 36. — Р. 1559-60.
5. Fatih Altintoprak, Taner Kivilcim, Orhan Veli Ozkan. Aetio–logy of idiopathic granulomatous mastitis // World J. Clin. Cases. — 2014 December 16. — 2(12). — Р. 852-858.
6. Bharat A., Gao F., Aft R.L. et al. Predictors of primary breast abscesses and recurrence // World J. Surg. — 2009. — 33. — Р. 2582-2586.
7. Dabbas N., Chand M., Pallett A. et al. Have the organisms that cause breast abscess changed with time? Implications for appropriate antibiotic usage in primary and secondary care // Breast J. — 2010. — 16. — Р. 412-415.
8. Harji D.P., Rastall S., Catchpole C. et al. Pseudomonal breast infection // Ann. R. Coll. Surg. Engl. — 2010. — 92. — W20-W22.
9. Zimmerman L.H., Tyburski J.G., Stoffan A. et al. Twelve hundred abscesses operatively drained: an antibiotic conundrum? // Surgery. — 2009. — 146. — Р. 794-800.
10. Delotte J., Karimdjee B.S., Cua E. et al. Gas gangrene of the breast: management of a potential life-threatening infection // Arch. Gynecol. Obstet. — 2009. — 279. — Р. 79-81.
11. Moazzez A., Kelso R.L., Towfigh S. et al. Breast abscess bacteriologic features in the era of community-acquired methicillin-resistant. Staphylococcus aureus epidemics // Arch Surg. — 2007. — 142. — Р. 881-884.
12. Ang L.M., Brown H. Corynebacterium accolens isolated from breast abscess: possible association with granulomatous mastitis // J. Clin. Microbiol. — 2007. — 45. — Р. 1666-1668.
13. Bengualid V., Singh V., Singh H. et al. Mycobacterium fortuitum and anaerobic breast abscess following nipple piercing: case presentation and review of the literature // J. Adolesc. Health. — 2008. — 42. — Р. 530-532.
14. Masao Yukawa, Masahiro Watatani, Sayuri Isono, Yoshinori Fujiwara, Masanori Tsujie, Kotaro Kitani еt al. Management of Granulomatous Mastitis: A Series of 13 Patients Who Were Eva–luated for Treatment Without Corticosteroids // Int. Surg. — 2015. — 100. — Р. 774-782.