"Emergency medicine" №8(95), 2018
Today will never been tomorrow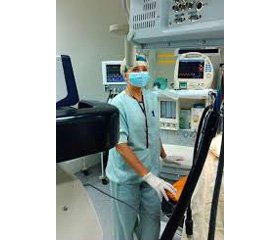 Authors:

Смирнова Л.М., Шифрин Г.А., Бойцова О.Н., Смирнова М.В.
ГУ «Национальный институт хирургии и трансплантологии имени А.А. Шалимова» НАМН Украины, г. Киев, Украина
Запорожский государственный медицинский университет, г. Запорожье, Украина
Национальный медицинский университет имени А.А. Богомольца, г. Киев, Украина



Categories:

Medicine of emergency



Sections:

Clinical researches
Summary
У статті наведено клінічні результати застосування нового концептуального підходу та нових технологій, що маніфестують визначення властивостей і можливостей підтримки біологічної цілісності організму в періопераційному періоді. Встановлено, що застосування енергопротективних технологій для забезпечення безпеки періопераційної медицини повинно бути орієнтованим на задоволення енергоструктурних потреб пацієнта в енергосубстратах, що є гарантією виключення порушень життєдіяльності пацієнтів.
В статье представлены клинические результаты применения нового концептуального подхода и новых технологий, которые манифестируют определение свойств и возможностей поддержания биологической целостности организма в периоперационном периоде. Установлено, что применение энергопротективных технологий для обеспечения безопасности периоперационной медицины должно быть ориентировано на удовлетворение энергоструктурных потребностей пациента в энергосубстратах, что является гарантией исключения нарушений жизнедеятельности пациентов.
The article presents the clinical results of the application of the new conceptual approach and new technologies that manifest the determination of the properties and capabilities of maintaining the body's biological integrity during the perioperative period. It has been found that the use of energy-protective technologies to ensure the safety of perioperative medicine should be oriented towards the satisfaction of the energy-structural needs of the patient in the energy substrates, which is a guarantee of the exclusion of patients' life impairments.
Keywords
енергобіомоніторинг; біоенергетична недостатність; адекватність; адаптивність; деструктивність; нестабільність
энергобиомониторинг; биоэнергетическая недостаточность; адекватность; адаптивность; деструктивность; нестабильность
energy biomonitoring; bioenergetic insufficiency; adequacy; adaptiveness; destructiveness; instability
For the full article you need to subscribe to the magazine.
Bibliography
1. Анестезиология: национальное руководство / Под ред. А.А. Бунятяна, В.М. Мизикова. — М.: ГЭОТАР-Медиа, 2011. — 1104 с.
2. Гольфанд Б.Р. Анестезиология и интенсивная терапия: Практическое руководство в 2 томах / Б.Р. Гольфанд, А.И. Салтанов. — М.: ГЭОТАР-Медиа, 2009. — Т. 1. — 955 с.
3. Смирнова Л.М. Концепція органопротективного знеболювання / Л.М. Смирнова. — К.: Ліга-Інформ, 2009. — 137 с.
4. Смирнова Л.М. Изменения энергетического баланса у пациентов во время анестезии / Л.М. Смирнова, Н.Ф. Полевик, Т.Ф. Ларченко // Клінічна хірургія. — 2012. — № 6. — С. 49-52.
5. Шифрин Г.А. Персонификация периоперационной безопасности: Пособие / Г.А. Шифрин. — Запорожье: Дикое Поле, 2016. — 88 с.
6. Шифрин Г.А., Туманский В.А., Колесник Ю.М. Виталология. — Запорожье: Дикое Поле, 2018. — 288 с.
Similar articles

Authors:
Смирнова Л.М. — Государственное учреждение «Национальный институт хирургии и трансплантологии имени А.А. Шалимова» НАМН Украины, г. Киев


"Emergency medicine" 1 (64) 2015
Date: 2015.05.18
Categories: Medicine of emergency
Sections: Clinical researches



Authors:
Коренюк Е.С. - ГУ «Днепропетровская медицинская академия МЗ Украины, г. Днепр, Украина; Иванченко В.И., Алексеева О.Г. - ГУ «Днепропетровская детская городская клиническая больница № 2 ДОР», г. Днепр, Украина


"Child`s Health" 5 (73) 2016
Date: 2016.10.28
Categories: Gastroenterology, Pediatrics/Neonatology
Sections: Clinical researches