"Kidneys" Том 8, №1, 2019
The use of diuretics in heart failure with congestion — a position statement from the Heart Failure Association of the European Society of Cardiology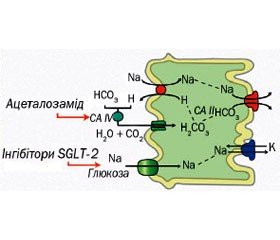 Authors:

Wilfried Mullens(1, 2), Kevin Damman(3), Veli-Pekka Harjola(4), Alexandre Mebazaa(5), Hans-Peter Brunner-La Rocca(6), Pieter Martens(1, 2), Jeffrey M. Testani(7), W.H. Wilson Tang(8), Francesco Orso(9), Patrick Rossignol(10), Marco Metra(11), Gerasimos Filippatos(12, 13), Petar M. Seferovic(14), Frank Ruschitzka(15), Andrew J. Coats(16)
(1) — Ziekenhuis Oost Limburg, Genk, Belgium
(2) — University of Hasselt, Hasselt, Belgium
(3) — University of Groningen, University Medical Center Groningen, Groningen, The Netherlands
(4) — Emergency Medicine, University of Helsinki, Helsinki University Hospital, Helsinki, Finland
(5) — University of Paris Diderot, Hôpitaux Universitaires Saint Louis Lariboisière, APHP, U 942 Inserm, F-CRIN INI-CRCT, Paris, France
(6) — Maastricht University Medical Center, Maastricht, The Netherlands
(7) — Yale University, New Haven, CT, USA
(8) — Cleveland Clinic, Cleveland, OH, USA
(9) — University of Florence, Florence, Italy
(10) — Université de Lorraine, Inserm, Centre d'Investigations Clinique 1433 and Inserm U1116; CHRU Nancy; F-CRIN INI-CRCT, Nancy, France
(11) — University of Brescia, Brescia, Italy
(12) — National and Kapodistrian University of Athens, Athens, Greece
(13) — University of Cyprus, Nicosia, Cyprus
(14) — University of Belgrade, Faculty of Medicine, Belgrade, Serbia
(15) — UniversitätsSpital Zürich, Zürich, Switzerland
(16) — IRCCS, San Raffaele Pisana, Rome, Italy



Categories:

Nephrology



Sections:

Specialist manual
Summary
Для більшості епізодів гострої серцевої недостатності характерне посилення симптомів та ознак застійних явищ з об'ємним перенавантаженням. Мета терапії в таких пацієнтів полягає в полегшенні застійних явищ шляхом досягнення нормоволемії, головним чином за допомогою терапії діуретиками. Проте належне застосування діуретиків залишається складним, особливо при погіршенні функції нирок, резистентності до діуретиків та порушеннях балансу електролітів. У цій офіційній заяві розглядається застосування діуретиків при застійній серцевій недостатності. У роботі розглядаються поширені проблеми, такі як: 1) оцінка застійних явищ та клінічної нормоволемії; 2) оцінка відповіді на діуретики/резистентності до діуретиків при лікуванні гострої серцевої недостатності; 3) підхід до поетапних фармакологічних стратегій застосування діуретиків на основі відповіді на діуретики; 4) лікування поширених порушень балансу електролітів. Рекомендації наведені відповідно до доступних настанов, свідчень та експертних висновків.
Для большинства эпизодов острой сердечной недостаточности характерно усиление симптомов и признаков застойных явлений с объемной перенагрузкой. Цель терапии у таких пациентов заключается в облегчении застойных явлений путем достижения нормоволемии, главным образом с помощью терапии диуретиками. Однако должное применение диуретиков остается сложным, особенно при ухудшении функции почек, резистентности к диуретикам и нарушениях баланса электролитов. В этом официальном заявлении рассматривается применение диуретиков при застойной сердечной недостаточности. В работе рассматриваются распространенные проблемы, такие как: 1) оценка застойных явлений и клинической нормоволемии; 2) оценка ответа на диуретики/резистентности к диуретикам при лечении острой сердечной недостаточности; 3) подход к поэтапным фармакологическим стратегиям применения диуретиков на основе ответа на диуретики; 4) лечение распространенных нарушений баланса электролитов. Рекомендации приведены в соответствии с доступними руководствами, свидетельствами и экспертными выводами.
The vast majority of acute heart failure episodes are characterized by increasing symptoms and signs of congestion with volume overload. The goal of therapy in those patients is the relief of congestion through achieving a state of euvolaemia, mainly through the use of diuretic therapy. The appropriate use of diuretics however remains challenging, especially when worsening renal function, diuretic resistance and electrolyte disturbances occur. This position paper focuses on the use of diuretics in heart failure with congestion. The manuscript addresses frequently encountered challenges, such as (i) evaluation of congestion and clinical euvolaemia, (ii) assessment of diuretic response/resistance in the treatment of acute heart failure, (iii) an approach towards stepped pharmacologic diuretic strategies, based upon diuretic response, and (iv) management of common electrolyte disturbances. Recommendations are made in line with available guidelines, evidence and expert opinion.
Keywords
діуретики; серцева недостатність; гостра серцева недостатність; фармакотерапія; петльові діуретики
диуретики; сердечная недостаточность; острая сердечная недостаточность; фармакотерапия; петлевые диуретики
diuretics; heart failure; acute heart failure; pharmacotherapy; loop diuretics
For the full article you need to subscribe to the magazine.