"Emergency medicine" №1(96), 2019
Burnout syndrome in medical personnel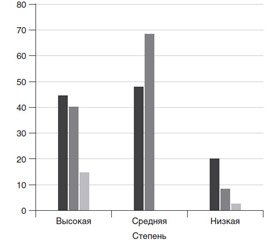 Summary
Проведено вивчення стану медичних працівників. Використані анкетування і психометричний метод. Виконана корекція виявлених порушень здоров'я. Показано, що комплексні рекомендації та їх виконання призводять до поліпшення якості життя медичних працівників.
Проведено изучение состояния медицинских работников. Использованы анкетирование и психометрический метод. Выполнена коррекция выявленных нарушений здоровья. Показано, что комплексные рекомендации и их выполнение приводят к улучшению качества жизни медицинских работников.
Health status and quality of life were studied in medical personnel. Psychometric methods as well as questioning were used. It was proved that comprehensive recommendations and complying with them resulted in an improvement of quality of life in medical personnel.
Keywords
стан здоров'я; якість життя; медичні працівники
состояние здоровья; качество жизни; медицинские работники
health status; quality of life; medical personnel
For the full article you need to subscribe to the magazine.
Bibliography
1. Профессиональная патология: Национальное руководство / Под ред. Н.Ф. Измерова. — М.: ГЭОТАР-Медиа, 2011. — 784 с.
2. Педагогика: Учебно-методическое пособие для студентов медицинских специальностей / А.С. Татров, М.Р. Абаева, Р.Р. Аветисян, Р.Р. Датиева. — М.: Академия естествознания, 2010. — 180 с.
3. Саблина Т.А., Бутенко Т.В. Синдром профессионального выгорания средних медицинских работников // Медицинская сестра. — 2011. — № 2. — С. 22-25.
4. Bianchi R., Boffy C., Hingray C., Truchot D., Laurent E. Comparative symptomatology of burnout and depression // Journal of Health Psychology. — 2013. — 18(6). — Р. 782-787.
5. Shirom A., Melamed S. Does burnout affect physical health? A review of the evidence // A.S.G. Antoniou, C.L. Cooper (еds.). Research companion to organizational health psychology. — Cheltenham, UK: Edward Elgar, 2005. — Р. 599-622.
6. Kraft U. Burned Out // Scientific American Mind. — June/July 2006. — Р. 28-33.