International journal of endocrinology Том 15, №1, 2019
The role of fractalkine in the development of diabetic macular edema in patients with type 2 diabetes mellitus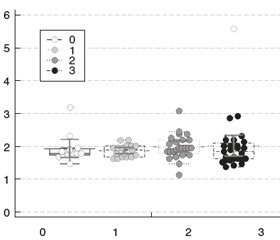 Authors:

Кирилюк М.Л.(3), Сук С.А.(1, 2), Риков С.О.(1), Могілевський С.Ю.(1)
1 - Національна медична академія післядипломної освіти імені П.Л. Шупика МОЗ України, м. Київ, Україна
2 - Київська міська клінічна офтальмологічна лікарня, м. Київ, Україна
3 - Український науково-практичний центр ендокринної хірургії, трансплантації ендокринних органів і тканин МОЗ України, м. Київ, Україна



Categories:

Endocrinology



Sections:

Clinical researches
Summary
Актуальность. Диабетический макулярный отек (ДМО) — серьезное осложнение сахарного диабета (СД) и ведущая причина потери зрения у работоспособного населения большинства развитых стран. Цель исследования: изучить особенности содержания фракталкина в сыворотке крови и провести анализ связи фракталкина с толщиной слоев макулы при разных формах ДМО у больных СД 2-го типа. Материалы и методы. Исследования проведены у 82 больных СД 2-го типа (145 глаз), разделенных на 4 группы в соответствии с формой ДМО. Результаты получены с помощью однофакторного дисперсионного и регрессионного анализа, методикой построения логистических моделей регрессии. Результаты. Фракталкин крови не ассоциируется как с риском ненизкого значения (значения больше QI) толщины слоя нервных волокон, слоя ганглионарных клеток, внутреннего пограничного слоя, центральной толщины сетчатки, объема макулы и центральной ямки, так и с общим высоким риском ухудшения состояния макулы. Выводы. Фракталкин представляет собой новый перспективный терапевтический метод лечения диабетических заболеваний сетчатки.
Актуальність. Діабетичний макулярний набряк (ДМН) — серйозне ускладнення цукрового діабету (ЦД) і провідна причина втрати зору у працездатного населення більшості розвинених країн. Мета дослідження: вивчити особливості вмісту фракталкіну в сироватці крові та провести аналіз зв'язку фракталкіну із товщиною шарів макули при різних формах ДМН у хворих на ЦД 2-го типу. Матеріали та методи. Дослідження проведені у 82 хворих на ЦД 2-го типу (145 очей), розділених на 4 групи відповідно до форми ДМН. Результати отримані за допомогою однофакторного дисперсійного і регресійного аналізу, методикою побудови логістичних моделей регресії. Результати. Фракталкін крові не асоціюється як із ризиком ненизького значення (значення більші QI) товщини шару нервових волокон, шару гангліонарних клітин, внутрішнього граничного шару, центральної товщини сітківки, об'єму макули та центральної ямки, так і з загальним високим ризиком погіршення стану макули. Висновки. Фракталкін являє собою новий перспективний терапeвтичний засіб лікування діабетичних захворювань сітківки.
Background. Diabetic macular edema (DME) is a severe complication of type 2 diabetes mellitus (DM) and a leading cause of vision loss in the working age population of most developed countries. The gold standard for DME treatment should be based on a good control of glycemia along with control of lipids and renal function. However, despite the systemic metabolic control values being essential for patients with diabetic retinopathy, it has proven to be insufficient for DME if it appears. In these patients, additional measures are needed in order to avoid the subsequent loss of vision. The aim of the work was to assess the content of blood fractalkine in patients with type 2 DM and DME in conjunction with the indicators of the thickness of the macula layers. Materials and methods. The study involved 82 patients with type 2 DM (145 eyes), divided into 4 groups in accordance with the DME form. The average age of patients was 65.25 ± 10.85 years, the average duration of DM — 14.00 ± 7.05 years, the average level of HbA1c — 8.40 ± 1.58 %. Results. Using analysis of variance and regression analysis, methods for constructing logistic regression models, we have shown that fractalkine is not associated with the risk of not low values (> QI) of nerve fiber layer, ganglion cell layer, inner plexiform layer, central sector of macula, thickness of fovea. Conclusions. Fractalkine may be a promising new therapeutic method for the treatment of diabetic retinal diseases. DME tends to be a chronic disease, although spontaneous recovery is not uncommon. It is important to recognize that 35 % of patients with macular edema had spontaneous resolution after 6 months if untreated.
Keywords
сахарный диабет; фракталкин; диабетический макулярный отек
цукровий діабет; фракталкін; діабетичний макулярний набряк
diabetes mellitus; fractalkine; diabetic macular edema
For the full article you need to subscribe to the magazine.
Bibliography
1. Ciulla T.A., Amador A.G., Zinman B. Diabetic retinopathy and diabetic macular edema: pathophysiology, screening, and novel therapies // Diabetes Care. — 2003. — Vol. 26. — P. 2653-2664.
2. Simó R., Hernández C. European Consortium for the Early Treatment of Diabetic Retinopathy (EUROCONDOR). Neurodegeneration in the diabetic eye: new insights and therapeutic perspectives // Trends Endocrinol. Metab. — 2014. — Vol. 25. — P. 23-33.
3. Antonetti D.A., Klein R., Gardner W.Th. Diabetic Retinopathy // N. Engl. J. Med. — 2012. — Vol. 366. — P. 1227-1239.
4. Barber A.J. A new view of diabetic retinopathy: A neurodegenerative disease of the eye // Progress in Neuro-Psychopharmacology & Biological Psychiatry. — 2003. — Vol. 27. — P. 283-290.
5. Gyurko R., Siqueira C.C., Caldon N. et al. Chronic hyperglycemia predisposes to exaggerated inflammatory response and leukocyte dysfunction in Akita mice // The Journal of Immuno–logy. — 2006. — Vol. 177. — P. 7250-7256.
6. Liang K.J., Lee J.E., Wang Y.D. et al. Regulation of dynamic behavior of retinal microglia by CX3CR1 signaling // Investigative Ophthalmology & Visual Science. — 2009. — Vol. 50. — P. 4444-4451.
7. Tang J., Kern T.S. Inflammation in diabetic retinopathy // Progress in Retinal and Eye Research. — 2011. — Vol. 30. — P. 343-358.
8. Malachkova N.V., Kyryliuk M.L., Komarovska I.V. Serum adiponectin levels in obese type 2 diabetic patients with diabetic retinopathy // J. Ophthalmol. (Ukraine). — 2017. — Vol. 5. — P. 39-44. doi.org/10.31288/oftalmolzh201753944.
9. Malachkova N.V., Kyryliuk M.L., Komarovska I.V. Association between serum resistin level and diabetic retinopathy in obese patients with type 2 diabetes mellitus. // J. ophthalmol. (Ukraine). — 2017. — Vol. 4. — P. 9-13. doi.org/10.31288/oftalmolzh20174913.
10. Imai T., Hieshima K., Haskell C. et al. Identification and molecular characterization of fractalkine receptor CX3CR1, which mediates both leukocyte migration and adhesion // Cell. — 1997. — Vol. 91(4). — P. 521-30. doi: 10.1016/S0092-8674(00)80438-9.
11. Janeway C., Travers P., Walport M., Shlomchik M.J. Immunobiology: the immune system in health and disease. 6th ed. — 2005. — P. 77-79.
12. Cardona A.E., Pioro E.P., Sasse M.E. et al. Control of microglial neurotoxicity by the fractalkine receptor // Nat. Neurosci. — 2006. — Vol. 9. — P. 917-924.
13. Mizutani N., Sakurai T., Shibata T. et al. Dose-dependent differential regulation of cytokine secretion from macrophages by Fractalkine // Immunol. — 2007. — Vol. 179(11). — P. 7478-7487.
14. Cardona S.M., Mendiola A.S., Yang Y.Ch. et al. Disruption of Fractalkine Signaling Leads to Micro–glial Activation and Neuronal Damage in the Diabetic Reti–na // ASN Neuro. — 2015. — Research Article 29. doi.org/10.1177/1759091415608204.
15. Shiraya T., Kato S., Araki F. et al. Aqueous cytokine le–vels are associated with reduced macular thickness after intravitreal ranibizumab for diabetic macular edema. // PLoS One. — 2017. — Vol. 12(3). — P. e0174340. doi: 10.1371/journal.pone.0174340.
16. AAO. Diabetic Retinopathy 2014. 2014 American Aca–demy of Ophthalmology Updated January 2016, December 2017. www.aao.org/ppp.
17. Statistics with confidence. Confidence intervals and statistical guidelines / Ed. by Altman D.G., Machin D., Bryant T.N., Gardner M.J. Bristol // BMJ Books. — 2003. — 240 p.
18. Jekel J.F., Katz D.L., Elmore J.G., Wild D.M.G. Epidemiology, biostatistics, and preventive medicine. — Philadelphia: Saunders Elsevier, 2007. — 421 p.
19. Kanda Y. Investigation of the freely available easy-to-use software 'EZR' for medical statistics // Bone Marrow Transplant. — 2013. — Vol. 48. — P. 452-458.
20. Kravchun P., Kadykova O., Gabisoniya T. New mar–kers of progression of chronic heart failure in patients with myocardial infarction, type 2 diabetes and obesity // Georgian Medical News. — 2015. — Vol. 1(238). — P. 60-64.
21. Mendiola A.S., Garza R., Cardona S.M. et al. Fractalkine Signaling Attenuates Perivascular Clustering of Microglia and Fibrinogen Leakage during Systemic Inflammation in Mouse Models of Diabetic Retinopathy // Front. Cell. Neurosci. — 2016. — Vol. 10. — P. 303. doi: 10.3389/fncel.2016.00303.
Similar articles

Authors: Сук С.А.(1, 2), Риков С.О.(1), Кирилюк М.Л.(3)
(1) — Національна медична академія післядипломної освіти імені П.Л. Шупика МОЗ України, м. Київ, Україна
(2) — Київська міська клінічна офтальмологічна лікарня, м. Київ, Україна
(3) — Український науково-практичний центр ендокринної хірургії, трансплантації ендокринних органів і тканин МОЗ України, м. Київ, Україна
Archive Of Ukrainian Ophthalmology Том 7, №2, 2019
Date: 2019.06.26
Categories: Ophthalmology
Sections: Clinical researches


Authors: Місюра К.В.(1), Кравчун П.П.(2)
(1) — ДУ «Інститут проблем ендокринної патології ім. В.Я. Данилевського НАМН України», м. Харків, Україна
(2) — Харківський національний медичний університет, м. Харків, Україна
International journal of endocrinology Том 13, №3, 2017
Date: 2017.06.23
Categories: Endocrinology
Sections: Clinical researches



Authors: Місюра К.В.
ДУ «Інститут проблем ендокринної патології імені В.Я. Данилевського НАМН України», м. Харків, Україна
"News of medicine and pharmacy" №6 (655), 2018
Date: 2018.06.05
Sections: Clinical researches