"Emergency medicine" №2(97), 2019
Drug-induced liver damage: principles of diagnosis, pathological changes and treatment approaches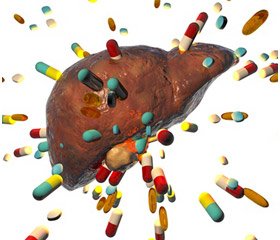 Summary
У роботі наведені дані щодо частоти розвитку медикаментозно зумовлених уражень печінки. Розглянуті патофізіологічні механізми змін, що відбуваються під впливом гепатотоксичних чинників. Лікарі повинні бути пильними щодо медикаментозно зумовлених ушкоджень печінки, тому що раннє їх виявлення і своєчасне припинення прийому препарату можуть зменшити тяжкість гепатотоксичності. Прояви гепатотоксичності, викликаної лікарськими засобами, істотно варіюють: від безсимптомного підвищення рівня ферментів печінки до тяжкої печінкової недостатності. Для правильної діагностики необхідні знання щодо високого ризику розвитку ускладнень при призначенні певних препаратів.
В работе представлены данные о частоте развития медикаментозно обусловленных поражений печени. Рассмотрены патофизиологические механизмы изменений, происходящих под влиянием гепатотоксических медикаментов. Врачи должны быть бдительными относительно медикаментозно обусловленных повреждений печени, потому что раннее их выявление и своевременное прекращение приема препарата могут уменьшить тяжесть гепатотоксичности. Проявления гепатотоксичности, вызванной лекарственными средствами, существенно варьируют: от бессимптомного повышения уровня ферментов печени до тяжелой печеночной недостаточности. Для правильной диагностики необходимы знания относительно высокого риска развития осложнений при назначении определенных препаратов.
The paper presents data on the frequency of drug-induced liver injury. Pathophysiological mechanisms of changes occurring under the influence of hepatotoxic drugs are considered. Physicians must be vigilant in identifying drug-related liver injury because early detection can decrease the severity of hepatotoxicity if the drug is discontinued. The manifestations of drug-induced hepatotoxicity are highly variable, ranging from asymptomatic elevation of liver enzymes to fulminant hepatic failure. Knowledge of the commonly implicated agents and a high index of suspicion are essential in diagnosis.
Keywords
гепатотоксичність; механізми токсичної реакції на ліки; парацетамол; гепатоцелюлярна недостатність; холестаз, цироз печінки; печінкова енцефалопатія
гепатотоксичность; механизмы токсической реакции на лекарства; парацетамол; гепатоцеллюлярная недостаточность; холестаз; цирроз печени; печеночная энцефалопатия
hepatotoxicity; mechanisms of toxic reaction to drugs; paracetamol; hepatocellular insufficiency; cholestasis; liver cirrhosis; hepatic encephalopathy
For the full article you need to subscribe to the magazine.
Bibliography
1. Тлумачний словник з клінічної токсикології / Марков Ю.І., Недашківський С.М., Лоскутов О.А. — К., 2018. — С. 152.
2. Уніфікований клінічний протокол первинної, вторинної (спеціалізованої) медичної допомоги. Аутоімунний гепатит. Наказ МОЗ № 826 від 06.11.2014.
3. Шлапак І.П., Недашківський С.М., Савченко О.О., Доморацький О.Е. Особливості інтенсивної терапії в лікуванні синдрому печінкової енцефалопатії, зумовленої отруєнням аманітальними грибами // Біль, знеболювання і інтенсивна терапія. — 2011. — № 2д. — С. 245-247.
4. Castell J.V., Castell M. Allergic hepatitis induced by drugs // Curr. Opin. Allergy Clin. Immunol. — 2006 Aug. — 6(4). — 258-65.
5. Chalasani N., Björnsson E. Risk Factors for Idiosyncratic Drug-Induced Liver Injury // Gastroenterology. — 2010. — 138(7). — 2246-2259.
6. Cholongitas E., Theocharidou E., Vasianopoulou P. et al. Comparison of the sequential organ failure assessment score with the king's college hospital criteria and the model for end-stage liver disease score for the prognosis of acetaminophen-induced acute liver failure // Liver Transpl. — 2012. — 18. — 405-12. [PubMed]
7. Eshki M., Allanore L., Musette P. et al. Twelve-year analysis of severe cases of drug reaction with eosinophilia and systemic symptoms: a cause of unpredictable multiorgan failure // Arch. Dermatol. — 2009. — 145. — 67-72.
8. Lee W.M., Stravitz R.T., Larson A.M. Introduction to the revised American Association for the Study of Liver Diseases Position Paper on acute liver failure 2011 // Hepatology. — 2012. — 55. — 965-7. [PMC free article] [PubMed]
9. Drug-induced hepatitis // MedlinePlus Medical Encyclopedia. — 2014.
10. Nilesh Mehta; Chief Editor: Michael R. Pinsky. Drug-Induced Hepatotoxicity // Мedscape. — 2016. — Dec 08. — https://emedicine.medscape.com/article/169814-overview.
11. Rutherford A., King L.Y., Hynan L.S. et al. Acute Liver Failure Study Group Development of an accurate index for predicting outcomes of patients with acute liver failure // Gastroenterology. — 2012. — 143. — 1237-43. [PMC free article] [PubMed]