Archive Of Ukrainian Ophthalmology Том 7, №1, 2019
Neuro-ophthalmological aspects of large and giant pituitary adenomas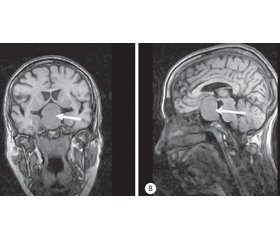 Authors:

Єгорова К.С., Гук М.О., Задояний Л.В., Гук О.М.
ДУ «Інститут нейрохірургії імені А.П. Ромоданова НАМН України», м. Київ, Україна



Categories:

Ophthalmology



Sections:

Specialist manual
Summary
У роботі проведено аналіз особливостей зорових розладів у хворих на великі та гігантські аденоми гіпофіза (АГ). Гормонально-неактивні АГ і пролактиноми у старечому віці можуть досягати значних, іноді великих розмірів, що обумовлює складність хірургічного лікування та може призвести до сліпоти у 3,5–16 % хворих. Під спостереженням перебувало 54 хворих на великі та гігантські АГ, яким проведено клініко-неврологічне, офтальмологічне обстеження та комплекс нейровізуалізуючих досліджень. У клінічній картині захворювання переважають зорові розлади з розвитком асиметричного хіазмального синдрому, що характеризується тяжким і вкрай тяжким зниженням гостроти зору, абсолютними дефектами в темпоральних половинах поля зору, розвитком первинної низхідної атрофії зорових нервів.
В работе проанализированы особенности зрительных расстройств у больных с большими и гигантскими аденомами гипофиза. Гормонально-неактивные АГ и пролактиномы в старческом возрасте могут достигать значительных, иногда гигантских размеров, что обусловливает сложность хирургического лечения и может привести к слепоте у 3,5–16 % больных. Под наблюдением находились 54 больных с большими и гигантскими АГ, которым проведены клинико-неврологическое, офтальмологическое обследования и комплекс нейровизуализирующих исследований. В клинической картине заболевания преобладают зрительные расстройства с развитием асимметричного хиазмального синдрома, который характеризуется выраженным снижением остроты зрения, абсолютными дефектами в темпоральных половинах поля зрения, развитием первичной нисходящей атрофии зрительных нервов.
Background. Pituitary adenomas (PA) are tumors developing from adenohypophysis cells, make up 20–25 % of all extracerebral intracranial tumors. In hormonally active PA secreting different hormones, corresponding clinical syndromes develop and the diagnosis is made in small tumor sizes, at an early stage of the disease. Non-functioning PA presented as macroadenomas are characterized by neurological symptoms due to an increase in intracranial mass of tissue, while hormonal inactivity leads to a delay in diagnosis compared with functioning PA. Visual disorders can result in blindness in 3.5–16 % of patients. The purpose was to study the features of visual disorders in patients with large and giant pituitary adenomas in the dynamics of observation. Materials and methods. We observed 54 patients with PA using clinico-neurological, ophthalmological and neuroimaging methods. Results. Patients with large and giant PA are characterized by a long history of the disease (up to 7 years) with onset in the age from 45 to 59 years, the prevalence of hormonally inactive PA. In the clinical course, visual disturbances prevailed, with the development of asymmetric chiasmal syndrome characterized by severe and very severe vision loss, absolute defects in the temporal halves of the field of vision and primary atrophy of the optic nerves. With dynamics of observation, it has been found that neurosurgical treatment leads to stabilization of visual acuity and visual field. Conclusions. The large and giant pituitary adenomas are characterized by significant disorder in visual functions: visual acuity and visual field, and the development of primary atrophy of the optic nerves. It is necessary to note the leading role of timely neurosurgical treatment for stabilization of visual functions.
Keywords
велика аденома гіпофіза; гігантська аденома гіпофіза; хіазмальний синдром; атрофія зорового нерва
большая аденома гипофиза; гигантская аденома гипофиза; хиазмальный синдром; атрофия зрительного нерва
large pituitary adenomas; giant pituitary adenomas; chiasmal syndrome; optic nerve atrophy
For the full article you need to subscribe to the magazine.
Bibliography
1. Гук М.О. Діагностика та комплексне лікування гормонально-неактивних аденом гіпофіза: дис… д-ра мед. наук: 14.01.05 / М.О. Гук. — К., 2017. — 328 с.
2. Серова Н.К. Клиническая нейроофтальмология. Нейрохирургические аспекты / Н.К. Серова. — Тверь: ООО «Издательство Триада», 2011. — 323 с.
3. Трон Е.Ж. Заболевания зрительного пути / Е.Ж. Трон. — М.: Медгиз, 1955. — 394 с.
4. Abouaf L. Neuro-ophthalmologic exploration in non-functioning pituitary adenoma / L. Abouaf, A. Vighetto, M. Lebas // Annals of Endocrinology. — 2015. — Vol. 76, № 3. — P. 210-219.
5. Endoscopic endonasal surgery for giant pituitary adenomas: advantages and limitations / M. Koutourousiou, P.A. Gardner, J.C. Fernandez-Miranda [et al.] // Journal of Neurosurgery. — 2013. — Vol. 118, № 3. — P. 621-.631.
6. Giant pituitary adenomas: clinical characteristics and surgical results / J. Garibi, I. Pomposo, G. Villar, S. Gaztambide // Br. J. Neurosurg. — 2002. — Vol. 16, № 2. — P. 133-139.
7. Giant pituitary adenoma manifesting as homonymous hemianopia / M. Nishimura, T. Kurimoto, Y. Yamagata [et al.] // Jpn. J. Ophthalmol. — 2007. — Vol. 51, № 3. — P. 151-153.
8. Giant pituitary tumors: a study based on surgical treatment of 118 cases / A. Goel, T. Nadkarni, D. Muzumdar [et al.] // Surg. Neurol. — 2004. — Vol. 61, № 5. — P. 436-445.
9. Ren-Wen Ho. The Influence of Pituitary Adenoma Size on Vision and Visual Outcomes after Trans-Sphenoidal Adenectomy: A Report of 78 Cases / Ho Ren-Wen, Hsiu-Mei Huang, Ho Jih-Tsun // Korean Neurosurg. Soc. — 2015. — Vol. 57, № 1. — P. 23-31.
10. Surgical management of giant pituitary adenomas / G. Mohr, J. Hardy, R. Comtois, H. Beauregard // Can. J. Neurol. Sci. — 1990. — Vol. 17, № 1. — P. 62-66.
11. Surgical results of large and giant pituitary adenomas with special consideration of ophthalmologic outcomes / A.M. Musluman, T. Cansever, A. Yılmaz [et al.] // World Neurosurg. — 2011. — Vol. 76, № 1–2. — P. 141-148.
12. Surgical treatment of giant pituitary adenomas: strategies and results in a series of 95 consecutive patients / P. Mortini, R. Barzaghi, M. Losa [et al.] // Neurosurgery. — 2007. — Vol. 60, № 6. — P. 993-1002.
Similar articles


Authors:
Риков С.О.(1), Шаргородська І.В.(1), Лаврик Н.С.(1), Корнілов Л.В.(2), Шулежко І.А.(2) (1) — Національна медична академія післядипломної освіти імені П.Л. Шупика МОЗ України, м. Київ, Україна (2) — Київська міська клінічна офтальмологічна лікарня «Центр мікрохірургії ока», м. Київ, Україна


Archive Of Ukrainian Ophthalmology Том 8, №1, 2020
Date: 2020.05.11
Categories: Ophthalmology
Sections: Clinical researches


Authors: Панченко Ю.О., Могілевський С.Ю.
Київська міська клінічна офтальмологічна лікарня «Центр мікрохірургії ока», м. Київ, Україна Медичний центр «ЛАЗЕР Плюс», м. Львів, Україна
Національна медична академія післядипломної освіти імені П.Л. Шупика МОЗ України, м. Київ, Україна
Archive Of Ukrainian Ophthalmology Том 7, №1, 2019
Date: 2019.04.25
Categories: Ophthalmology
Sections: Specialist manual


Authors: Урманова Ю.М., Алимова К.Б.
Ташкентский педиатрический медицинский институт,
Республиканский специализированный научно-практический медицинский центр эндокринологии им. акад. Я.Х. Туракулова, г. Ташкент, Республика Узбекистан
International journal of endocrinology Том 14, №5, 2018
Date: 2018.10.24
Categories: Endocrinology
Sections: Specialist manual