Archive Of Ukrainian Ophthalmology Том 7, №1, 2019
Mohs micrographic surgery for high-risk basal cell carcinoma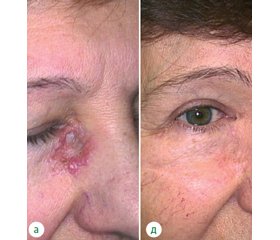 Authors:

Литвиненко Б.В.(1, 3), Литус А.И.(1), Коровин С.И.(2), Василенко С.С.(3), Петренко О.В.(1), Литвиненко В.Е.(4), Баштан В.П.(4)
(1) — Национальная медицинская академия последипломного образования им. П.Л. Шупика, г. Киев, Украина
(2) — Национальный институт рака, г. Киев, Украина
(3) — Универсальная дерматологическая клиника «ЕвроДерм», г. Киев, Украина
(4) — Украинская медицинская стоматологическая академия, г. Полтава, Украина



Categories:

Ophthalmology



Sections:

Specialist manual
Summary
Актуальність. Базальноклітинна карцинома є найчастішою злоякісною пухлиною шкіри з високою частотою рецидивування. Лікування пухлин шкіри високого ризику, розташованих в H-зоні обличчя, становить серйозну клінічну проблему. Мета дослідження: проаналізувати результати використання мікрографічної хірургії за Мосом для лікування базальноклітинних карцином шкіри. Матеріали та методи. Проаналізовано результати хірургічного лікування в клініці 70 пацієнтів з базальноклітинною карциномою шкіри високого ризику (H-зона обличчя, агресивні гістологічні підтипи, рецидивні пухлини) з використанням мікрографічної хірургії за Мосом за період 2016–2017 рр. Результати. Подано аналіз спостережень, що включає стать і вік пацієнтів, гістологічний підтип, розмір і локалізацію пухлини, кількість мікрографічних хірургічних етапів, тип реконструктивного закриття ранового дефекту. Висновки. Базальноклітинна карцинома шкіри високого ризику є серйозною медичною проблемою, оскільки при виборі неадекватного методу лікування спостерігається високий відсоток рецидивів, що призводить до прогресії захворювання, зниження якості та тривалості життя пацієнтів, збільшення фінансового навантаження. Мікрографічна хірургія за Мосом є методом вибору для лікування базальноклітинної карциноми високого ступеня ризику, оскільки дозволяє провести повну оцінку периферичних і глибоких країв резекції та максимально зберегти неуражену тканину, оточуючу пухлину, для досягнення максимального функціонального й естетичного постопераційного результату.
Актуальность. Базальноклеточная карцинома является самой частой злокачественной опухолью кожи с высокой частотой рецидивирования. Лечение опухолей кожи высокого риска, расположенных в H-зоне лица, представляет серьезную клиническую проблему. Цель исследования: проанализировать результаты использования микрографической хирургии по Мосу для лечения базальноклеточных карцином кожи. Материалы и методы. Проанализированы результаты хирургического лечения в клинике 70 пациентов с базальноклеточной карциномой кожи высокого риска (H-зона лица, агрессивные гистологические подтипы, рецидивирующие опухоли) с использованием микрографической хирургии по Мосу за период 2016–2017 гг. Результаты. Представлен анализ наблюдений, который включает пол и возраст пациентов, гистологический подтип, размер и локализацию опухоли, количество микрографических хирургических этапов, тип реконструктивного закрытия раневого дефекта. Выводы. Базальноклеточная карцинома кожи высокого риска является серьезной медицинской проблемой, так как при выборе неадекватного метода лечения наблюдается высокий процент рецидивов, что приводит к прогрессии заболевания, снижению качества и продолжительности жизни пациентов, увеличению финансовой нагрузки. Микрографическая хирургия по Мосу является методом выбора для лечения базальноклеточной карциномы высокой степени риска, так как позволяет провести полную оценку периферических и глубоких краев резекции и максимально сохранить непораженную ткань, окружающую опухоль, для достижения максимального функционального и эстетического постоперационного результата.
Background. Basal cell carcinoma is the most frequent malignant tumor of the skin with a high frequency of recurrence. Treatment of high-risk skin tumors located in the H-zone of the face presents a serious clinical problem. The purpose was to analyze the effectiveness of the Mohs micrographic surgery for the treatment of basal cell carcinomas of the skin. Materials and methods. Results of Mohs micrographic surgery treatment of 70 patients with high-risk basal cell carcinoma (H-zone of the face, aggressive histological subtypes, recurrent tumors), performed in 2016–2017 were analyzed. Results. The analysis of observations including sex and age of patients, histological subtype, tumor size and location, the number of micrographic surgical stages, and the type of reconstructive closure of the wound defect are presented. Conclusions. High-risk basal cell carcinoma is a serious medical problem, a high percentage of recurrences is observed, which leads to a disease progression, deterioration of the quality of life and overall survival, and an increase in financial burden. Mohs micrographic surgery is the treatment of choice for the high-risk basal cell carcinoma, as it allows a complete assessment of the peripheral and deep margins of resected tumor and preserving of the unaffected tissue surrounding the tumor for maximal functional and aesthetic postoperative results.
Keywords
немеланомні раки шкіри; базальноклітинна карцинома шкіри; мікрографічна хірургія за Мосом
немеланомные раки кожи; базальноклеточная карцинома кожи; микрографическая хирургия по Мосу
nonmelanoma skin cancers; basal cell carcinoma; Mohs micrographic surgery
For the full article you need to subscribe to the magazine.
Bibliography
1. Ciazynska M., Narbutt J., Wozniacka A., Lesiak A. Trends in basal cell carcinoma incidence rates: a 16-year retrospective study of a population in central Poland // Postepy Dermatol Alergol. — 2018. — 35(1). — 47-52. doi: 10.5114/ada.2018.73164.
2. Muzic J.G., Schmitt A.R., Wright A.C., Alniemi D.T., Zubair A.S., Olazagasti Lourido J.M. et al. Incidence and Trends of Basal Cell Carcinoma and Cutaneous Squamous Cell Carcinoma: A Population-Based Study in Olmsted County, Minnesota, 2000 to 2010 // Mayo Clin Proc. — 2017. — 92(6). — 890-8. doi: 10.1016/j.mayocp.2017.02.015.
3. Gaspari V., Patrizi A., Venturi M., Misciali C., Fanti P.A. The epidemic spreading of basal cell carcinoma: incidence trend, demographic features, characteristics and risk factors in a retrospective study of 8557 lesions in Bologna // G. Ital. Dermatol. Venereol. — 2017. doi: 10.23736/S0392-0488.17.05617-6.
4. Housman T.S., Feldman S.R., Williford P.M., Fleischer A.B. Jr., Goldman N.D., Acostamadiedo J.M. et al. Skin cancer is among the most costly of all cancers to treat for the Medicare population // J. Am. Acad. Dermatol. — 2003. — 48(3). — 425-9. doi: 10.1067/mjd.2003.186.
5. Fedorenko Z.P., Michailovich Y.Y., Goulak L.O., Go–rokh Y.L., Ryzhov A.Y., Soumkina O.V. et al. Cancer in Ukraine 2016–2017 // Bulletin of national cancer registry of Ukraine. — 2018(19).
6. Xiang F., Lucas R., Hales S., Neale R. Incidence of nonmelanoma skin cancer in relation to ambient UV radiation in white populations, 1978–2012: empirical relationships // JAMA Dermatol. — 2014. — 150(10). — 1063-71. doi: 10.1001/jamadermatol.2014.762.
7. Reichrath J. Sunlight, skin cancer and vitamin D: What are the conclusions of recent findings that protection against solar ultraviolet (UV) radiation causes 25-hydroxyvitamin D deficiency in solid organ-transplant recipients, xeroderma pigmentosum, and other risk groups? // J. Steroid Biochem. Mol. Biol. — 2007. — 103(3–5). — 664-7. doi: 10.1016/j.jsbmb.2006.12.029.
8. Schmitt J., Haufe E., Trautmann F., Schulze H.J., Elsner P., Drexler H. et al. Occupational UV-Exposure is a Major Risk Factor for Basal Cell Carcinoma: Results of the Population-Based Case-Control Study FB-181 // J. Occup. Environ. Med. — 2018. — 60(1). — 36-43. doi: 10.1097/JOM.0000000000001217.
9. Mansouri B., Bicknell L.M., Hill D., Walker G.D., Fiala K., Housewright C. Mohs Micrographic Surgery for the Management of Cutaneous Malignancies // Facial. Plast. Surg. Clin. North Am. — 2017. — 25(3). — 291-301. doi: 10.1016/j.fsc.2017.03.002.
10. Kurta A.O., Sarhaddi D., Sheikh U.A., Bernstein M., Walen S., Armbrecht E.S. et al. Do Patterns of Reconstruction Choices After Mohs Surgery Vary by Specialty? A Pilot Study of Mohs Surgeons and Facial Plastic Surgeons // Dermatol. Surg. — 2018. doi: 10.1097/DSS.0000000000001602.
11. Ibrahim A.M., Rabie A.N., Borud L., Tobias A.M., Lee B.T., Lin S.J. Common patterns of reconstruction for Mohs defects in the head and neck // J. Craniofac. Surg. — 2014. — 25(1). — 87-92. doi: 10.1097/SCS.0b013e3182a2e9eb.
12. Cameron M.C., Lee E., Hibler B., Giordano C.N., Bar–ker C.A., Mori S. et al. Basal Cell Carcinoma, PART II: Contemporary Approaches to Diagnosis, Treatment, and Prevention // J. Am. Acad. Dermatol. — 2018. doi: 10.1016/j.jaad.2018.02.083.
13. van Loo E., Mosterd K., Krekels G.A., Roozeboom M.H., Ostertag J.U., Dirksen C.D. et al. Surgical excision versus Mohs' micrographic surgery for basal cell carcinoma of the face: A randomised clinical trial with 10 year follow-up // Eur. J. Cancer. — 2014. — 50(17). — 3011-20. doi: 10.1016/j.ejca.2014.08.018.