International neurological journal №2 (104), 2019
Benign fasciculation syndrome: clinical cases, literature review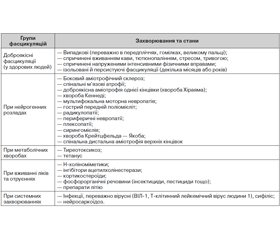 Authors:

Нікіфорова О.С., Саник О.В., Дельва М.Ю.
Українська медична стоматологічна академія, м. Полтава, Україна



Categories:

Neurology



Sections:

Clinical researches
Summary
У статті наводиться опис трьох клінічних випадків синдрому доброякісних фасцикуляцій. Обговорюються основні причини виникнення, механізми розвитку, особливості клінічної й електроміографічної картини, питання диференціальної діагностики та принципи лікування синдрому доброякісних фасцикуляцій. Описується покроковий алгоритм менеджменту пацієнтів із фасцикуляціями.
В статье приводится описание трех клинических случаев синдрома доброкачественных фасцикуляций. Обсуждаются основные причины возникновения, механизмы развития, особенности клинической и электромиографической картины, вопросы дифференциальной диагностики и принципы лечения синдрома доброкачественных фасцикуляций. Описывается пошаговый алгоритм менеджмента пациентов с фасцикуляциями.
The article presents three clinical cases of benign fasciculation syndrome. The main causes, pathogenetic mechanisms, clinical and electromyographic picture, differential diagnosis and treatment options of benign fasciculation syndrome were discussed. We proposed an algorithm for the management of patients with benign fasciculation syndrome.
Keywords
фасцикуляції; синдром доброякісних фасцикуляцій; хвороба мотонейрона; менеджмент
фасцикуляции; синдром доброкачественных фасцикуляций; болезнь мотонейрона; менеджмент
fasciculations; benign fasciculation syndrome; motor neuron disease; management
For the full article you need to subscribe to the magazine.
Bibliography
1. Benign fasciculations and corticosteroid use: possible association? An update / M. Orsini, F.R. Sztajnbok, F.B. Oliveira [et al.] // Neurol. Int. — 2011. — Vol. 3(2). — e11. Doi: 10.4081/ni.2011.e11.
2. Mills K.R. Detecting fasciculations in amyotrophic lateral sclerosis: duration of observation required / K.R. Mills // Neurol. Neurosurg. Psychiatry. — 2011. – Vol. 82. — P. 549-51.
3. Mills K.R. Characteristics of fasciculations in amyotrophic la-teral sclerosis and the benign fasciculation syndrome / K.R Mills // Brain. — 2010. — Vol. 133. — P. 3458-69.
4. Carvalho M. Cramps, muscle pain and fasciculations: not always benign? / M. Carvalho, M. Swash // Neurology. — 2004. — Vol. 63. — P. 721-3.
5. Premorbid weight, body mass, and varsity athletics in ALS / N. Scarmeas, T. Shih, Y. Stern [et al.] // Neurology. — 2002. — Vol. 59. — P. 773-5.
6. Fasciculations and cramps: how benign? Report of four cases progressing to ALS / V. Singh, J. Gibson, B. McLean [et al.] // J. Neurol. — 2010. — Vol. 258. — P. 573-8.
7. Oxidative stress levels are raised in chronic fatigue syndrome and are associated with clinical symptoms / G. Kennedy, V.A. Spence, M. McLaren [et al.] // Free Radical. Biol. Med. — 2005. — Vol. 39. — P. 584-9.
8. Hudson A.J. The muscular pain-fasciculation syndrome / A.J. Hudson, W.F. Brown, J.J. Gilbert // Neurology. — 1978. — Vol. 28. — P. 1105-9.
9. Comparison of psychosocial factors between patients with benign fasciculations and those with amyotrophic lateral sclerosis / S.S. Rana, C.J. Schramke, A. Sangha [et al.] // Annals of Indian Academy of Neuro-logy. — 2009. — Vol. 12(2). — P. 108-10. Doi: 10.4103/0972-2327.53079.
10. Benign fasciculations responsive to gabapentin / C.M. Forcelini, F.T. Rotta, N. Posenato [et al.] // Arq. Neuropsiqiatr. — 2007. — Vol. 65 (4-A). — P. 1015-7.
Similar articles

Authors:
О.Г. Гайко, Ю.М. Гук, А.М. Зима - Інститут травматології та ортопедії АМН України, Київ, Україна


"Тrauma" Том 10, №2, 2009
Date: 2011.08.30
Categories: Traumatology and orthopedics
Sections: Specialist manual



Authors:
С. С. Страфун, О. Г. Гайко - ДУ "Інститут травматології та ортопедії АМН України", Київ, Україна


"Тrauma" Том 10, №3, 2009
Date: 2011.08.31
Categories: Traumatology and orthopedics
Sections: Specialist manual