"Emergency medicine" №3(98), 2019
Assessment of adequacy of mechanical ventilation in morbid obese patients during laparotomy for bariatric surgery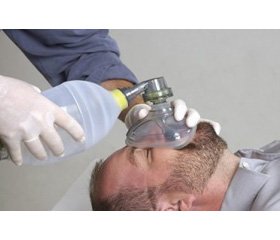 Summary
Актуальність. Для оцінки адекватності штучної вентиляції легенів (ШВЛ) усім хворим розраховувався показник відношення об'єму мертвого простору (Vd) до альвеолярного об'єму (Va). Газ, що знаходиться в повітроносних шляхах, не бере участі в газообміні. Дихальний об'єм (Vt) дорівнює сумі об'єму Vd і Va. Інтегрованим показником є співвідношення Vd/Vt = РаСО2 – ЕtCO2 /РаСО2, де РаСО2 — це парціальний тиск СО2 в артеріальній крові. В нормі Vd/Vt дорівнює 0,3–0,35. Матеріали та методи. Відповідно до поставлених завдань, усіх хворих було розподілено на дві групи залежно від режиму ШВЛ. До складу групи 1 увійшли 46 хворих, яким ШВЛ проводилася в режимі примусової вентиляції за об'ємом. У складі групи 2 — 44 пацієнти, яким ШВЛ проводилася в режимі примусової вентиляції за тиском. У всіх пацієнтів з урахуванням індексу маси тіла був високий ризик розвитку гіпоксемії. У всіх хворих виконано баріатричні оперативні втручання. Усім пацієнтам до операції проводилася непряма пульсоксиметрія. Результати. У 8 пацієнтів насичення киснем капілярної крові було нижче за 90 %, у 27 хворих — від 90 до 95 % і у 9 — 96–100 %. Під час операції пацієнтам обох груп проводився моніторинг газів артеріальної крові (РаО2, мм рт.ст., та РаСО2, мм рт.ст.). Також усі хворі проходили непряму спірометрію. Висновки. Між рівнем РаО2 та співвідношенням Vd/Vt статистично значимої залежності не встановлено — ρ = 0,155 (р > 0,05). У той же час між рівнем РаСО2 та співвідношенням Vd/Vt — прямо пропорційний зв'язок.
Актуальность. Для оценки адекватности искусственной вентиляции легких (ИВЛ) всем больным рассчитывался показатель отношения объема мертвого пространства (Vd) к альвеолярному объему (Va). Газ, находящийся в воздухоносных путях, не принимает участия в газообмене. Дыхательный объем (Vt) равен сумме объема Vd и Va. Интегрированным показателем является соотношение Vd/Vt = РаСО2 – ЕtCO2/РаСО2, где РаСО2 — это парциальное давление СО2 в артериальной крови. В норме Vd/Vt равняется 0,3–0,35. Материалы и методы. В соответствии с поставленными задачами, все больные были разделены на две группы в зависимости от режима ИВЛ. В состав группы 1 вошли 46 больных, которым ИВЛ проводилась в режиме принудительной вентиляции по объему. В составе группы 2 — 44 пациента, которым ИВЛ проводилась в режиме принудительной вентиляции по давлению. У всех пациентов с учетом индекса массы тела был высокий риск развития гипоксемии. У всех больных выполнены бариатрические оперативные вмешательства. Всем пациентам до операции проводилась непрямая пульсоксиметрия. Результаты. У 8 пациентов насыщение кислородом капиллярной крови было ниже 90 %, у 27 больных — от 90 до 95 % и у 9 — 96–100 %. Во время операции пациентам обеих групп проводился мониторинг газов артериальной крови (РаО2, мм рт.ст., и РаСО2, мм рт.ст.). Выводы. Между уровнем РаО2 и соотношением Vd/Vt статистически значимой зависимости не установлено — ρ = 0,155 (Р > 0,05). В то же время между уровнем РаСО2 и соотношением Vd/Vt — прямо пропорциональная связь.
Background. In order to assess the adequacy of ventilation, the ratio of the dead space volume (Vd) to alveolar volume (Va) was calculated for all patients. Gas in airways does not take part in gas exchange. The tidal volume (Vt) is equal to the indices of Vd and Va. Integrated index is the ratio Vd/Vt = РаСО2 – ЕtCO2/РаСО2, where РаСО2 is a partial pressure of СО2 in arterial blood. In the norm, Vd/Vt equals 0.3–0.35. Materials and methods. In accordance with the tasks, all patients were divided into two groups depending on the mode of mechanical ventilation. The group 1 included 46 patients, which underwent mandatory volume-controlled ventilation. The group 2 consisted of 44 patients, who underwent mandatory pressure-controlled ventilation. Taking into account BMI, all patients had a high risk of development of hypoxemia. All patients underwent bariatric surgery and were performed an indirect pulse oximetry before surgery. Results. Eight patients experienced oxygen saturation of capillary blood under 90 %; 27 patients — 90–95 % and 9 persons — 96–100 %. During operation, the patients of both groups were monitored for arterial blood gases (RaО2, mmHg, and RaCO2, mmHg). Also, all patients were peerformed an indirect spirometry. Conclusions. No statistically significant dependence between the RaО2 level and Vd/Vt ratio was established; ρ = 0.155 (P > 0.05). At the same time, RaCO2 level and Vd/Vt ratio demonstrate a directly proportional correlation.
Keywords
ожиріння; штучна вентиляція легенів; мертвий простір; альвеолярна вентиляція; гази крові
ожирение; искусственная вентиляция легких; мертвое пространство; газы крови
obesity; mechanical ventilation; dead space; alveolar ventilation; blood gases
For the full article you need to subscribe to the magazine.
Bibliography
1. Buchwald H., Oien D.M. Metabolic/bariatric surgery worldwide // Obes. Surg. — 2011 Apr. — 23(4). — Р. 427-36. Doi: 10.1007/s11695-012-0864-0.
2. Hensrud D.D., Klein S. Extreme obesity: A new medical crisis in the United States // Mayo Clin. Proc. — 2006 Oct. — 81 (10 Suppl.). — Р. S5-10. Doi: 10.1016/S0025-6196(11)61175-0.
3. Canoy D., Buchan I. Challenges in obesity epidemiology // Obes. Rev. — 2007 Feb. — 8(1 Suppl.). — Р. S1-11. Doi: 10.1111/j.1467-789X.2007.00310.x.
4. Bamgbade O.A., Rutter T.W., Nafiu O.O., Dorje P. Postoperative complications in obese and nonobese patients // World J. Surg. — 2007 Mar. — 31(3). — Р. 556-560; discussion 561. Doi: 10.1007/s00268-006-0305-0.
5. Matadial C.M., Slonin J.H. Surgery in morbidly obese // Complication in Anesthesia Elsevier. — 2007 Dec. — 1(4). — Р. 810-813. Doi: 10.1016/B978-1-4160-2215-2.50207-6.
6. Kaw R., Pasupuleti V., Walker E., Ramaswamy A., Foldvary-Schafer N. Postoperative complications in patients with obstructive sleep apnea // Chest. — 2012 Feb. — 141(2). — Р. 436-441. Doi: 10.1378/chest.11-0283.
7. Katyal N., Bollu P.C. Ventilation, Obesity-Hypoventilation Syndrome. — Treasure Island (FL): StatPearls Publishing, 2018.
8. Singh M., Liao P., Kobah S., Wijeysundera D.N., Shapiro C., Chung F. Proportion of surgical patients with undiagnosed obstructive sleep apnoea // Br. J. Anaesth. — 2013 Apr. — 110(4). — Р. 629-636. doi: 10.1093/bja/aes465.
9. Al-Alwan A., Bates J.H., Chapman D.G., Kaminsky D.A., DeSarno M.J., Irvin C.G. et al. The non-allergic asthma of obesity. A matter of distal lung compliance // Crit. Care Med. — 2014 Dec. — 189(12). — Р. 1494-1502.
10. Pulmonary atelectasis: a pathogenic perioperative entity / M. Duggan, B.P. Kavanagh // Anesthesiology. — 2005. — Vol. 102. — P. 838-854.
11. Wang C., Zhao N., Wang W. Intraoperative mechanical ventilation strategies for obese patients: a systematic review and network meta-analysis // Obes. Rev. — 2015 Jun. — 16(6). — P. 508-517.
12. Hemmes S.N., Serpa Neto A., Schultz M.J. Intraoperative ventilatory strategies to prevent postoperative pulmonary complications: a meta-analysis // Curr. Opin. Anaesthesiol. — 2013 Feb. — 26(2). — Р. 126-133.