"Emergency medicine" №3(98), 2019
Comparative characteristics of civilian and military multiple trauma in a level III hospital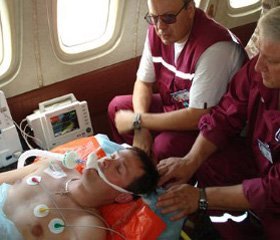 Summary
Актуальність. Бойові поєднані травми мають більш тяжкий перебіг, ніж політравма мирного часу, через різницю у вражаючих факторах, умови отримання травми, терміни надання допомоги постраждалим, масовість уражень. Мета дослідження: провести порівняльний аналіз тяжкості стану постраждалих із політравмою мирного часу та бойовою травмою при надходженні до стаціонару III рівня. Матеріали та методи. Обстежено 79 постраждалих із політравмою мирного часу та 65 поранених із зони АТО. Вивчалися зміни свідомості за шкалою коми Глазго, показники гемодинаміки, потреба у вазопресорній підтримці та штучній вентиляції легень, перистальтика кишечника, показники загального аналізу крові, печінковий і нирковий комплекс, коагулограма, показники кислотно-основного і газового складу крові, рівень цитокінів (IL-6, IL-10) у сироватці крові. Результати. При політравмі мирного часу вірогідно частіше зустрічалися черепно-мозкові травми та торакоабдомінальні травми, при бойовій — травми м'яких тканин. Серед причин політравми мирного часу переважали дорожньо-транспортні пригоди і висотні травми, бойової — мінно-вибухова травма. Поранені на 12,2 % частіше потребували ургентних оперативних втручань. Порушення свідомості в групі бойової травми частіше були пов'язані із седацією, а мирної — безпосередньо з черепно-мозковою травмою. Гіпотензія і тахікардія при бойовій травмі були менш виражені за рахунок проведених раніше протишокових заходів та вазопресорної підтримки. При бойовій травмі були більш виражені гіпоальбумінемія, гіпокоагуляція та ниркова дисфункція. У проявах цитолітичного синдрому при бойовій травмі переважало підвищення рівня аспартат­амінотрансферази, що, найімовірніше, також пояснювалося руйнуванням великих масивів тканин. Запальна реакція не залежала від характеру травми й асоціювалася тільки з тяжкістю та локалізацією ушкоджень. Частота ускладнень становила 41,8 % при мирній травмі і 47,7 % — при бойовій, летальність — 8,9 і 13,8 % відповідно. Висновки. Таким чином, при аналогічній тяжкості травми й обсязі крововтрати бойова травма відрізняється від мирної за своєю структурою та супроводжується більш вираженими системними розладами, в основному печінковою, нирковою та гемокоагуляційною дисфункцією. Це призводить до більш високої частоти ускладнень та летальності.
Актуальность. Боевые сочетанные травмы протекают тяжелее, чем политравма мирного времени, из-за разницы в поражающих факторах, условиях получения травмы, сроках оказания помощи пострадавшим, массовости поражений. Цель исследования: провести сравнительный анализ тяжести состояния пострадавших с мирной и боевой политравмой при поступлении в стационар III уровня. Материалы и методы. Обследовано 79 пострадавших с политравмой мирного времени и 65 раненых из зоны АТО. Изучались изменения сознания по шкале комы Глазго, показатели гемодинамики, потребность в вазопрессорной поддержке и искусственной вентиляции легких, перистальтика кишечника, показатели общего анализа крови, печеночный и почечный комплекс, коагулограмма, показатели кислотно-основного и газового состава крови, уровень цитокинов (IL-6, IL-10) в сыворотке крови. Результаты. При мирной политравме достоверно чаще встречались черепно-мозговые травмы и торакоабдоминальные травмы, при боевой — травмы мягких тканей. Среди причин мирной политравмы преобладали дорожно-транспортные происшествия и высотные травмы, боевой — минно-взрывная травма. Раненые на 12,2 % чаще требовали ургентных оперативных вмешательств. Нарушения сознания в группе боевой травмы чаще были связаны с седацией, а мирной — непосредственно с черепно-мозговой травмой. Гипотензия и тахикардия при боевой травме были менее выражены за счет проведенных ранее противошоковых мероприятий и вазопрессорной поддержки. При боевой травме были более выражены гипоальбуминемия, гипокоагуляция и почечная дисфункция. В проявлениях цитолитического синдрома при боевой травме преобладало повышение уровня аспартатаминотрансферазы (АсТ), что, вероятнее всего, также объяснялось разрушением больших массивов тканей. Воспалительная реакция от характера травмы не зависела и ассоциировалась только с тяжестью и локализацией повреждений. Частота ­осложнений составила 41,8 % при мирной травме и 47,7 % — при боевой, летальность — 8,9 и 13,8 % соответственно. Выводы. Таким образом, при аналогичной тяжести травмы и объеме кровопотери боевая травма отличается от мирной по своей структуре и сопровождается более выраженными системными расстройствами, в основном печеночной, почечной и гемокоагуляционной дисфункцией. Это приводит к более высокой частоте осложнений и летальности.
Background. Combat multiple injuries are more severe than civilian ones due to the difference in the adverse factors, trauma circumstances, medical aid timing, number of injuries. The purpose was to conduct a comparative analysis of civilian and combat trauma patients' status upon admission to a level III hospital. Materials and methods. Seventy-nine victims with civilian multiple trauma and 65 wounded persons from the ATO zone were included in the study. We studied consciousness (Glasgow coma scale), hemodynamics, need for vasopressor support and mechanical ventilation, intestinal peristalsis, general blood count, hepatic and renal parameters, coagulogram, acid-base balance and blood gases, serum cytokine levels (interleukins 6, 10). Results. In civilian multiple trauma, traumatic brain injuries and thoraco-abdominal trauma were more common, while combat trauma patients more often had soft tissue injuries. Road accidents and catatrauma were the main causes of civilian multiple trauma, while in combat trauma, blast injuries prevailed. Urgent surgical interventions rate was 12.2 % higher in combat trauma. In combat trauma, impaired consciousness was associated with sedation, in civilian — directly with traumatic brain injury. Hypotension and tachycardia were less severe in combat trauma due to prior resuscitation and vasopressor support. Hypoalbuminemia, hypocoagulation and renal dysfunction were more severe in combat trauma. With cytolytic syndrome manifestations in combat trauma, AST increase prevailed, which was most likely explained by massive tissue destruction. Inflammatory reaction did not depend on the nature of injury and was associated only with its severity and localization. Complications rate was 41.8 % in civilian trauma and 47.7 % in combat trauma, mortality rate — 8.9 and 13.8 %, respectively. Conclusions. Despite similar severity of injury and blood loss, combat wounds have different injury patterns and result in more severe systemic disorders, such as hepatic, renal and hemocoagulation dysfunction. This leads to the higher complications and mortality rates.
Keywords
політравма; крововтрата; бойова травма; поліорганна дисфункція
политравма; кровопотеря; боевая травма; полиорганная дисфункция
multiple trauma; bleeding; combat trauma; multiple organ failure
For the full article you need to subscribe to the magazine.
Bibliography
1. Outcome after severe multiple trauma: a retrospective ana–lysis / C. von Rüden, A. Woltmann, M. Röse [et al.] // J. Trauma Manag. Outcomes. — 2013. — № 7. — P. 4.
2. Mortality Patterns in Patients with Multiple Trauma: A Systematic Review of Autopsy Studies / R. Pfeifer, M. Teuben, H. Andruszkow [et al.] // PLoS One. — 2016. — № 11(2).
3. Risk factors for mortality of severe trauma based on 3 years' data at a single Korean institution / J. Sim, J. Lee, J.C. Lee [et al.] // Ann. Surg. Treat. Res. — 2015. — № 89(4). — P. 215-219.
4. Assessment of mechanism, type and severity of injury in multiple trauma patients: A cross sectional study of a trauma center in Iran / Reihani H., Pirazghandi H., Bolvardi E. [et al.] // Chin. J. Traumatol. — 2017. — № 20(2). — P. 75-80.
5. Военно-полевая хирургия: Учебник / Под ред. Е.К. Гуманенко. — 2-е изд. — М.: ГЭОТАР-Медиа, 2008. — 768 с.
6. Диагностика и лечение ранений / Под ред. Ю.Г. Шапошникова. — М., 1984. — 343 с.
7. Emergency War Surgery. Fourth United States Revision / Ed. by M.A. Cubano. — San-Antonio, 2013. — 589 p.
8. Improved survival in UK combat casualties from Iraq and Afghanistan: 2003–2012 / Penn-Barwell J.G., Roberts S.A., Bi–shop J.R., Midwinter M.J. // J. Trauma. — 2015. — № 78(5). — P. 1014-1020.
9. Mathews Z.R. Blast Injuries / Mathews Z.R., Koyfman A. // J. Emerg. Med. — 2015. — № 49(4). — P. 573-587.
10. Management of bleeding and coagulopathy following major trauma: an updated European guideline / D.R. Spahn, B. Bouillon, V. Cerny [et al.] // Critical Care. — 2013. — № 17. — P. R76.
11. Bhandari P.S. Reconstructive challenges in war wounds / Bhandari P.S., Maurya S., Mukherjee M.K. // Indian J. Plast Surg. — 2012. — № 45(2). — P. 332-339.
12. Про затвердження стандартів та клінічних протоколів надання медичної допомоги зі спеціальності «Хірургія»: Наказ МОЗ України № 297 від 02.04.2010 [Електронний ресурс]. — Режим доступу: http://www.moz.gov.ua/ua/portal/dn_20100402_297.html
13. Современные принципы инфузионно-трансфузионной терапии кровопотери при политравме и протокол массивной гемотрансфузии / Усенко Л.В., Царев А.В., Петров В.В., Кобеляцкий Ю.Ю. // Гематология. Трансфузиология. Восточная Европа. — 2016. — Т. 2, № 1. — С. 64-75.
14. Соколов В.А. Множественные и сочетанные травмы / Соколов В.А. — М.: ГЭОТАР-Медиа, 2006. — 512 с.
15. Про затвердження методик виконання вимірювань медико-біологічних показників: Наказ МОЗ № 417 від 15.11.2002 [Електронний ресурс]. — Режим доступу: http://mozdocs.kiev.ua/view.php?id=1960
16. Островский В.К. Лейкоцитарный индекс интоксикации при острых гнойных и воспалительных заболеваниях легких / В.К. Островский, Ю.М. Свитич, В.Р. Вебер // Вестник хирургии им. И.И. Грекова. — 1983. — Т. 131, № 11. — С. 21-24.
Similar articles

Authors:
Криштафор А.А.(1), Йовенко И.А.(2), Черненко В.Г.(1, 2), Клименко К.А.(2), Криштафор Д.А.(1, 2) (1) — ГУ «Днепропетровская медицинская академия МЗ Украины», г. Днепр, Украина (2) — КУ «Днепропетровская областная клиническая больница им. И.И. Мечникова», г. Днепр, Украина


"Emergency medicine" 2 (81) 2017
Date: 2017.05.15
Categories: Medicine of emergency
Sections: Clinical researches


Authors: Криштафор А.А.(1), Усенко Л.В.(1), Йовенко И.А.(2), Криштафор Д.А.(1, 2), Черненко В.Г.(1, 2), Шайда О.А.(1)
(1) — ГУ «Днепропетровская медицинская академия МЗ Украины», г. Днепр, Украина
(2) — КУ «Днепропетровская областная клиническая больница им. И.И. Мечникова» ДОС, г. Днепр, Украина
"Emergency medicine" 6 (85) 2017
Date: 2017.11.13
Categories: Medicine of emergency
Sections: Clinical researches


Authors:
Kochin I.V. - State Institution «Zaporizhzhia Medical Academy of Postgraduate Education of Ministry of Healthcare of Ukraine», Department of Civil Protection and Disaster Medicine, Zaporizhzhia, Ukraine


"Emergency medicine" 6 (69) 2015
Date: 2016.01.20
Categories: Medicine of emergency
Sections: Clinical researches