"Emergency medicine" №3(98), 2019
A clinical case of successful treatment of severe community-acquired pneumonia associated with influenza BH3N2 virus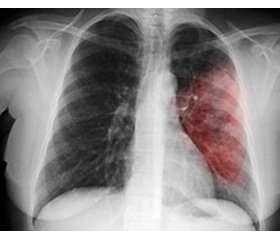 Authors:

Клигуненко Е.Н.(1), Корпусенко В.Г.(2), Болтянский С.В.(2), Рудейченко С.В.(2), Матушак А.М.(2), Олейник В.И.(2), Корнеева Е.В.(2), Медведев А.А.(2), Новгородцева Е.П.(2)
(1) — ГУ «Днепропетровская медицинская академия МЗ Украины», г. Днепр, Украина
(2) — КУ «Днепровское клиническое отделение скорой медицинской помощи» ДОС, г. Днепр, Украина



Categories:

Medicine of emergency



Sections:

Specialist manual
Summary
Проблема лікування тяжких пневмоній, у тому числі й вірусних (вірусно-бактеріальних), зберігає свою високу актуальність і вимагає впровадження алгоритму клініко-діагностичних заходів для забезпечення адекватної лікувальної тактики в даній нозологічній групі. У статті розглянуто клінічний випадок інтенсивної терапії пацієнта з позалікарняною двосторонньою полісегментарною пневмонією.
Проблема лечения тяжелых пневмоний, в том числе и вирусных (вирусно-бактериальных), сохраняет свою высокую актуальность и требует внедрения алгоритма клинико-диагностических мероприятий для обеспечения адекватной лечебной тактики в данной нозологической группе. В статье рассмотрен клинический случай интенсивной терапии пациента с внегоспитальной двусторонней полисегментарной пневмонией.
The problem of treating severe pneumonia (including viral, viral-bacterial) is still of high relevance and requires the implementation of an algorithm of clinical diag­nostic measures to ensure adequate therapeutic tactics in this nosological group. The article describes a clinical case of intensive care of a patient with community-acquired bilateral multilobar pneumonia.
Keywords
пневмонія; гострий респіраторний ди­стрес-синдром; ШВЛ; рекрутмент; пермісивна гіперкапнія; синдром поліорганної недостатності
пневмония; острый респираторный дистресс-синдром; ИВЛ; рекрутмент; пермиссивная гиперкапния; синдром полиорганной недостаточности
pneumonia; аcute respiratory distress syndrome; mechanical ventilation; recruitment; permissive hypercapnia; мultiple organ dysfunction syndrome
For the full article you need to subscribe to the magazine.
Bibliography
1. 10 ведущих причин смерти в мире. Информационный бюллетень № 310. Май, 2014. Availableat: http://www.who.int/mediacentre/factsheets/fs310/ru/.
2. Вирусная пневмония грипп А (H1N1), осложненная ОРДС / Ю.С. Полушин, К.Н. Храпов М.Ю. Майская, К.В. Дикарев // Общая реаниматология. — 2010. — № 3. — С. 15-22.
3. Светлицкая О.И. Острое повреждение легких у пациентов с вирусно-бактериальной пневмонией на фоне избыточной массы тела и ожирения / О.И. Светлицкая, И.И. Канус // Медицинские новости. — 2013. — № 3. — С. 6-10.
4. Mortality Rates for Patients With Acute Lung Injury / ARDS Have Decreased Over Time / M. Zambon, J.-L. Vincent // Chest. — 2008. — Vol. 133. — P. 1120-1127.
Similar articles

Authors: Клигуненко Е.Н.(1), Корпусенко В.Г.(2), Болтянский С.В.(2), Рудейченко С.В.(2), Матушак А.М.(2), Олейник В.И.(2), Корнеева Е.В.(2), Медведев А.А.(2), Новгородцева Е.П.(2)
(1) — ГУ «Днепропетровская медицинская академия МЗ Украины», г. Днепр, Украина
(2) — КУ «Днепровское клиническое отделение скорой медицинской помощи» ДОС, г. Днепр, Украина
"News of medicine and pharmacy" №15, 16 (710, 712), 2019
Date: 2020.01.08
Sections: Clinical researches


Authors: Підгірний Я., Туркевич О., Яєчник О., Закотянський О.
Львівський національний медичний університет імені Данила Галицького, м. Львів, Україна
"Emergency medicine" 8 (79) 2016
Date: 2017.01.27
Categories: Medicine of emergency
Sections: Clinical researches

Authors: Клигуненко Е.Н.(1), Киреева Т.В.(1), Корпусенко В.Г.(2), Болтянский С.В.(2)
1 - ГУ «Днепропетровская медицинская академия МЗ Украины», г. Днепр, Украина
2 - КУ «Днепропетровская КОСМП» ДОС», г. Днепр, Украина
"Emergency medicine" 4 (75) 2016
Date: 2016.08.31
Sections: Medical forums