"Emergency medicine" №3(98), 2019
Clinical case of successful conservative treatment of the portal and superior mesenteric vein thrombosis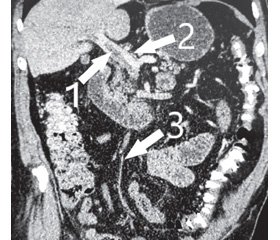 Authors:

Клигуненко Е.Н.(1), Корпусенко В.Г.(2), Болтянский С.В.(2), Матушак А.М.(2), Корнеева Е.В.(2), Медведев А.А.(2)
(1) — ГУ «Днепропетровская медицинская академия МЗ Украины», г. Днепр, Украина
(2) — КУ «Днепровское КОСМП», г. Днепр, Украина



Categories:

Medicine of emergency



Sections:

Specialist manual
Summary
Гострий тромбоз воротної вени є потенційно небезпечним для життя станом, що має значні труднощі в діагностиці та виборі тактики лікування пацієнта. Єдиних рекомендацій з надання невідкладної допомоги при даній патології не існує. У статті наведено клінічний випадок успішної та своєчасної діагностики й лікування цього захворювання.
Острый тромбоз воротной вены является потенциально опасным для жизни состоянием, представляющим значительные сложности в диагностике и выборе тактики лечения пациента. Единых рекомендаций по оказанию неотложной помощи при данной патологии не существует. В статье представлен клинический случай успешной и своевременной диагностики и лечения этого заболевания.
Acute portal vein thrombosis is a potentially life-threatening condition that cause significant difficulties in the diagnosis and choice of tactics for treating a patient. There are no unified recommendations for emergency care of these patients. The article presents a clinical case of successful and timely diagnosis and treatment of this disease.
Keywords
тромбоз воротної вени; тромбоз верхньої брижової вени; комп'ютерна томографія органів черевної порожнини; системна тромболітична терапія; еноксапарин
тромбоз воротной вены; тромбоз верхней брыжеечной вены; компьютерная томография органов брюшной полости; системная тромболитическая терапия; эноксапарин
portal vein thrombosis; superior mesenteric vein thrombosis; computed tomography of the abdominal organs; systemic thrombolytic therapy; enoxaparin
For the full article you need to subscribe to the magazine.
Bibliography
1. Rautou P.E., Douarin L., Denninger M.H., Escolano S., Lebrec D., Moreau R. et al. Bleeding in patients with Budd-Chiari syndrome // J. Hepatol. — 2011. — 54. — 56-63.
2. De Franchis R. Revising consensus in portal hypertension: report of the Baveno V consensus workshop on methodology of diagnosis and therapy in portal hypertension // J. Hepatol. — 2010. — 53. — 762-768.
3. Rajani R., Bjornsson E., Bergquist A., Danielsson A., Gustavsson A., Grip O. et al. The epidemiology and clinical features of portal vein thrombosis:a multicentre study // Aliment. Pharmacol. Ther. — 2010. — 32. — 1154-1162.
4. Acosta S., Alhadad A., Svensson P., Ekberg O. Epidemio–logy, risk and prognostic factors in mesenteric venous thrombosis // Br. J. Surg. — 2008. — 95. — 1245-1251.
5. Clavien P.A., Durig M., Harder F. Venous mesenteric infarction: a particular entity // Br. J. Surg. — 1988. — 75. — 252-255.
6. Clavien P.A., Harder F. Mesenteric venous thrombosis. An 18-year retrospective study // Helv. Chir. Acta. — 1988. — 55. — 29-34.
7. Kumar S., Sarr M.G., Kamath P.S. Mesenteric venous thrombosis // N. Engl. J. Med. — 2001. — 345. — 1683-1688.
8. Plessier A., Rautou P.E., Valla D.C. Management of hepatic vascular diseases // J. Hepatol. — 2012. — 56. — S25-S38.
9. Senzolo M., Riggio O., Primignani M. Vascular disorders of the liver: recommendations from the Italian Association for the Study of the Liver (AISF) ad hoc committee // Dig. Liver Dis. — 2011. — 43. — 503-514.
10. American Gastrointestinal Association Medical Position Statement: guidelines on intestinal ischemia // Gastroentero–logy. — 2000. — 118. — 951-953.
11. Malkowski P., Pawlak J., Michalowicz B., Szczerban J., Wroblewski T., Leowska E. et al. Thrombolytic treatment of portal thrombosis // Hepatogastroenterology. — 2003. — 50. — 2098-2100.
12. Smalberg J.H., Spaander M.V., Jie K.S., Pattynama P.M., van Buuren H.R., van Den B.B. et al. Risks and benefits of transcatheter thrombolytic therapy in patients with splanchnic venous thrombosis // Thromb. Haemost. — 2008. — 100. — 1084-1088.
13. Ferro C., Rossi U.G., Bovio G., Dahamane M., Centa–naro M. Transjugular intrahepatic portosystemic shunt, mechanical aspiration thrombectomy, and direct thrombolysis in the treatment of acute portal and superior mesenteric vein thrombosis // Cardiovasc. Intervent. Radiol. — 2007. — 30. — 1070-1074.
14. Hollingshead M., Burke C.T., Mauro M.A., Weeks S.M., Dixon R.G., Jaques P.F. Transcatheter thrombolytic therapy for acute mesenteric and portal vein thrombosis // J. Vasc. Interv. Radiol. — 2005. — 16. — 651-661.
15. Клинические рекомендации EASL: заболевания сосудов печени. Европейская ассоциация по изучению печени (EASL) Русское издание. Т. 2, № 1. The Russian version of this guide is a translation of the original English version and is provided for information purposes only. In case of any discrepancy, the English original will prevail. EASL makes no warranty of any kind with respect to any translated guide // Journal of Hepato–logy. — 2016. — 64. — 179-202.
Similar articles

Authors:
Котенко О.Г., Гриненко А.В., Попов А.О., Коршак А.А., Гусев А.В., Федоров Д.А., Григорян М.С., Национальный институт хирургии и трансплантологии им. А.А. Шалимова, Киев, Украина


Ukrainian journal of surgery 2 (21) 2013
Date: 2013.07.02
Categories: Surgery
Sections: Clinical researches


Authors:
Степанов Ю.М.(1), Косинська С.В.(2) (1) — ДУ «Інститут гастроентерології НАМН України», м. Дніпро, Україна (2) — ДЗ «Дніпропетровська медична академія МОЗ України», м. Дніпро, Україна


"Gastroenterology" Том 51, №1, 2017
Date: 2017.05.16
Categories: Gastroenterology
Sections: Specialist manual


Authors:
Котенко О.Г., Попов А.О., Коршак А.А., Гриненко А.В., Гусев А.В.,Федоров Д.А., Григорян М.С. - Национальный институт хирургии и трансплантологии им. А.А. Шалимова, г. Киев, Украина


Ukrainian journal of surgery 3(22) 2013
Date: 2013.09.02
Categories: Surgery
Sections: Clinical researches


Authors: Могилевец Э.В.(1), Гарелик П.В.(1), Дубровщик О.И.(1), Жибер В.М.(2), Карпович А.П.(2), Божко Е.Н.(2)
(1) — УО «Гродненский государственный медицинский университет», г. Гродно, Беларусь
(2) — УЗ «Городская клиническая больница № 4 г. Гродно», г. Гродно, Беларусь
Ukrainian journal of surgery 1 (36) 2018
Date: 2018.07.02
Categories: Surgery
Sections: Clinical researches