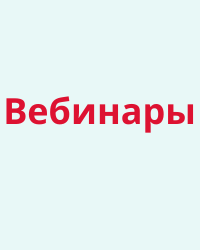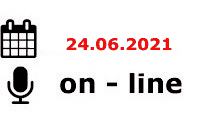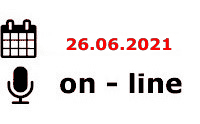 ---
СІМЕЙНІ ЛІКАРІ ТА ТЕРАПЕВТИ
---
НЕВРОЛОГИ, НЕЙРОХІРУРГИ, ЛІКАРІ ЗАГАЛЬНОЇ ПРАКТИКИ, СІМЕЙНІ ЛІКАРІ
---
КАРДІОЛОГИ, СІМЕЙНІ ЛІКАРІ, РЕВМАТОЛОГИ, НЕВРОЛОГИ, ЕНДОКРИНОЛОГИ
---
СТОМАТОЛОГИ
---
ІНФЕКЦІОНІСТИ, СІМЕЙНІ ЛІКАРІ, ПЕДІАТРИ, ГАСТРОЕНТЕРОЛОГИ, ГЕПАТОЛОГИ
---
ТРАВМАТОЛОГИ
---
ОНКОЛОГИ, (ОНКО-ГЕМАТОЛОГИ, ХІМІОТЕРАПЕВТИ, МАМОЛОГИ, ОНКО-ХІРУРГИ)
---
ЕНДОКРИНОЛОГИ, СІМЕЙНІ ЛІКАРІ, ПЕДІАТРИ, КАРДІОЛОГИ ТА ІНШІ СПЕЦІАЛІСТИ
---
ПЕДІАТРИ ТА СІМЕЙНІ ЛІКАРІ
---
АНЕСТЕЗІОЛОГИ, ХІРУРГИ
"Emergency medicine" №3(98), 2019
Clinical case of successful treatment of a patient with distal aortic aneurysm rupture and massive blood loss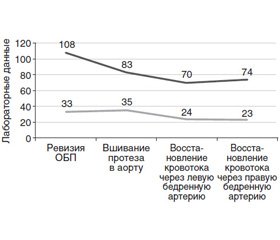 Authors:

Клигуненко Е.Н.(1), Площенко Ю.А.(1), Новиков С.П.(2), Василишин А.В.(2), Байда Ю.Б.(2), Бородай Л.В.(2), Бородина И.К.(2)
(1) — ГУ «Днепропетровская медицинская академия МЗ Украины», г. Днепр, Украина
(2) — КУ «Днепропетровская городская клиническая многопрофильная больница № 4» ДОС, г. Днепр, Украина



Categories:

Medicine of emergency



Sections:

Specialist manual
Summary
У статті наведений клінічний випадок успішного лікування масивної крововтрати, що перевищувала смертельну в 2 рази при оперативному втручанні з приводу розриву аневризми дистального відділу черевної аорти. Останнім часом при розвитку масивної кровотечі широкого поширення набула стратегія Damage control resuscitation, суть якої полягає у швидкій зупинці кровотечі хірургічним шляхом, до зупинки кровотечі в дотриманні рестриктивної стратегії заміщення об'єму з метою досягнення цільового рівня тиску до систолічного 80–90 мм рт.ст., що забезпечує мінімально безпечний рівень перфузії тканин, раннє застосування протоколу масивної трансфузії в співвідношенні «еритроцити — плазма — тромбоцити — кріопреципітат» 1 : 1 : 1 : 1 у ефективних лікувальних дозах (свіжозаморожена плазма — 20 мл/кг, еритроцитарна маса — 15–20 мл/кг), в ранній профілактиці коагулопатії із застосуванням інгібіторів фібринолізу. У статті наведені проведений об'єм та склад інфузійно-трансфузійної терапії, вплив її на показники гемодинаміки, діурезу, водного балансу та лабораторні дані. В результаті проведених комплексних дій лікарів-анестезіологів відділення дотримання тактики Damage control resuscitation випадок лікування хворого був успішний.
В статье приведен клинический случай успешного лечения массивной кровопотери, которая превышала смертельную в 2 раза, при оперативном вмешательстве по поводу разрыва аневризмы дистального отдела брюшной аорты. В последние годы при развитии массивного кровотечения широкое распространение получила стратегия Damage control resuscitation, суть которой заключается в быстрой остановке кровотечения хирургическим путем, до остановки кровотечения в соблюдении рестриктивной стратегии замещения объема с целью достижения целевого уровня давления до систолического 80–90 мм рт.ст., что обеспечивает минимально безопасный уровень перфузии тканей, раннее применение протокола массивной трансфузии в соотношении «эритроциты — плазма — тромбоциты — криопреципитат» 1 : 1 : 1 : 1 в эффективных лечебных дозах (свежезамороженная плазма — 20 мл/кг, эритроцитарная масса — 15–20 мл/кг), в ранней профилактике коагулопатии с применением ингибиторов фибринолиза. В статье представлены проведенный объем и состав инфузионно-трансфузионной терапии, влияние ее на показатели гемодинамики, диуреза, водного баланса и лабораторные данные. В результате проведенных комплексных действий врачей-анестезиологов отделения соблюдения тактики Damage control resuscitation случай лечения больного был успешен.
The article presents a clinical case of successful treatment of massive blood loss, which 2 times exceeded the fatal hemorrhage, in surgical intervention for distal abdominal aortic aneurysm rupture. In recent years, in case of massive bleeding, the Damage control resuscitation strategy has become widespread. It consist in the rapid arrest of bleeding surgically, before this — in adherence to the restrictive strategy of volume replacement in order to achieve the target pressure, with systolic one of 80–90 mmHg, which provides a minimum safe level of tissue perfusion, early application of the protocol of massive transfusion with the erythrocytes — plasma — platelets — cryoprecipitate ratio of 1 : 1 : 1 : 1 in effective therapeutic doses (fresh frozen plasma 20 ml/kg, packed red blood cells 15–20 ml/kg), early prophylaxis of coagulopathy with the use of inhibitors of fibrinolysis. The article presents the volume and composition of infusion and transfusion therapy, its effect on hemodynamics, diuresis, water balance and laboratory data. Due to the integrated actions of anesthesiologists of the department, adherence to the Damage control resuscitation, the treatment of the patient was successful.
Keywords
аневризма; масивна крововтрата; інфузійно-трансфузійна терапія
аневризма; массивная кровопотеря; инфузионно-трансфузионная терапия
aneurysm; massive blood loss; infusion and transfusion therapy
For the full article you need to subscribe to the magazine.
Bibliography
1. European Society for Vascular Surgery (ESVS) 2019 Clinical Practice Guidelines on the Management of Abdominal Aorto-iliac Artery Aneurysms.
2. Mani K., Venermo M., Beiles B., Menyhei G., Altreuther M., Loftus I. et al. Regional differences in case mix and perioperative outcome after elective abdominal aortic aneurysm repair in the vascunet database // Eur. J. Vasc. Endovasc. Surg. — 2015 Jun. — 49. — Р. 646-52.
3. Desgranges, ECAR Investigators. ECAR (Endovasculaire ou Chirurgie dans les Anévrysmes aorto-iliaques Rompus): a French randomized controlled trial of endovascular versus open surgical repair of ruptured aorto-iliac aneurysms // Eur. J. Vasc. Endovasc. Surg. — 2015. — 50. — 303e10.
4. IMPROVE trial investigators, Powell J.T., Sweeting M.J., Thompson M.M., Ashleigh R., Bell R. et al. Endovascular or open repair strategy for ruptured abdominal aortic aneurysm: 30 day outcomes from IMPROVE randomized trial // BMJ. — 2014. — 348. — 7661.
5. Reimerink J.J., Hoornweg L.L., Vahl A.C., Wisselink W., van den Broek T.A., Legemate D.A. et al. Amsterdam Acute Aneurysm Trial Collaborators. Endovascular repair versus open repair of ruptured abdominal aortic aneurysms: a multicenter randomi–zed controlled trial // Ann. Surg. — 2013a. — 258. — 248e56.
6. Markovic M., Tomic I., Ilic N., Dragas M., Koncar I., Bukumiric Z. et al. The rationale for continuing open repair of ruptured abdominal aortic aneurysm // Ann. Vasc. Surg. — 2016. — 36. — 64e73.
7. Management of severe perioperative bleeding: guidelines from the European Society of Anaesthesiology. — First update 2016. — Р. 332-395.
8. Клигуненко Е.Н., Сединкин В.А. Об эффективности рестриктивного типа восполнения острой акушерской кровопотери: Збірник наукових праць співробітників НМАПО ім. П.Л. Шупика. — К., 2015. — Вип. 26 (к. 6, ч. 2). — С. 132-136.
9. Клигуненко Е.Н., Кравец О.В. Интенсивная терапия кровопотери: Учебно-методическое пособие. — Днепропетровск: Пороги, 2005. — 2-е изд-е, доп. — 150 с.
10. Сединкин В.А., Клигуненко Е.Н. Обзор рекомендаций по интенсивной терапии острой массивной кровопотери в акушерстве // Медицина неотложных состояний. — 2017.
Similar articles

Authors:
Шмидт Е.Ю.(1), Прилуцкая Е.Ю.(1, 2), Грицай А.О.(1, 2) (1) — Харьковский национальный университет им. В.Н. Каразина, г. Харьков, Украина (2) — Харьковская клиническая больница на железнодорожном транспорте № 1, филиал «Центр охраны здоровья» акционерного общества «Украинская железная дорога», г. Харьков, Украина


"Emergency medicine" Том 16, №1, 2020
Categories: Medicine of emergency
Sections: Specialist manual

Authors:
Д.Л. БРИСМАН, Институт неврологии, Нью Джерси, США, Д.У. НЬЮЭЛЛ, Медицинский центр, Сиэтл, США, Й.К. СОНГ, кафедра нейрохирургии, Университетский медицинский центр, Нешвилл, Теннеси, США


"News of medicine and pharmacy" Неврология (260) 2008 (тематический номер)
Categories: Neurology
Sections: Specialist manual