"Emergency medicine" №3(98), 2019
Pain syndrome in oncological diseases and ways to control it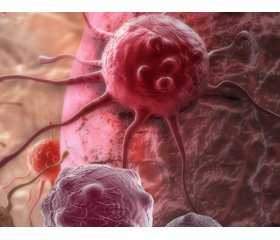 Summary
Однією з важливих проблем сьогодення є онкологічні захворювання. За прогнозами Все­світньої організації охорони здоров'я, захворюваність на онкологічні захворювання та смертність при них будуть збільшуватися, і у 2030 р. патологія забере понад 13 млн життів. При цій патології біль є невід'ємним симптомом. На заключних стадіях хвороби від терпимого біль поступово розвивається до сильного, нестерпного, що має постійний характер. У рекомендаціях експертів Все­світньої організації охорони здоров'я виділено три ступені фармакотерапії, що забезпечують раціональне лікування больового синдрому в онкологічних хворих. Підбір ефективної терапії проти болю — складне завдання, що вимагає поетапного підходу. Насамперед необхідний анамнез: причина болю, давність, локалізація, інтенсивність, зв'язок із часом доби і фізичним навантаженням, тип анальгетиків, що вже застосовувалися, та їх ефективність. Медичні дослідження останнього часу свідчать про те, що больовий синдром необхідно лікувати незалежно від прогнозів за основним захворюванням. Це потрібно, щоб запобігти руйнівній дії болю на фізичний, моральний і психічний стан пацієнта, зберегти його соціальну значимість.
Одной из важных проблем современности являются онкологические заболевания. По прогнозам Всемирной организации здравоохранения, заболеваемость онкологическими заболеваниями и смертность при них будут увеличиваться, и в 2030 г. патология заберет более 13 млн жизней. При этой патологии боль является неотъемлемым симптомом. На заключительных стадиях болезни от терпимой боль постепенно развивается до сильной, мучительной, что имеет постоянный характер. В рекомендациях экспертов Всемирной организации здравоохранения выделены три степени фармакотерапии, которые обеспечивают рациональное лечение болевого синдрома у онкологических больных. Подбор эффективной терапии против боли — сложная задача, которая требует поэтапного подхода. Прежде всего врачу необходим анамнез: причина боли, давность, локализация, интенсивность, связь с временем суток и физической нагрузкой, тип анальгетиков, которые уже применялись, и их эффективность. Медицинские исследования последних лет свидетельствуют о том, что болевой синдром необходимо лечить независимо от прогнозов по основному заболеванию. Это нужно, чтобы предотвратить разрушительное действие боли на физическое, моральное и психическое состояние пациента, сохранить его социальную значимость.
One of the most important problems today is cancer. According to the World Health Organization prognosis, incidence of cancer and mortality will increase with them, and in 2030, the pathology will take over 13 million lives. Pain is an inevitable symptom of this illness. In the final stages of the disease, the tolerable pain gradually develops into a severe, painful, persistent form. In the recommendations of the World Health Organization experts, there are three stages of pharmacotherapy, which provide rational treatment of pain syndrome in cancer patients. The selection of effective pain management is a complex task that requires a phased approach. First of all, the doctor needs anamnesis: the cause of pain, its duration, localization, severity, association with the time of day and exercises, type of analgesics that have already been used, and their effectiveness. Medical studies in recent years suggest that pain should be treated regardless of prognosis for the underlying disease. This is necessary to prevent the destructive effect of pain on the physical, moral and mental state of the patient, to preserve his social significance.
Keywords
біль; рак; онкологічні захворювання; хронічній біль; знеболювання; триступенева система знеболювання; больовий синдром; контрольована пацієнтом аналгезія
боль; рак; онкологические заболевания; хроническая боль; обезболивание; трехступенчатая система обезболивания; болевой синдром; контролируемая пациентом анальгезия
pain; cancer; oncological diseases; chronic pain; anesthesia; three-stage system of anesthesia; pain syndrome; patient-controlled analgesia
For the full article you need to subscribe to the magazine.
Bibliography
1. IASP. www.iasp-pain.org
2. Артеменко А.Р., Вейн А.М., Вознесенская Т.Г., Голубев В.Л. и др. Болевые синдромы в неврологической практике. — 3-е изд., перераб. и доп. — М.: МЕДпресс-информ, 2010. — 336 с.
3. Данилов А.Б., Данилов Ал.Б. Управление болью. Био–психосоциальный подход. — М.: АММ ПРЕСС, 2012. — 568 с.
4. Данилов А.Б., Данилов Ал.Б. Биопсихосоциокультурная модель и хроническая боль // Современная терапия в психиатрии и неврологии. — 2013. — № 1. — С. 30-36.
5. Крыжановский Г.Н. Центральные патофизиологические механизмы патологической боли // Тезисы докладов научно-практической конференции с международным участием «Клинические и теоретические аспекты боли». — М., 2001. — С. 14.
6. Paice J.A., Bell R.F., Kalso E.A., Soyannwo O.A. Cancer Pain. From Molecules to Saffering. — IASP Press. Seattle, 2010. — 354 р.
7. Каприн А.Д., Абузарова Г.Р., Хороненко В.Э., Алексеева Г.С., Костин А.А., Старинский В.В., Алексеев Б.Я., Александрова Л.М. Фармакотерапия хронического болевого синдрома у онкологических пациентов. — М.: МНИОИ им. П.А. Герцена — филиал ФГБУ «ФМИЦ им. П.А. Герцена» Минздрава России, 2015. — 48 с.
8. Attal N., Cruccua G., Baron R., Haanpaa M., Hansson P., Jensen T.S., Nurmikko T. EFNS guidelines on the pharmacological treatment of neuropathic pain: 2009 revision // EFNS European Journal of Neurology. — 2010. — Vol. 17, № 8. — P. 1010-1018.
9. De Angelis L.M., Posner J.B. Neurologic Complications of Cancer. — Oxford University Press, Hardback, 2008. — 2nd ed. — 656 р.
10. Данилов А.Б. Боль смешанного типа. Патофизиологические механизмы — значение для клинической практики. Подходы к диагностике и лечению смешанных типов болевых синдромов // РМЖ. — 2014. — Специальный выпуск. — С. 10-16.
11. Worldwide palliative care alliance (WPCA). — World Health Organization, 2015. — www.who.int/nmh/Global_Atlas_of_Palliative_Care.pdf
12. Кукушкин М.Л. Патофизиологические механизмы болевых синдромов // Боль. — 2003. — № 1. — С. 5-16.
13. Jost L., Roila F., ESMO Guidelines Working Group. Management of cancer pain: ESMO Clinical Practice Guidelines // Ann. Oncol. — 2010. — 21 (Suppl. 5). — Р. 257-260.
14. Use of Opioid Analgesics in the Treatment of Cancer Pain: Evidence-based Recommendations from the EAPC // Lancet Oncol. — 2012. — 13. — Р. 58-68.
15. American Society of Clinical Oncology 2016. All rights reserved. www.asco.org/chronicpain-guideline
16. Усенко О. О рациональном использовании опиоидных анальгетиков в лечении хронической боли у инкурабельных онкологических больных // Врач. — 2013. — № 5. — С. 9-19.
17. Clinical Pain Management. Cancer Pain edited by Sykes N., Bennett M.I., Yuan C. — 2nd ed. — Hodder Arnold, UK London, 2008. — 443 р.
18. Robert A., Swarm, Judit Paice et al. National comprehencive cancer network NCCN Clinical practice Guidelines in oncology, 2014. utah.pure.elsevier.com/en/publications/adultcancer-pain-clinical-practice-guidelines-in-oncology
19. Данилов А.Б., Данилов Ал.Б. Биопсихосоциальная концепция боли // Управляй болью (Manage Pain). — М., 2013. — № 1. — C. 7-11.
20. Twycross R.D. Strong opioids and the relief of cancer pain/Information for patients, families and friends / Printed by Lightning Source, UK., 2013. — P. 45. palliativedrugs.comLtd
Similar articles

Authors:
Альбокрінов А.А.(1), Мигаль І.І.(2), Фесенко У.А.(3), Кузик А.С.(3), Дворакевич А.О.(1) - (1) КЗ ЛОР «Львівська обласна дитяча клінічна лікарня «ОХМАТДИТ», відділення анестезіології та інтенсивної терапії, м. Львів, Україна; (2) Комунальна міська клінічна лікарня швидкої медичної допомоги, відділення анестезіології та інтенсивної терапії, м. Львів, Україна; (3) Львівський національний медичний університет імені Данила Галицького, м. Львів, Україна


Журнал "Хирургия детского возраста" 1-2 (50-51) 2016
Date: 2016.10.25
Categories: Pediatrics/Neonatology, Surgery
Sections: Clinical researches


Authors: Міщук В.Р.
Львівський національний медичний університет імені Данила Галицького, м. Львів, Україна
"Emergency medicine" 8 (79) 2016
Date: 2017.01.30
Categories: Medicine of emergency
Sections: Specialist manual


Authors: Волкова Ю.В.(1), Чаплинський Р.П.(2), Бабалян Ю.О.(2), Калашніков М.С.(2), Омельченко-Селюкова А.В.(1)
1 Харківський національний медичний університет, м. Харків, Україна
2 КЗОЗ «Обласна клінічна лікарня — Центр екстреної медичної допомоги та медицини катастроф», Центр лікування болю, м. Харків, Україна
"Emergency medicine" 7 (86) 2017
Date: 2017.12.21
Categories: Medicine of emergency
Sections: Clinical researches


Authors: Макаревич М.Г.
Кіровоградський онкологічний центр, Донецький національний медичний університет, м. Кропивницький, Україна
«Practical Oncology» Том 2, №1, 2019
Date: 2019.05.17
Categories: Oncology
Sections: Clinical researches