"Kidneys" Том 8, №2, 2019
The Renal Association Clinical Practice Guideline Undernutrition in Chronic Kidney Disease (January, 2019) Summary of clinical practice guidelines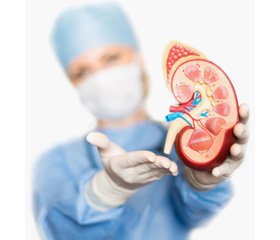 Authors:

Д-р Марк Райт, MB, ChB, MD, FRCP
Нефролог-консультант, Університетська лікарня Сент-Джеймс, Лідс
Пані Елізабет Сауткотт (диплом із відзнакою)
Старший спеціаліст ренальний дієтолог, Університетська лікарня Сент-Джеймс, Лідс
Пан Стюарт Вінберг
Автор-пацієнт



Categories:

Nephrology



Sections:

Specialist manual
1. Identification of undernutrition in people with kidney disease (Guidelines 1.1–1.3)
Guideline 1.1. Monitoring for risk of undernutrition in CKD
We suggest that patients with stages 4–5 CKD should be monitored to identify those at risk of undernutrition (2C).
We suggest that monitoring should be performed (2D):
— On admission then weekly for inpatients.
— At clinic review for outpatients with eGFR < 20 but not on dialysis.
— 2–3 monthly for stable haemodialysis patients.
— 2–3 monthly for stable peritoneal dialysis patients.
Guideline 1.2. Diagnosis of undernutrition in people with kidney disease
1.2.1. We ...
For the full article you need to subscribe to the magazine.
Similar articles

Authors: Suren Kanagasundaram (chair)(1), Caroline Ashley(2), Sheetal Bhojani(3), Alma Caldwell(4), Timothy Ellam(5), Amrit Kaur(6), David Milford(7), Chris Mulgrew(8), Marlies Ostermann(9)
(1) — Consultant Nephrologist, Newcastle upon Tyne Hospitals NHS Foundation Trust Honorary Clinical Senior Lecturer, Institute of Cellular Medicine, Newcastle University
(2) — Renal Pharmacist, Royal Free Hospital
(3) — Consultant Paediatrician with Special Interest in Nephrology, University Hospital Wishaw, NHS Lanarkshire
(4) — Patient representative
(5) — Consultant Nephrologist, Newcastle upon Tyne Hospitals NHS Foundation Trust
(6) — Consultant Paediatric Nephrologist, Royal Manchester Children's Hospital
(7) — Consultant Paediatric Nephrologist, Birmingham Children's Hospital
(8) — Consultant Nephrologist, Royal Devon and Exeter NHS Foundation Trust
(9) — Consultant in Critical Care and Nephrology, Guy's and St. Thomas' NHS Foundation Trust
"Kidneys" Том 8, №4, 2019
Date: 2019.12.10
Categories: Nephrology
Sections: Medical forums


Authors:
Kate Wiles, Lucy Chappell, Katherine Clark, Louise Elman, Matt Hall, Liz Lightstone, Germin Mohamed, Durba Mukherjee, Catherine Nelson-Piercy, Philip Webster, Rebecca Whybrow and Kate Bramham


"Kidneys" Том 8, №4, 2019
Date: 2019.12.10
Categories: Nephrology
Sections: Specialist manual


Authors:
Agnes Trautmann, Marina Vivarelli, Susan Samuel, Debbie Gipson, Aditi Sinha, Franz Schaefer, Ng Kar Hui, Olivia Boyer, Moin A. Saleem, Luciana Feltran, Janina Müller-Deile, Jan Ulrich Becker, Francisco Cano, Hong Xu, Yam Ngo Lim, William Smoyer, Ifeoma Anochie, Koichi Nakanishi, Elisabeth Hodson, Dieter Haffner on behalf of the International Pediatric Nephrology Association


"Kidneys" Том 9, №3, 2020
Date: 2020.09.17
Categories: Nephrology
Sections: Official information