International journal of endocrinology Том 15, №2, 2019
Serum tumor markers in thyroid diseases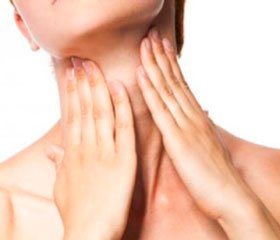 Authors:

Макар Р.Д., Вовк В.І., Павловський І.М.
Львівський національний медичний університет імені Данила Галицького, м. Львів, Україна



Categories:

Endocrinology



Sections:

Specialist manual
Summary
У статті висвітлена роль сироваткових пухлинних маркерів у діагностиці та лікуванні захворювань щитоподібної залози, передусім різних форм раку. Систематизовано клінічні показання до призначення та сучасні рекомендації щодо оцінки результатів визначення тиреоглобуліну, кальцитоніну, раково-ембріонального антигена. Наведено перспективи використання тестів на прокальцитонін, хромогранін А, а також окремих молекулярно-генетичних досліджень.
В статье освещена роль сывороточных опухолевых маркеров в диагностике и лечении заболеваний щитовидной железы, прежде всего различных форм рака. Систематизированы клинические показания к назначению и современные рекомендации по оценке результатов определения тиреоглобулина, кальцитонина, раково­эмбрионального антигена. Указаны перспективы использования тестов на прокальцитонин, хромо­гранин А, а также отдельных молекулярно­генетических исследований.
The article highlights the role of serum tumor markers in the diagnosis and treatment of thyroid diseases, primarily various forms of cancer. Clinical indications for the prescription and current recommendations for evaluating the results of thyroglobulin, calcitonin, and carcinoembryonic antigen determination are systematized. Prospects for the use of procalcitonin, chromogranin A tests, as well as individual molecular genetic studies are presented.
Keywords
щитоподібна залоза; пухлинні маркери; тиреоглобулін; кальцитонін
щитовидная железа; опухолевые маркеры; тиреоглобулин; кальцитонин
thyroid gland; tumor markers; thyroglobulin; calcitonin
For the full article you need to subscribe to the magazine.
Bibliography
1.
Zimmermann MB, Aeberli I, Andersson M, et al. Thyroglobulin is a sensitive measure of both deficient and excess iodine intakes in children and indicates no adverse effects on thyroid function in the UIC range of 100-299 μg/L: a UNICEF/ICCIDD study group report. J Clin Endocrinol Metab. 2013 Mar;98(3):1271-80. doi: 10.1210/jc.2012-3952.
2.
Grünwald F, Derwahl K-M. Diagnostik und Therapie von Schilddrüsenerkrankungen: Ein Leitfaden für Klinik und Praxis. Berlin: Lehmanns Media; 2014. 133 p. (in German).
3.
Pearce EN, Caldwell KL. Urinary iodine, thyroid function, and thyroglobulin as biomarkers of iodine status. Am J Clin Nutr. 2016 Sep;104 Suppl 3:898S-901S. doi: 10.3945/ajcn.115.110395.
4.
Kaminskyi OV, Afanasyev DY, Kovalenko OM, Tepla OV, Cheren'ko SM, authors; Kaminskyi OV, editor. Standarty nadannja medychnoi' dopomogy hvorym z patologichnymy stanamy shhytopodibnoi' zalozy v umovah dii' negatyvnyh chynnykiv dovkillja: metodychnyj posibnyk [Standards for providing medical care to patients with pathological conditions of the thy-roid gland under the influence of negative environmental factors: a methodological guide]. Kyiv: Start-98; 2015. 224 p. (in Ukrainian).
5.
National Comprehensive Cancer Network (NCCN). NCCN Clinical Practice Guidelines in Oncology: Thyroid Carcinoma, Ver-sion 2.2015. Available from: https://www.nccn.org/professionals/physician_gls/default.aspx.
6.
Makar RD, Safonova OV, Chernova NV. Funkcional'na diagnostyka v klinichnij tyreoi'dologii': posibnyk dlja likariv [Functional diagnostics in clinical thyroidology: a manual for doctor]. Lviv; 2006. 64 p. (in Ukrainian).
7.
Brassard M, Borget I, Edet-Sanson A, et al. Long-term follow-up of patients with papillary and follicular thyroid cancer: a prospective study on 715 patients. J Clin Endocrinol Metab. 2011 May;96(5):1352-9. doi: 10.1210/jc.2010-2708.
8.
Rinaldi S, Plummer M, Biessy C, et al. Thyroid-Stimulating Hormone, Thyroglobulin, and Thyroid Hormones and Risk of Dif-ferentiated Thyroid Carcinoma: The EPIC Study. J Natl Cancer Inst. 2014;106(6):dju097. doi:10.1093/jnci/dju097.
9.
World Health Organization, UNICEF, International Council for Control of Iodine Deficiency Disorders. Assessment of iodine deficiency disorders and monitoring their elimination: a guide for programme managers. 3rded. Geneva: World Health Or-ganization; 2007. 98 p.
10.
Ma ZF, Skeaff SA. Thyroglobulin as a biomarker of iodine deficiency: a review. Thyroid. 2014 Aug;24(8):1195-209. doi: 10.1089/thy.2014.0052.
11.
Kvacheniuk AM, Reyzin DV. Current state of diagnosis and treatment of medullary thyroid cancer. Mìžnarodnij en-dokrinologìčnij žurnal. 2014;(64):45-61. doi: 10.22141/2224-0721.8.64.2014.77863. (in Ukrainian).
12.
Wells SA Jr, Asa SL, Dralle H, et al. Revised American Thyroid Association Guidelines for the Management of Medullary Thy-roid Carcinoma. Thyroid. 2015 Jun;25(6):567-610. doi: 10.1089/thy.2014.0335.
13.
Haugen BR, Alexander EK, Bible KC, et al. 2015 American Thyroid Association Management Guidelines for Adult Patients with Thyroid Nodules and Differentiated Thyroid Cancer. Thyroid. 2016 Jan;26(1):1-133. doi: 10.1089/thy.2015.0020.
14.
Woliński K, Kaznowski J, Klimowicz A, et al. Diagnostic value of selected biochemical markers in the detection of recurrence of medullary thyroid cancer - comparison of calcitonin, procalcitonin, chromogranin A, and carcinoembryonic antigen. En-dokrynol Pol. 2017;68(4):434-437. doi: 10.5603/EP.a2017.0038.
15.
Trimboli P, Seregni E, Treglia G, Alevizaki M, Giovanella L. Procalcitonin for detecting medullary thyroid carcinoma: a sys-tematic review. Endocr Relat Cancer. 2015 Jun;22(3):R157-64. doi: 10.1530/ERC-15-0156.
16.
Gut P, Czarnywojtek A, Fischbach J, et al. Chromogranin A - unspecific neuroendocrine marker. Clinical utility and potential diagnostic pitfalls. Arch Med Sci. 2016 Feb 1;12(1):1-9. doi: 10.5114/aoms.2016.57577.
17.
Trimboli P, Giovanella L. Serum calcitonin negative medullary thyroid carcinoma: a systematic review of the literature. Clin Chem Lab Med. 2015 Sep 1;53(10):1507-14. doi: 10.1515/cclm-2015-0058.
18.
Von Bubnoff N. Liquid biopsy: approaches to dynamic genotyping in cancer. Oncol Res Treat. 2017;40(7-8):409-416. doi: 10.1159/000478864.
19.
International Thyroid Oncology Group (ITOG). Liquid Biopsy for Thyroid Cancer - Where we are now and where we are heading. Available from: https://www.itog.org/liquid-biopsy-thyroid-cancer-%E2%80%93-where-we-are-now-and-where-we-are-heading.
Similar articles

Authors: Смоляр В.А.(1), Товкай О.А.(1), Паламарчук В.О.(1), Хоперія В.Г.(2)
1 - Український науково-практичний центр ендокринної хірургії, трансплантації ендокринних органів і тканин МОЗ України, м. Київ, Україна
2 - ННЦ «Інститут біології та медицини» Київського національного університету імені Тараса Шевченка, м. Київ, Україна
International journal of endocrinology Том 14, №8, 2018
Date: 2019.02.11
Categories: Endocrinology
Sections: Specialist manual


Authors:
Кваченюк А.М., Рейзін Д.В. – ДУ «Інститут ендокринології та обміну речовин ім. В.П. Комісаренка НАМН України», м. Київ; Київська міська клінічна лікарня № 8


International journal of endocrinology 8 (64) 2014
Date: 2015.03.04
Categories: Endocrinology
Sections: Clinical researches


Authors: Захарченко Т.Ф., Замотаєва Г.А., Гулеватий С.В.
ДУ «Інститут ендокринології та обміну речовин ім. В.П. Комісаренка НАМН України», м. Київ, Україна
International journal of endocrinology Том 14, №6, 2018
Date: 2018.11.20
Categories: Endocrinology
Sections: Clinical researches


Authors: Захарченко Т.Ф., Гулеватий С.В., Волинець І.П.
ДУ «Інститут ендокринології та обміну речовин ім. В.П. Комісаренка НАМН України», м. Київ, Україна
International journal of endocrinology Том 15, №3, 2019
Date: 2019.07.09
Categories: Endocrinology
Sections: Clinical researches