International neurological journal №3 (105), 2019
The role of vegetative portrait of patients with peptic ulcers of the stomach and duodenum complicated with bleeding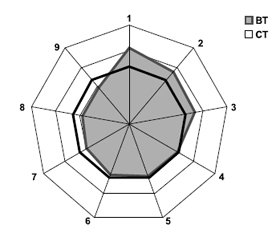 Authors:

Синяченко О.В., Гмошинский Н.В., Селезнева С.В., Сокрут В.Н. Донецкий национальный медицинский университет, г. Лиман, Украина



Categories:

Neurology



Sections:

Specialist manual
Summary
Актуальність. Поширеність гастродуоденальних виразкових кровотеч досягає 170 випадків на 100 тис. дорослого населення, а щорічна смертність від них — 15 %. Кровотечі з пептичних виразок шлунка та дванадцятипалої кишки тісно пов'язані з розладами вегетативної нервової системи (ВНС), що спостерігається частіше у симпатотоніків (СТ), тоді як перфорації виразок реєструються в основному у ваготоніків (ВТ), але перебіг таких ускладнень у хворих з різним вегетативним паспортом не вивчений. Мета дослідження: проаналізувати характер гастродуоденальних кровотеч у пацієнтів із пептичними виразками залежно від типу ВНС, виділити прогностичні критерії. Матеріали та методи. Серед 1261 спостережуваного хворого з гастродуоденальними кровотечами ВТ було 4 %, СТ — 54,9 %, ейтоніків (ЕТ) — 41,1 %, тобто співвідношення ВТ : СТ : ЕТ становило 1 : 14 : 10, тоді як в популяції здорових людей цього регіону таке співвідношення було 1 : 2 : 8. Вегетативний індекс в групі ВТ становив 11,0 ± 7,3 × 103 в.о. (або ln 9,3 ± 8,9), у СТ — 6,0 ± 3,2 × 103 в.о. (ln 8,7 ± 8,1), в ЕТ — 9,0 ± 3,1 × 103 в.о. (ln 9,1 ± 8,0). Результати. За результатами виконаного багатофакторного аналізу Уїлкоксона — Рао, стан ВНС чинить дію на інтегральні ендоскопічні ознаки пептичних виразок, а як свідчать однофакторний дисперсійний і непараметричний кореляційний аналіз Кендалла, існує обернений зв'язок із показником вегетативного індексу об'єму виразок, кількості дуоденальних ульцерацій, ступеня тяжкості коморбідного цукрового діабету. Вегетативний портрет хворих і рівень вегетативного індексу впливають на частоту розвитку рефлюкс-езофагіту, число рецидивів кровотеч та виживаність хворих, яка вірогідно гірше у СТ, а ВТ характеризуються більшою частотою підтікання крові по стінках виразок, формуванням некрозів й геморагій на їх дні. Встановлено, що показник вегетативного індексу < 3,5 × × 103 в.о. при виразкових гастродуоденальних кровотечах рекомендується використовувати для діагностики фонового рефлюкс-езофагіту. Висновки. Перебіг пептичних виразок шлунка і гастродуоденальних кровотеч залежить від типу ВНС, при цьому симпатикотонія є чинником ризику тяжкого перебігу патологічного процесу.
Актуальность. Распространенность гастродуоденальных язвенных кровотечений достигает 170 случаев на 100 тыс. взрослого населения, а ежегодная смертность от них — 15 %. Кровотечения из пептических язв желудка и двенадцатиперстной кишки тесно связаны с расстройствами вегетативной нервной системы (ВНС), что наблюдается чаще у симпатотоников (СТ), тогда как перфорации язв регистрируются в основном у ваготоников (ВТ), но течение таких осложнений у больных с разным вегетативным портретом не изучено. Цель исследования: проанализировать характер гастродуоденальных кровотечений у пациентов с пептическими язвами в зависимости от типа ВНС, выделить прогностические критерии. Материалы и методы. Среди 1261 наблюдаемого больного с гастродуоденальными кровотечениями ВТ были 4 %, СТ — 54,9 %, эйтониками (ЭТ) — 41,1 %, то есть соотношение ВТ : СТ : ЭТ составило 1 : 14 : 10, тогда как в популяции здоровых людей этого региона такое соотношение было 1 : 2 : 8. Вегетативный индекс в группе ВТ составил 11,0 ± 7,3 × 103 о.е. (или ln 9,3 ± 8,9), у СТ — 6,0 ± 3,2 × 103 о.е. (ln 8,7 ± 8,1), у ЭТ — 8,60 ± 3,11 × 103 o.e. (ln 9,1 ± 8,0). Результаты. По результатам выполненного многофакторного анализа Уилкоксона — Рао, состояние ВНС оказывает воздействие на интегральные эндоскопические признаки пептических язв, а как свидетельствуют однофакторный дисперсионный и непараметрический корреляционный анализ Кендалла, существует обратная связь с показателем вегетативного индекса объема язв, количества дуоденальных ульцераций, степени тяжести коморбидного сахарного диабета. Вегетативный портрет больных и уровень вегетативного индекса влияют на частоту развития рефлюкс-эзофагита, число рецидивов кровотечений и выживаемость больных, которая достоверно хуже у СТ, а ВТ характеризуются большей частотой подтекания крови по стенкам язв, формирования некрозов и геморрагий на их дне. Установлено, что показатель вегетативного индекса < 3,5 × 103 о.е. при язвенных гастродуоденальных кровотечениях рекомендуется использовать для диагностики фонового рефлюкс-эзофагита. Выводы. Течение пептических язв желудка и гастродуоденальных кровотечений зависит от типа ВНС, при этом симпатикотония является фактором риска тяжелого течения патологического процесса.
Background. The prevalence of gastroduodenal ulce-rative bleeding reaches 170 cases per 100 thousand adults, and the annual mortality rate from them is 15 %. Bleeding from peptic ulcers of the stomach and duodenum is closely associated with the disorders of the autonomic nervous system (ANS) that is more common in sympathotonics (CT) while the perforations of ulcers are recorded mainly in vagotonics (VT), but the course of such complications in patients with different vegetative portrait has not been studied. The purpose of the study: to analyze the nature of gastroduodenal bleeding in patients with peptic ulcers depending on the type of ANS, to identify the prognostic criteria. Materials and methods. Among 1261 observed patients with gastroduodenal bleeding VTs were 4 %, CT — 54.9 %, eutonic (ET) — 41.1 %, thus the ratio of VT : CT : ET was 1 : 14 : 10, whereas in the population of healthy people in this region the ratio was 1 : 2 : 8. The vegetative index in the VT group was 11.0 ± 7.3 × 103 r.u. (or ln9.3 ± 8.9), for CT — 6.0 ± 3.2 × 103 r.u. (ln8.7 ± 8.1), for ET — 8.60 ±3.11 × 103 r.u. (ln9.1 ± 8.0). Results. According to Wilcoxon-Rao multivariate analysis, the ANS condition affects the integral endoscopic signs of peptic ulcers and as evidenced by Kendall's univariate dispersion and non-parametric correlation analysis there is an inverse relationship with the index of the vegetative index of ulcer volume, the number of duodenal ulcerations, the severity of comorbid diabetes. The vegetative portrait of the patients and the level of the vegetative index impact the incidence of reflux esophagitis, the number of bleeding recurrences and the survival of patients, which is significantly worse for CT, and VT are characterized by a greater frequency of blood leakage through the walls of ulcers, the formation of necrosis and hemorrhages on their bottom. It is established that the index of the vegetative index is < 3.5 × 103 r.u. in ulcerative gastroduodenal bleeding, which is recommended to use for the diagnosis of background reflux esophagitis. Conclusions. The course of peptic ulcers of the stomach and gastroduodenal bleeding depends on the type of ANS while sympathotonia is a risk factor for a severe course of the pathological process.
Keywords
пептичні виразки; гастродуоденальні кровотечі; перебіг; вегетативна нервова система
пептические язвы; гастродуоденальные кровотечения; течение; вегетативная нервная система
peptic ulcers; gastroduodenal bleeding; course; autonomic nervous system
For the full article you need to subscribe to the magazine.
Bibliography
1. Budimir I., Stojsavljević S., Hrabar D., Kralj D., Bišćanin A., Kirigin L.S. et al. Bleeding peptic ulcer — tertiary center experience: epidemiology, treatment and prognosis // Acta Clin. Croat. — 2017. — 56(4). — Р. 707-14. doi: 10.20471/acc.2017.56.04.18.
2. Farrar F.C. Management of acute gastrointestinal bleed // Crit. Care Nurs. Clin. North Am. — 2018. — 30(1). — Р. 55-66. doi: 10.1016/j.cnc.2017.10.005.
3. Komar O.M., Kizlova N.M., Trylevych O.D., Kravchenko V.V. Risk factors for adverse course of gastric and duodenal peptic ulcer // Wiad. Lek. — 2018. — 71(1–2). — Р. 160-4. doi: 10.1177/2050640618764161.
4. Kosynskyі O.V. Application of spectral analysis of the heart rhythm variability for estimation of the autonomic nervous system state in patients with ulcer disease // Klin. Khir. — 2016. — 2. — Р. 8-10.
5. Kravtsova T.Iu., Shchekotov V.V., Aleeva N.G. 24-hour monitoring of electrocardiogram, arterial pressure, and psychovegetative disorders during acute peptic ulcer hemorrhage in patients with hypertensive disease // Klin. Med. — 2012. — 87(5). — Р. 47-52.
6. Lin H.Y., Weng S.F., Lin H.J., Hsu C.C., Wang J.J., Su S.B. et al. Peptic ulcer disease in healthcare workers: a nationwide population-based cohort study // PLoS One. — 2015. — 10(8). — Р. 0135456. doi: 10.1371/journal.pone.0135456.
7. Lipnitsky E.M., Alekberzade A.V., Gasanov M.R. The causes of recurrent ulcerative gastroduodenal bleeding // Khirurgiia. — 2017. — 3. — Р. 4-10. doi: 10.17116/hirurgia201734-10.
8. Mahajan P., Chandail V.S. Etiological and endoscopic profile of middle aged and elderly patients with upper gastrointestinal bleeding in a Tertiary Care Hospital in North India: A retrospective analysis // J. Midlife Health. — 2017. — 8(3). — Р. 137-41. doi: 10.4103/jmh.JMH_86_17.
9. Mavlianov A.R., Karimov Kh.Ia., Ataliev A.E. Tonicity of autonomic nervous system in patients with complicated gastroduodenal ulcer // Khirurgiia. — 2012. — 7. — Р. 34-6. doi: 10.1055/a-0590-3940.
10. Paudel M.S., Kc S., Mandal A.K., Poudyal N.S., Shrestha R., Paudel B.N. et al. Acute upper gastrointestinal bleeding in a Tertiary Care Centre of Nepal // J. Nepal. Med. Assoc. — 2017. — 56(206). — Р. 211-6. doi: 10.5217/ir.2018.16.3.458.
11. Shelekhova Y.V., Hramtsova N.A., Onuchina E.V., Kuklin S.G. Study of the variability of the cardiac rhythm in railroad employees, who suffer by stomach ulcer and duodenum, associated and nonassociated with the infection helicobacter pylori // Eksp. Klin. Gastroenterol. — 2015. — 6. — Р. 36-40.
12. Storace M., Martin J.G., Shah J., Bercu Z. CTA As an adjuvant tool for acute intra-abdominal or gastrointestinal bleeding // Tech. Vasc. Interv. Radiol. — 2017. — 20(4). — Р. 248-57. doi: 10.1053/j.tvir.2017.10.004.
Similar articles

Authors: Синяченко О.В., Ермолаева М.В., Гмошинский Н.В.
Донецкий национальный медицинский университет, г. Лиман, Украина
"Gastroenterology" Том 52, №4, 2018
Date: 2019.01.24
Categories: Gastroenterology
Sections: Clinical researches


Authors: Синяченко О.В., Гмошинський М.В., Єрмолаєва М.В., Пилипенко В.В.
Донецький національний медичний університет, м. Лиман, Україна
International journal of endocrinology Том 14, №7, 2018
Date: 2018.12.27
Categories: Endocrinology
Sections: Clinical researches


Authors: Синяченко О.В.(1), Сокрут О.П.(1), Егудина Е.Д.(2), Сокрут В.Н.(1)
(1) — Донецкий национальный медицинский университет имени М. Горького, г. Лиман, Украина
(2) — ГУ «Днепропетровская медицинская академия», г. Днепр, Украина
International neurological journal 7 (85) 2016
Date: 2017.01.13
Categories: Neurology
Sections: Clinical researches