Archive Of Ukrainian Ophthalmology Том 7, №2, 2019
Experimental justification of using low doses of atropine sulfate in the stabilization of morphological structure of sclera and lamina cribrosa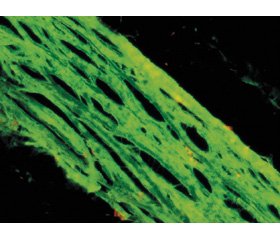 Authors:

Бездітко П.А., Гуліда А.О.
Харківський національний медичний університет МОЗ України, м. Харків, Україна



Categories:

Ophthalmology



Sections:

Clinical researches
Summary
Актуальність. Атропін застосовується для стабілізації міопії. Мета — вивчення морфологічних структур ока після застосування атропіну сульфату 0,5% у кролів. Матеріали та методи. Основній групі застосовували інстиляції атропіну 0,5% 1 раз на день. Групі контролю — ні. Після енуклеації провели морфологічне дослідження очей. Результати. Вірогідне збільшення товщини склери, решітчастої пластинки, світіння колагену I і III типів. Морфофункціонально сітківка без змін. Висновки. Атропін сульфат низьких концентрацій зміцнює решітчасту пластинку та склеру.
Актуальность. Атропин применяется для стабилизации миопии. Цель — изучение морфологических структур глаза после применения атропина сульфата 0,5% у кроликов. Материалы и методы. Основной группе применяли инстилляции атропина 0,5% 1 раз в день. Группе контроля — нет. После энуклеации провели морфологическое исследование глаз. Результаты. Достоверное увеличение толщины склеры, решетчатой пластинки, свечение коллагена I и III типов. Морфофункционально сетчатка без изменений. Выводы. Атропин сульфат низких концентраций укрепляет решетчатую пластинку и склеру.
Background. The prevalence of ophthalmopathology significantly affects the health of the population, causes a decrease in the capacity for work and significantly deteriorates the quality of life. Using atropine sulfate in low doses can stabilize myopia progression and myopic changes in the posterior pole of the eye. The purpose was to study the morphological structures of the eye after the application of low doses of atropine sulfate in experimental animals. Materials and methods. The study involved 19 Chinchilla rabbits (38 eyes). They were 5 months old and weighed 2.5 kg. Animals were observed for 6 months, after which they were withdrawn from the experiment. During the study, the atropine sulfate instillations were applied at a concentration of 0.5% once a day. The control group included 11 rabbits (22 eyes) of the same weight and age. Materials for morphological study were enuclea­ted eyeballs of animals from all groups fixed in 10% formalin solution for 72 hours. In each group, 5–8 randomly selected fields of view were studied. Results. The data of morphological examination showed that in the region of the posterior pole of the eyeball in the study group animals compared to the control group, there was a thickening of the fibrous tunic of eyeball, the thickness of the sclera significantly increased, as well as the thickness of the lamina cribrosa and the wall of it pores, and a significant increase in the intensity of type I and III collagen glow. The morphofunctional state of the retina does not change. Conclusions. Using 0.5% solution of atropine sulfate helps to strength the fibrous membrane of the eye wall, sclera and lamina cribrosa and its pores, with no changes in the morphofunctional state of the receptor apparatus of the eye.
Keywords
морфологічне дослідження; міопія; решітчаста пластинка; атропіну сульфат
морфологическое исследование; миопия; решетчатая пластинка; атропина сульфат
morphological examination; myopia; lamina cribrosa; atropine sulfate
For the full article you need to subscribe to the magazine.
Bibliography
1. Евсеева А.А. Методы изучения качества жизни у офтальмологических больных / А.А. Евсеева, С.Л. Кузнецов // Практическая медицина. Офтальмология. — 2012 — Т. 2. — С. 14-19.
2. Тарутта Е.П. Возможности профилактики прогрессирующей и осложненной миопии в свете современных знаний о ее патогенезе / Е.П. Тарутта // Вестник офтальмологии. — 2006. — Т. 122, № 1. — С. 43-46.
3. Мішалов В.Д. Про правові, законодавчі та етичні норми і вимоги при виконанні наукових досліджень / В.Д. Мішалов, Ю.Б. Чайковський, І.В. Твердохліб // Морфологія. — 2007. — Т. 1, № 2. — С. 108-115.
4. Ліллі Р. Патогістологічна техніка і практична гістохімія / Ліллі Р. — М.: Світ, 1960. — 648 с .
5. Пірс Е. Гістохімія (теоретична і прикладна ) / Пірс Е. — М.: Иностранная литература, 1962. — 962 с.
6. Атраментова Л.А. Статистичні методи в біології / Л.А. Атраментова, О.М. Утевская. — Горлівка, 2008. — 247 с.
7. Курышева Н.И. Роль методов визуализации диска зрительного нерва и слоя нервных волокон сетчатки в ранней диагностике глаукомы / Н.И. Курышева // Глаукома. — 2007. — № 1. — С. 16-21.
8. Сергієнко В.І., Бондарева І.Б. Математична статистика в клінічних дослідженнях. — М.: Геотар Медицина, 2000. — 59 с.
9. Albona J., Purslowb P.P., Karwatowskic W.S.S., Eastyd D.L. Age related compliance of the lamina cribrosa in human eyes // Br. J. Ophthalmol. — 2000. — Vol. 84. — P. 318-323.
10. Эйди У.Р. Организация мозговых структур с точки зрения передачи и хранения информации / У.Р. Эйди // Современные проблемы электрофизиологии центральной нервной системы. — М., 1967. — С. 324-338.
11. Lee E.J., Kim T.W., Weinreb R.N., Park K.H., Kim S.H., Kim D.M. Visualization of the lamina cribrosa using enhanced depth imaging spectral-domain optical coherence tomography // Am. J. Ophthalmol. — 2011. — 152. — Р. 87-95.e1.
12. Roberts M.D., Grau V., Grimm J. et al. Remodeling of the connective tissue microarchitecture of the lamina cribrosa in early experimental glaucoma // Invest. Ophthalmol. Vis. Sci. — 2009. — 50. — Р. 681-690.
13. Kotecha А., Izadi S., Jeffery G. Age related changes in the thickness of the human lamina cribrosa // Br. J. Ophthalmol. — 2006 Dec. — 90(12). — Р. 1531-1534.
14. Кузнецов С.Г. Синтетические атропиноподобные вещества / С.Г. Кузнецов, С.Н. Голиков. — Л.: Медгиз, 1962. — 224 с.: ил. — Б. ц.