Archive Of Ukrainian Ophthalmology Том 7, №2, 2019
The role of clusterin as an antiapoptotic glial factor in the development of diabetic machular edema in patients with type 2 diabetes mellitus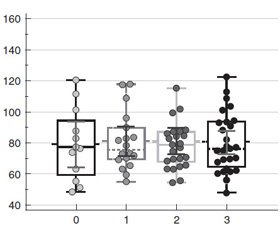 Authors:

Сук С.А.(1, 2), Риков С.О.(1), Кирилюк М.Л.(3)
(1) — Національна медична академія післядипломної освіти імені П.Л. Шупика МОЗ України, м. Київ, Україна
(2) — Київська міська клінічна офтальмологічна лікарня, м. Київ, Україна
(3) — Український науково-практичний центр ендокринної хірургії, трансплантації ендокринних органів і тканин МОЗ України, м. Київ, Україна



Categories:

Ophthalmology



Sections:

Clinical researches
Summary
Мета роботи полягала в оцінці вмісту кластерину в крові у хворих на цукровий діабет (ЦД) 2-го типу із діабетичним макулярним набряком (ДМН) різного ступеня у взаємозв'язку із показниками товщини шарів макули. Матеріали та методи. Обстежені 82 пацієнти, хворі на ЦД 2-го типу (145 очей), розподілені на 4 групи відповідно до форми ДМН. Середній вік пацієнтів становив 65,25 ± 10,85 року, середня тривалість діабету — 14,00 ± 7,05 року, середній рівень глікованого гемоглобіну — 8,40 ± 1,58 %. Результати. За допомогою однофакторного дисперсійного і регресійного аналізу, методикою побудови логістичних моделей регресії встановлено, що кластерин не асоціювався як із ризиком високого значення товщини шару нервових волокон, шару гангліонарних клітин, внутрішнього граничного шару, центральної товщини сітківки, об'єму макули та центральної ямки, низькою гостротою зору, так і з загальним високим ризиком погіршення стану макули на відміну від його початкових стадій. Висновки. Зроблено припущення щодо обмеженої ролі кластерину та його відносної недостатності за тяжкого ДМН і можливості його застосування in situ як додаткового лікувального заходу.
Цель работы заключалась в оценке содержания кластерина в крови у больных сахарным диабетом (СД) 2-го типа с диабетическим макулярным отеком (ДМО) разной степени во взаимосвязи с показателями толщины слоев макулы. Материалы и методы. Обследованы 82 больных с СД 2-го типа (145 глаз), разделенных на 4 группы в соответствии с формой ДМО. Средний возраст пациентов составил 65,25 ± 10,85 года, средняя продолжительность диабета — 14,00 ± 7,05 года, средний уровень гликированного гемоглобина — 8,40 ± 1,58 %. Результаты. С помощью однофакторного дисперсионного и регрессионного анализа, методики построения логистических моделей регрессии показано, что кластерин не ассоциируется как с риском высокого значения толщины слоя нервных волокон, слоя ганглионарных клеток, внутреннего пограничного слоя, центральной толщины сетчатки, минимальной толщины центральной ямки, объема макулы и центральной ямки, низкой остротой зрения, так и с общим высоким риском ухудшения состояния макулы в отличие от начальных стадий ДМО. Выводы. Сделано предположение об ограниченной роли кластерина и его относительной недостаточности при тяжелом ДМО и возможности его применения in situ в качестве дополнительного лечебного мероприятия.
Background. One of the important modern factors that plays an important role in restoring close contacts and limiting the reactive response to metabolic damage (two main signs of the pathogenesis of diabetic macular edema (DME)) is the clusterin protein. The research of its contribution into the development of DME has recently been actively started. We previously found that at the initial stages of DME and its progression, the blood level of clusterin was elevated above the threshold (77 μg/ml). Its level was associated with an increased risk of thickening of the nerve fibers layer and ganglio­nar layer. The study of clusterin expression and its relationship with these indicators at the different stages of DME development is rele­vant. The purpose of the work was to evaluate the role of clusterin as an antiapoptotic glial factor in the development of diabetic macular edema in patients with type 2 diabetes mellitus. Material and methods. The study involved 82 patients with DMT2 (145 eyes), divided into 4 groups in accordance with DME form. The average age of patients was 65.25 ± 10.85 years; the average duration of diabetes mellitus was 14.0 ± 7.05 years; the average level of HbA1c was 8.40 ± 1.58 %. Optical coherent tomography was performed using the Revo Nx Optopol spectral optical tomograph (5 μm axial resolution) using Retina 3D scanning protocol for macular thickness study. The following instrumental parameters were used for analysis: nerve fiber layer (NFL), ganglion cell layer (GCL) layer, internal posterior layer (IPL), central sector thickness, minimum foveal thickness, average thickness, macular volume and foveal volume, visual acuity. Results. Using ANOVA analysis and regression analysis, methods for constructing of logistic regression models, we have shown that clusterin is not associated with the risk of high value of NFL, GCL, IPL, central sector of macula, foveal thickness and low visual acuity in comparison with the initial stages of DME. Conclusions. We suggest the limited role of clusterin and its relative insufficiency in severe DME and the possibility for its use in situ as an additional therapeutic agent.
Keywords
кластерин; діабетичний макулярний набряк; цукровий діабет 2-го типу
кластерин; диабетический макулярный отек; сахарный диабет 2-го типа
clusterin; diabetic macular edema; type 2 diabetes mellitus
For the full article you need to subscribe to the magazine.
Bibliography
1. Albini H.A. Clinical Relevance of the Proinflammatory State Real-world cases reflect the multifactorial nature of diabetic macular edema // Supplement to retina today. — 2015, November/December (11).
2. Bhagat N., Grigorian R.A., Tutela A., Zarbin M.A. Diabetic macular edema: pathogenesis and treatment // Surv. Ophthalmol. — 2009. — 54. — Р. 1-32.
3. Ciulla T.A., Amador A.G., Zinman B. Diabetic retinopathy and diabetic macular edema: pathophysiology, screening, and novel therapies // Diabetes Care. — 2003. — 26(9). — Р. 2653-2664.
4. Rangasamy S., McGuire P.G., Das A. Diabetic retinopathy and inflammation: novel therapeutic targets // Middle East Afr. J. Ophthalmol. — 2012 Jan-Mar. — 19(1). — Р. 52-59.
5. Zhang C., Nie J., Feng L. et al. The emerging roles of clusterin in reduction of both blood retina barrier breakdown and neural retina damage in diabetic retinopathy // Discov. Med. — 2016 Apr. — 21(116). — Р. 227-37.
6. Hernández C., García-Ramírez M., Colomé N. et al. Identification of new pathogenic candidates for diabetic macular edema using fluorescence-based difference gel electrophoresis analysis // Diabetes Metab. Res. Rev. — 2013. — 29. — Р. 499-506.
7. https://www.ncbi.nlm.nih.gov/.
8. Aronow B.J., Lund S.D., Brown T.L. et al. Apolipoprotein J expression at fluid-tissue interfaces: potential role in barrier cytoprotection // Proc. Natl. Acad. Sci. USA. — 1993. — 90(2). — Р. 725-729.
9. Poon S., Easterbrook-Smith S.B., Rybchyn M.S. et al. Clusterin is an ATP-independent chaperone with very broad substrate specificity that stabilizes stressed proteins in a folding competent state // Biochemistry. — 2000. — 39. — Р. 15953-15960.
10. Wilson M.R., Easterbrook-Smith S.B. Clusterin is a secreted mammalian chaperone // Trends Biochem. Sci. — 2000. — 25. — Р. 95-98.
11. Wang Y., Wang X., Zhao H. et al. Clusterin confers resistance to TNF-alpha-induced apoptosis in breast cancer cells through NF-kappaB activation and Bcl-2 overexpression // J. Chemother. (Flo–rence, Italy). — 2012. — 24(6). — Р. 348-357.
12. Ammar H., Closset J.L. Clusterin activates survival through the phosphatidylinositol 3-kinase/Akt pathway // J. Biol. Chem. — 2008. — 283(19). — Р. 12851-12861.
13. Kim Y.S., Kim Y.H., Cheon E.W., Park J.M., Yoo J.M., Kang S.S., Cho G.J., Choi W.S. Retinal expression of clusterin in the streptozotocin-induced diabetic rat // Brain Res. — 2003. — 976(1). — Р. 53-59.
14. Holopigian K., Greenstein V.C., Seiple W. et al. Evidence for photoreceptor changes in patients with diabetic retinopathy // Invest. Ophthalmol. Vis. Sci. — 1997. — 38(11). — Р. 2355-2365.
15. Martin P.M., Roon P., Van Ells T.K. et al. Death of retinal neurons in streptozotocin-induced diabetic mice // Invest. Ophthalmol. Vis. Sci. — 2004. — 45(9). — Р. 3330-3336.
16. Park S.H., Park J.W., Park S.J. et al. Apoptotic death of photoreceptors in the streptozotocin-induced diabetic rat retina // Diabetologia. — 2003. — 46(9). — Р. 1260-1268.
17. AAO. Diabetic Retinopathy 2014. American Academy of Ophthalmology® Updated January 2016, December 2017. www.aao.org/ppp.
18. Посібник з біостатистики. Аналіз результатів медичних досліджень у пакеті EZR (R-statistics) / В.Г. Гур'янов, Ю.Є. Лях, В.Д. Парій, О.В. Короткий, О.В. Чалий, К.О. Чалий, Я.В. Цехмістер. — К.: Вістка, 2018. — 208 с.
19. Кравчун П.П., Кадыкова О.И., Габисония Т.Н. Новые маркеры прогрессирования хронической сердечной недостаточности у больных с постинфарктным кардиосклерозом, сахарным диабетом 2 типа и ожирением // Медицинские новости Грузии. — 2015. — 1(238). — С. 60-64.
20. Shin Y.J., Kim J.H., Seo J.M. et al. Protective effect of clusterin on oxidative stress-induced cell death of human corneal endothelial cells // Mol. Vis. — 2009. — 15. — Р. 2789-2795.
21. Jun H.O., Kim D.H., Lee S.W. et al. Clusterin protects H9c2 cardiomyocytes from oxidative stress-induced apoptosis via Akt/GSK-3beta signaling pathway // Exp. Mol. Med. — 2011. — 43(1). — Р. 53-61.
22. Kim H.J., Yoo E.K., Kim J.Y. et al. Protective role of clusterin/apolipoprotein J against neointimal hyperplasia via antiprolife–rative effect on vascular smooth muscle cells and cytoprotective effect on endothelial cells // Arterioscler. Thromb. Vasc. Biol. — 2009. — 29(10). — Р. 1558-1564.
23. Sivamurthy N., Stone D.H., Logerfo F.W., Quist W.C. Apolipoprotein J inhibits the migration and adhesion of endothelial cells // Surgery. — 2001. — 130(2). — Р. 204-209.
24. Kim J.H., Yu Y.S., Kim J.H. et al. The role of clusterin in in vitro ischemia of human retinal endothelial cells // Curr. Eye Res. — 2007. — 32. — Р. 693-698.
Similar articles

Authors: Кирилюк М.Л.(3), Сук С.А.(1, 2), Риков С.О.(1), Могілевський С.Ю.(1)
1 - Національна медична академія післядипломної освіти імені П.Л. Шупика МОЗ України, м. Київ, Україна
2 - Київська міська клінічна офтальмологічна лікарня, м. Київ, Україна
3 - Український науково-практичний центр ендокринної хірургії, трансплантації ендокринних органів і тканин МОЗ України, м. Київ, Україна
International journal of endocrinology Том 15, №1, 2019
Date: 2019.04.10
Categories: Endocrinology
Sections: Clinical researches



Authors:
Риков С.О., Венедіктова О.А., Могилевський С.Ю. Національна медична академія післядипломної освіти імені П.Л. Шупика МОЗ України, м. Київ, Україна


Archive Of Ukrainian Ophthalmology Том 8, №1, 2020
Date: 2020.05.11
Categories: Ophthalmology
Sections: Clinical researches


Authors: Панченко Ю.О., Могілевський С.Ю.
Київська міська клінічна офтальмологічна лікарня «Центр мікрохірургії ока», м. Київ, Україна Медичний центр «ЛАЗЕР Плюс», м. Львів, Україна
Національна медична академія післядипломної освіти імені П.Л. Шупика МОЗ України, м. Київ, Україна
Archive Of Ukrainian Ophthalmology Том 7, №1, 2019
Date: 2019.04.25
Categories: Ophthalmology
Sections: Specialist manual