Archive Of Ukrainian Ophthalmology Том 7, №2, 2019
Efficacy of epi-on cross-linking of non-healing corneal ulcer: a case report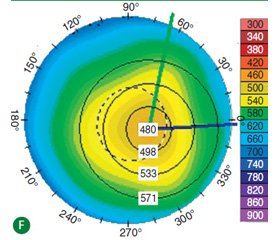 Authors:

Табалюк Т.А.(1), Ваврищук А.С.(2), Рудавська Л.М.(3), Кудриль І.В.(4)
(1) — ДВНЗ «Тернопільський державний медичний університет імені І.Я. Горбачевського», м. Тернопіль, Україна
(2) — Лабораторія контактної корекції зору, Тернопільська університетська лікарня, м. Тернопіль, Україна
(3) — Відділення мікрохірургії ока, Волинська обласна клінічна лікарня, м. Луцьк, Україна
(4) — Львівський національний медичний університет імені Данила Галицького, м. Львів, Україна



Categories:

Ophthalmology



Sections:

Specialist manual
Summary
У роботі наведено клінічний випадок лікування незаживаючої виразки рогівки. Епі-он крос-лінкінг проведений на лівому оці 37-річної жінки, яка безуспішно лікувалася, включаючи трансплантацію амніотичної мембрани, 3,5 місяця після ерозії рогівки. Іррадіація УФ-А випромінюванням 380 нм (3 мв/см2), діаметром 9,0 мм була виконана з частим додатковим зволоженням розчином BSS після імбібіції рибофлавіном (крапля кожні 2 хвилини впродовж півгодини). Пацієнтку досліджували до процедури й через 1 день, 1 тиждень, 1, 3 і 9 місяців після неї. Була показана клінічна ефективність епі-он крос-лінкінгу. Побічних ефектів не було відзначено впродовж усього періоду спостереження. Поступово, до 9 місяців, були купіровані больовий, рогівковий, набряковий синдроми; некоригована гострота зору збільшилася з 0,2 до 0,5; коригована гострота зору поліпшилася до 0,7; нормалізувалися топометричні, кератометричні, пахіметричні показники; зникла іррегулярність рогівки. Отримані результати підтверджують інструментальне дослідження на Pentacam HR (Oculus, Німеччина) і його Шеймпфлюг-зображення.
В работе представлен клинический случай лечения незаживающей язвы роговицы. Эпи-он кросс-линкинг проведен на левом глазу 37-летней женщины, которая безуспешно лечилась, включая трансплантацию амниотической мембраны, 3,5 месяца после эрозии роговицы. Иррадиация УФ-А излучением 380 нм (3 Мв/cм2), диаметром 9,0 мм была произведена с частым дополнительным увлажнением раствором BSS после имбибиции рибофлавином (капля каждые 2 минуты в течение получаса). Пациентку исследовали до процедуры и через 1 день, 1 неделю, 1, 3 и 9 месяцев после нее. Была показана клиническая эффективность эпи-он кросс-линкинга. Побочных эффектов не было отмечено в течение всего периода наблюдения. Постепенно, до 9 месяцев, купировался болевой, роговичный, отечный синдром; некорригированная острота зрения увеличилась с 0,2 до 0,5; корригированная острота зрения улучшилась до 0,7; нормализовались топометрические, кератометрические, пахиметрические показатели; исчезла иррегулярность роговицы. Полученные результаты подтверждают инструментальное исследование на Pentacam HR (Oculus, Германия) и его Шеймпфлюг-изображения.
The article deals with a case report of non-healing posttraumatic corneal ulcer. An epi-on cross-linking was performed for left eye in 37-year old female patient, who has been unsuccessfully treated, including transplantation of amnion membrane, for 3.5 months after corneal abrasion. After corneal soaking with Riboflavin (one drop each 2 minutes during half an hour), an UV-A irradiation 380 nm (3 mV/cm2) 9.0 mm in diameter was performed with frequent additional BSS moisturizing. Patient was assessed preoperatively and 1 day, 1 week, 1, 3 and 9 months after procedure. Clinical efficacy of epi-on cross-linking has been shown. No side effects were observed during the follow-up period. Painful, corneal, oedematous syndromes were relieved gradually, within 9 months; uncorrected visual acuity improved from 0.2 to 0.5; best corrected visual acuity changed to 0.7; topometric, keratometric, pachymetric data normalized; corneal irregularity disappeared. These assertions are confirmed by instrumental investigation with Pentacam HR (Oculus, Germany) and its Sheimpflug images.
Keywords
виразка рогівки; крос-лінкінг колагену; Pentacam; рибофлавін; ультрафіолет А
язва роговицы; кросс-линкинг коллагена; Pentacam; рибофлавин; ультрафиолет А
corneal ulcer; collagen cross-linking; Pentacam; riboflavin; ultraviolet A
For the full article you need to subscribe to the magazine.
Bibliography
1. Аверьянова О.С., Ковалев А.И. Терапевтическая керат–эктомия в лечении помутнений роговицы после герпетических кератитов: оптимизация параметров // Сучасні медичні технології. — 2012. — № 2. — С. 9.
2. Бойко Э.В., Ян А.В., Агеев B.C., Синявский О.В. Оценка возможностей лазерной коагуляции излучением среднего ИК-диапазона как метода санации гнойных язв роговицы // Научно-практическая конференция «Лазеры в офтальмологии: вчера, сегодня, завтра». — М., 2009. — 122-125.
3. Зайцев А.В., Каспарова Е.А. Нетрансплантационные методы лечения язв роговицы // Вестник офтальмологии. — 2012. — № 5. — С. 65-67.
4. Bennett H.G., Hay J., Kirkness C.M., Seal D.V., Devonshire P. Antimicrobial management of presumed microbial keratitis: Guidelines for treatment of central and peripheral ulcers // Br. J. Ophthalmol. — 1998. — 82. — 137-145.
5. Edelstein S.L., Wichiensin P., Huang A.J. Bacterial keratitis // Krachmer J.H., Mannis M.J., Holland E.J., editors. Cornea. — Philadelphia: Mosby, Elsevier, 2011. — Р. 919-944.
6. Gokhale N.S. Medical management approach to infectious keratitis // Indian J. Ophthalmol. — 2008. — 56. — 215-220.
7. Hafezi F. Cross-linking of corneal collagen with UVA and riboflavin for the treatment of corneal disease // Iran J. Ophthalmol. — 2009. — 21. — 3-12.
8. Iakovleva M.B., Kozel'tsev V.L. Proteolysis of collagen by several species of micromycetes and spore-forming bacteria // Prikl. Biokhim. Mikrobiol. — 1994. — 30. — 121-126.
9. Levy S.B. Multidrug resistance — A sign of the times // N. Engl. J. Med. — 1998. — 338. — 1376-1378.
10. Makdoumi K., Mortensen J., Crafoord S. Infectious keratitis trea–ted with corneal crosslinking // Cornea. — 2010. — 29. — 1353-1358.
11. Martins S.A., Combs J.C., Noguera G., Camacho W., Wittmann P., Walther R. et al. Antimicrobial efficacy of riboflavin/UVA combination (365 nm) in vitro for bacterial and fungal isolates: A potential new treatment for infectious keratitis // Invest. Ophthalmol. Vis. Sci. — 2008. — 49. — 3402-3408.
12. Morén H., Malmsjö M., Mortensen J., Ohrström A. Riboflavin and ultraviolet a collagen crosslinking of the cornea for the treatment of keratitis // Cornea. — 2010. — 29. — 102-104.
13. Panda A., Krishna S.N., Kumar S. Photo-activated riboflavin therapy of refractory corneal ulcers // Cornea. — 2012. — 31. — 1210-1213.
14. Price M.O., Price F.W. Corneal cross-linking in the treatment of corneal ulcers // Current Opinion in Ophthalmology. — May 2016. — 27(3). — 250-255.
15. Simmons D.M., Kearney J.N. Evaluation of collagen cross-linking techniques for the stabilization of tissue matrices // Biotechnol. Appl. Biochem. — 1993. — 17 (Pt 1). — 23-29.
16. Spoerl E., Wollensak G., Seiler T. Increased resistance of crosslinked cornea against enzymatic digestion // Curr. Eye Res. — 2004. — 29. — 35-40.
17. Wollensak G., Spoerl E., Seiler T. Riboflavin/ultraviolet-a-induced collagen crosslinking for the treatment of keratoconus // Am. J. Ophthalmol. — 2003. — 135. — 620-627.
18. Zamani M., Panahi-Bazaz M., Assadi M. Corneal Collagen Cross-linking for Treatment on Non-Healing Corneal Ulcers // J. Ophthalmic Vis. Res. — 2015 Jan-Mar. — 10(1). — 16-20.