Archive Of Ukrainian Ophthalmology Том 7, №2, 2019
X-ray techniques in the diagnosis of orbital pathology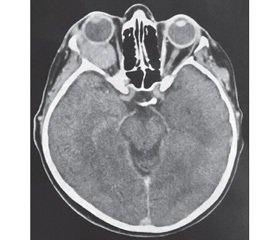 Authors:

Петренко О.В., Бабкіна Т.М., Васильцов І.А.
Національна медична академія післядипломної освіти імені П.Л. Шупика, м. Київ, Україна



Categories:

Ophthalmology



Sections:

Specialist manual
Summary
Очна ямка є місцем виникнення великої кількості патологічних процесів різної етіології (запальної, пухлинної, судинної, ендокринної), тому інтерпретація симптомів та клінічних даних має бути пов'язана з візуалізацією патологічного вогнища. Тяжкість верифікації патології очної ямки обумовлена недоступністю для звичних офтальмологічних чи інших методів огляду через неможливість повної візуалізації. Сучасні променеві методи діагностики (комп'ютерна томографія, магнітно-резонансна томографія, однофотонна емісійна комп'ютерна томографія, позитрон-емісійна томографія) необхідні для інтерпретації симптомів і клінічних даних, а також постановки правильного діагнозу на ранньому етапі, що дозволяє уникнути ускладнень для зору та життя пацієнта. В роботі надано огляд променевих методів діагностики патологічних станів орбіти. Означено вибір того чи іншого з них, який ґрунтується на урахуванні переваг та недоліків, показань та протипоказань у кожному окремому випадку, а також світовому досвіді. В комплексі з урахуванням клінічних симптомів, анамнестичних даних та інших методів обстеження використання променевих методів є безумовно необхідним для своєчасної та точної верифікації орбітальної патології, що дозволить визначитися з оптимальною тактикою лікування та уникнути потенційних загроз для здоров'я пацієнта. Водночас із розвитком науки і техніки променева діагностика постійно удосконалюється, і тому подальше дослідження застосування цих методів при орбітальній патології є актуальним та перспективним.
Глазница является местом возникновения большого количества патологических процессов различной этиологии (воспалительной, опухолевой, сосудистой, эндокринной), поэтому интерпретация симптомов и клинических данных должна быть связана с визуализацией патологического очага. Тяжесть верификации патологии обусловлена недоступностью для обычных офтальмологических или иных методов осмотра в связи с невозможностью полной визуализации. Современные лучевые методы диагностики (компьютерная томография, магнитно-резонансная томо­графия, однофотонная эмиссионная компьютерная томография, позитронно-эмиссионная томография) необходимы для интерпретации симптомов и клинических данных, а также постановки правильного диагноза на ранней стадии, что позволяет избежать осложнений для зрения и жизни пациента. В работе представлен обзор лучевых методов диагностики патологических состояний орбиты. Отмечен выбор того или иного из них, обоснованный с учетом преимуществ и недостатков, показаний и противопоказаний в каждом отдельном случае, а также мирового опыта. В комплексе с учетом клинических симптомов, анамнестических данных и других методов обследования использование лучевых методов является безусловно необходимым для своевременной и точной верификации орбитальной патологии, что позволит определиться с оптимальной тактикой лечения и избежать потенциальных угроз для здоровья пациента. В то же время с развитием ­науки и техники лучевая диагностика постоянно совершенствуется, и поэтому дальнейшее исследование применения этих методов при орбитальной патологии является актуальным и перспективным.
The orbital area is the site of a large number of pathological processes of various origins (inflammatory, tumor, vascular, endocrine); therefore, the interpretation of symptoms and clinical data should include the visualization of pathological focus. The complexity of verifying orbital pathology is associated with inaccessibility for conventional ophthalmic or other methods of examination due to the impossibility of complete visualization. Modern X-ray techniques (computed tomography, magnetic resonance imaging, single photon emission computed tomography, positron emission tomography) are necessary for the interpretation of symptoms and clinical data, as well as for making a correct diagnosis at an early stage, which allows us to avoid complications for the patient's vision and life. The article presents an overview of X-ray techniques for the diagnosis of pathological conditions of the orbit. The choice of one or other of them is described, which is based on the consideration of advantages and disadvantages, indications and contraindications in each case, as well as international experience. Together with taking into account clinical symptoms, anamnestic data and other methods of examination, the use of X-ray techniques is absolutely necessary for timely and accurate detection of orbital pathology, which will help determine the optimal treatment and avoid potential threats to the patient's health. At the same time, with the scientific and technological progress, X-ray diagnosis is being improved constantly; therefore, further studies of using these methods in orbital pathology are relevant and promising.
Keywords
орбіта; діагностика; променеві методи дослідження; огляд
орбита; диагностика; лучевые методы исследования; обзор
orbit; diagnosis; X-ray techniques; review
For the full article you need to subscribe to the magazine.
Bibliography
1. Алтынбаева Л.Р., Сережин И.Н., Акчурина Р.А. Дифференциальная диагностика гемангиом и других объемных образований орбиты // Казанский медицинский журнал. — 2015. — № 3. — С. 361-364.
2. Арсвольд Д., Верник М. Эмиссионная томография. Основы ПЭТ и ОФЭКТ/Emission Tomography: The Fundamentals of PET and SPECT. — М.: Техносфера, 2009. — 612 с.
3. Бабий Я.С., Болгова И.М., Удовиченко В.В. Лучевые методы диагностики при заболеваниях глаза и орбиты // Вестник Российского научного центра рентгенорадиологии. — 2004. — № 3. http://vestnik.rncrr.ru/vestnik/v3/papers/bab_v3.htm
4. Бабкина Т.М., Полякова С.И. Возможности магнитно-резонансной и компьютерной томографии в дифференциальной диагностике менингиомы и глиомы зрительного нерва // Офтальмол. журнал. — 2007. — № 6. — С. 34-41.
5. Бабкина Т.М., Терентьева Л.С., Полякова С.И., Легеза С.Г. Спиральная рентгеновская компьютерная томография и рентгеновская компьютерная томография новообразований орбиты с распространением в параназальные синусы и полость черепа // Офтальмологический журнал. — 2001. — № 3. — С. 16-20.
6. Бикбов М.М., Габдрахманова А.Ф., Верзакова И.В. Комплексная диагностика заболеваний орбиты. — Уфа, 2008. — 151 с.
7. Бровкина А.Ф. Болезни орбиты / Бровкина А.Ф. — М.: Медицина. — 1999. — 238 с.
8. Волков В.В., Горбань А.И., Джалиашвили О.А. Клиническое исследование глаза с помощью приборов. — Л., 1971. — 334 с.
9. Габдрахманова А.Ф., Алтынбаева Л.Р. Первый опыт применения радионуклидного исследования с помощью однофотонной эмиссионной компьютерной томографии в диагностике новообразований орбиты // Вестн. офтальмол. — 2008. — Т. 124, № 4. — С. 39-41.
10. Канаев С.В., Новиков С.Н., Гиршович М.М. и др. Значение методов ядерной медицины для определения тактики лучевого лечения у больных со злокачественными новообразованиями различной локализации // Вопросы онкологии. — 2012. — Т. 58, № 3. — С. 189-193.
11. Слободин К.Э. Лучевая диагностика повреждений глаз: Руководство для врачей. — СПб.: СПбМАПО, 2007. — 137 с.
12. Терентьева Л.С. Псевдотумор орбиты воспалительного характера и лучевая диагностика опухолевых и псевдоопухолевых заболеваний орбиты / Л.С. Терентьева, В.Н. Соколов, С.Г. Легеза // Таврический медико-биологический вестник. — 2013. — Т. 16, № 3(2). — С. 140-144.
13. Ahmad S.M., Esmaeli B. Metastatic tumors of the orbit and ocular adnexa // Current opinion in ophthalmology. — 2007. — Vol. 18, № 5. — P. 405-413.
14. Aviv R.I., Casselman J. Orbital imaging: Part 1. Normal anatomy // Clin. Radiol. — 2005. — P. 279-287.
15. Burroni L., Borsari G., Pichierri P. et al. Preoperative diagnosis of orbital cavernous hemangioma: a 99mTc — RBC SPECT study // Clin. Nucl. Med. — 2012. — Vol. 37. — P. 11.
16. Carreras C., Kulkarni H.R., Baum R.P. Rare metastases detected by 68Ga-somatostatin receptor PET/CT in patients with neuroendocrine tumors // Theranostics, Gallium-68, and Other Radionuclides. — Springer Berlin Heidelberg, 2013. — P. 379-384.
17. Casper D.S., Chi T.L., Trokel S.L. Introduction to orbital disease imaging and analysis / Casper D.S., Chi T.L., Trokel S.L., eds. // Orbital disease imaging and analysis. — New York: Thieme, 1993. — P. 9-10.
18. Cherry S.R. Multimodality imaging: beyond PET/CT and SPECT/CT // Semin. Nucl. Med. — 2009. — 39(5). —P. 348-353.
19. Estorch M., Carrio I. Future challenges of multimodality ima–ging. Recent results // Cancer Res. — 2013. — 187. — P. 403-415.
20. Feeman Timothy G. The Mathematics of Medical Imaging: A Beginner's Guide. Springer Undergraduate Texts in Mathematics and Technology. — Springer, 2010. — 114 р.
21. Finger P.T. et al. Whole body PET/CT for initial staging of choroidal melanoma // British journal of ophthalmology. — 2005. — Vol. 89, № 10. — P. 1270-1274.
22. Goh P.S., Gi M.T., Charlton A., Tan C., Gangadhara Sundar J.K., Amrith S. Review of orbital imaging // Eur. J. Radiol. — 2008. — 66. — P. 387-395.
23. Hallinan James Thomas Patrick Decourcy et al. Eye Globe Abnormalities on MR and CT in Adults: An Anatomical Approach // Korean Journal of Radiology. — 2016. — 17, 5. — P. 664-673.
24. Hande Pradipta C., Inder Talwar. Multimodality imaging of the orbit // Indian Journal of Radiology and Imaging. — 2012. — 22, 3. — P. 227.
25. Henderson I.W. Orbital Tumors. Third Edition. — New York: Raven Press ltd., 1994. — 448 p.
26. Hosokawa C. et al. Usefulness of 99mTc-PMT SPECT and 18F-FDG PET in diagnosing orbital metastasis of hepatocellular carcinoma // Kaku igaku. The Japanese journal of nuclear medicine. — 1994. — Vol. 31, № 10. — P. 1237-1242.
27. José Pablo Martínez Barbero, Inmaculada Rodríquez Jiménez, Teodoro Martin Noguerol, Antonio Luna Alcalá Cancers. Utility of MRI Diffusion Techniques in the Evaluation of Tumors of the Head and Neck // Cancers (Basel). — 2013 Sep. — 5(3). — P. 875-889.
28. Linköping University. Introduction to CT physics. http://bit.ly/O8W4aH.
29. Mafee M.F. Orbit: embryology, anatomy, and pathology / Som P.M., Curtin H.D., eds. // Head and neck imaging. — 4th ed. — St. Louis, Mo: Mosby, 2003. — P. 529-654.
30. Müller-Forell W.S. Imaging of the orbit and visual pathway / Baert K., Sartor K., eds. Medical radiology, diagnostic imaging. — New York: Springer, 2006. — P. 15-7.
31. Muzaffar R., Shousha M.A., Sarajlic L., Osman M.M. Ophthalmologic abnormalities on FDG-PET/CT: a pictorial essay // Cancer. Imaging. — 2013. — 13(1). — P. 100-112.
32. Nguyen B.D., Roarke M.C. Choroidal and extraocular muscle metastases from non-small-cell lung carcinoma: F-18 FDG PET/CT imaging // Clinical nuclear medicine. — 2008. — Vol. 33, № 2. — P. 118-121.
33. Perry C., Herishanu Y., Metzer U., Bairey O., Ruchlemer R., Trejo L., Naparstek E., Sapir E.E., Polliack A. Diagnostic accuracy of PET/CT in patients with extranodal marginal zone MALT lymphoma // European Journal of Haematology. — 2007 Sep. — 79(3). — Р. 205-9.
34. Romero-Aroca P., Montero-Jaime M., Intriago B. et al. 18FDG-PET/CT assessing the absence of cell viability and excluding metastatic disease in a case of necrotic choroidal melanoma // Eur. J. Ophthalmol. — 2012. — Vol. 22, № 2. — P. 288-292.
35. Schiiller A. Roentgen diagnosis of diseases of the head / Translated by F.F. Stocking. — St. Louis: C.V. Mosby, 1918. — P. 8-9.
36. Scuffhama J.W., Wilson M.D., Seller P., Veale M.C., Sel–lin P.J., Jacques S.D.M., Cernik R.J. A CdTe detector for hyperspectral SPECT imaging // Journal of Instrumentation. — 2012. — Vol. 7. https://www.research.manchester.ac.uk/portal/en/publications/a-cdte-detector-for-hyperspectral-spect-imaging(d8cf20cc-a26e-4dca-a449-17656c141da1).html
37. SPECT at the US National Library of Medicine Medical Subject Headings (MeSH). https://www.nlm.nih.gov/cgi/mesh/2011/MB_cgi?mode=&term=SPECT
38. Suga K. et al. F-18 FDG PET/CT findings in a patient with bilateral orbital and gastric mucosa-associated lymphoid tissue lymphomas // Clinical nuclear medicine. — 2009. — Vol. 34, № 9. — P. 589-593.
39. Tawfik Hatem A., Abdelhalim Ahmed, Elkafrawy Mamdouh H. Computed tomography of the orbit, a review and an update // Saudi Journal of Ophthalmology. — 2012. — 26, 4. — P. 409-418.
40. Van Tassel P., Mafee M.F., Atlas S.W., Galetta S.L. Eye, orbit and visual system / Atlas S.W., ed. // Magnetic resonance imaging of the brain and spine. — 4th ed. — Philadelphia: Lippincott Williams & Wilkins, 2009. — Chapter 23, Vol. 2. — P. 1258-1363.
41. Webb A.G. X ray imaging and computed tomography / Webb A.G., ed. // Introduction to biomedical imaging. — New york: Wiley, 2003. — P. 1-56.
42. Wild D. et al. In-line 18 F-fluorodeoxyglucose positron emission tomography with computed tomography (PET/CT) in patients with carcinoma of the sinus/nasal area and orbit // Journal of Cranio-Maxillofacial Surgery. — 2006. — Vol. 34, № 1. — P. 9-16.
43. Case courtesy of Dr Ian Bickle. Radiopaedia.org, rID: 46403
44. Case courtesy of Dr Dalia Ibrahim. Radiopaedia.org, rID: 44049
45. Case courtesy of Dr Ian Bickle. Radiopaedia.org, rID: 52509
46. Ophthalmologic abnormalities on FDG-PET/CT: a pictorial essay. https://www.ncbi.nlm.nih.gov/pmc/articles/PMC3607251/figure/F3/?report=objectonly
Similar articles

Authors:
Король П.О.(1, 2), Самохін А.В.(2), Ткаченко М.М.(1) (1) — Національний медичний університет імені О.О. Богомольця, м. Київ, Україна (2) — Київська міська клінічна лікарня № 12, м. Київ, Україна


"Тrauma" Том 20, №4, 2019
Date: 2019.10.07
Categories: Traumatology and orthopedics
Sections: Specialist manual


Authors: Король П.О.(1, 2), Ткаченко М.М.(1)
(1) — Національний медичний університет імені О.О. Богомольця, м. Київ, Україна
(2) — Київська міська клінічна лікарня № 12, м. Київ, Україна
"Kidneys" Том 7, №3, 2018
Date: 2018.08.27
Categories: Nephrology
Sections: Specialist manual


Authors: Король П.О.(1, 2), Ткаченко М.М.(1)
1 - Національний медичний університет імені О.О. Богомольця, м. Київ, Україна
2 - Київська міська клінічна лікарня № 12, м. Київ, Україна
"Тrauma" Том 19, №5, 2018
Date: 2018.11.26
Categories: Traumatology and orthopedics
Sections: Specialist manual


Authors:
Король П.О.(1, 2), Ткаченко М.М.(2) (1) — Київська міська клінічна лікарня № 12, м. Київ, Україна (2) — Національний медичний університет імені О.О. Богомольця, м. Київ, Україна


"Тrauma" Том 20, №2, 2019
Date: 2019.06.02
Categories: Traumatology and orthopedics
Sections: Specialist manual