International journal of endocrinology Том 15, №3, 2019
Male factor of sterility: algorithm of laboratory diagnosis of the causes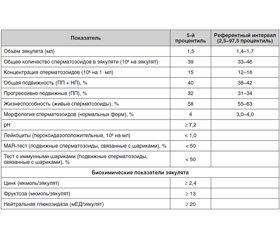 Authors:

Рыкова О.В.
Руководитель клинического направления лабораторной диагностики лаборатории «Синэво», г. Киев, Украина



Categories:

Endocrinology



Sections:

Specialist manual
Summary
Раніше були висвітлені теми лабораторної діагностики: оцінка андрогенного статусу чоловіка: що вибрати — тестостерон загальний або вільний; або використовувати розрахунковий показник — індекс вільного тестостерону; що важливо враховувати при направленні на оцінку рівня тестостерону; як правильно інтерпретувати результат з урахуванням залежності від цілої низки чинників; чому необхідно як мінімум двічі оцінити рівень тестостерону; які критерії постановки діагнозу чоловічого гіпогонадизму; яке подальше обстеження слід проводити після встановлення діагнозу. У даній статті ми продовжуємо розглядати лабораторні алгоритми діагностики цілої низки причин гіпогонадизму. Окремо зупинимося на спермограмі як тесті, що дозволяє комплексно оцінити роботу всіх систем, відповідальних за формування сперми.
Ранее были освещены темы лабораторной диагностики: оценка андрогенного статуса мужчины: что выбрать — тестостерон общий или свободный; или использовать расчетный показатель — индекс свободного тестостерона; что важно учитывать при направлении на оценку уровня тестостерона; как правильно интерпретировать результат с учетом зависимости от целого ряда факторов; почему необходимо как минимум дважды оценить уровень тестостерона; каковы критерии постановки диагноза мужского гипогонадизма; какое дальнейшее обследование следует проводить после установления диагноза. В данной статье мы продолжаем рассматривать лабораторные алгоритмы диагностики целого ряда причин гипогонадизма. Отдельно остановимся на спермограмме как тесте, позволяющем комплексно оценить работу всех систем, ответственных за формирование спермы.
Previously, the topics of laboratory diagnosis were covered: assessment of the male androgenic status: what to choose — total or free testosterone; or use an estimated indicator — free testosterone index; what is important to consider when referring to an assessment of testosterone levels; how to correctly interpret the result, taking into account the dependence on a number of factors; why it is necessary to at least twice assess the level of testosterone; what are the criteria for making a diagnosis of male hypogonadism; what further examination should be carried out after diagnosis. In this article, we continue to consider laboratory algorithms for diagnosing a variety of causes of hypogonadism. Separately, we will focus on spermogram as a test, which allows a comprehensive assessment of the functioning of all systems responsible for the formation of sperm.
Keywords
чоловічий фактор безпліддя; спермограма; гіпогонадизм
мужской фактор бесплодия; спермограмма; гипогонадизм
male factor of sterility; spermogram; hypogona­dism
For the full article you need to subscribe to the magazine.
Bibliography
1. Testosterone Therapy in Men With Hypogonadism: An Endocrine Society Clinical Practice Guideline // J. Clin. Endocrinol. Metab. — 2018. — 103 (5). — 1715-1744.
2. Dohle G.R. (Chair), Arver S., Bettocchi C., Jones T.H., Kliesch S., Punab M. Male Hypogonadism — 2015 Guideline From The European Asso-ciation Of Urology.
3. Borovickova Ingrid, Adelson Naomi, Viswanath Ananth, Gama Rousseau. Hypogonadism with Normal Serum Testoste–rone // Clinical Chemis-try. — 2017. — 63, 8. — 1326-1330.
4. Alvaro Morales, CM, MD, Richard A. Bebb, MD, Priya Manjoo, MD, MSc, Peter Assimakopoulos, MD, John Axler, MD, Christine Collier, PhD, Stacy Elliott, MD, Larry Goldenberg, CM, OBC, MD, Irv Gottesman, MD, Ethan D. Grober, MD, MEd, Gordon H. Guyatt, MD, MSc, Daniel T. Holmes, MD, Jay C. Lee, MD; Canadian Men's Health Foundation Multidisciplinary Guidelines Task Force on Testosterone Deficiency. Diagnosis and manage-ment of testosterone deficiency syndrome in men: clinical practice guideline.
5. Travison T.G., Vesper H.W., Orwoll E., Wu F., Kauf–man J.M., Wang Y., Lapauw B., Fiers T., Matsumoto A.M., Bhasin S. Harmonized refer-ence ranges for circulating testosterone le–vels in men of four cohort studies in the United States and Europe // J. Clin. Endocrinol. Metab. — 2017. — 102 (4). — 1161-1173.
Similar articles