International neurological journal №4 (106), 2019
Evaluation of clinical parameters in patients with symptomatic vascular epilepsy and chronic disorders of cerebral circulation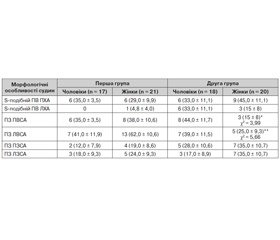 Authors:

Мушегян М.М., Літовченко Т.А., Войтюк А.О.
Харківська медична академія післядипломної освіти, м. Харків, Україна



Categories:

Neurology



Sections:

Clinical researches
Summary
Актуальність. Серед механізмів виникнення епілепсії в осіб старшого віку провідну роль відіграє хронічна ішемія головного мозку, пов'язана з повільно прогресуючою недостатністю його кровопостачання. Значна поширеність цереброваскулярної патології в осіб літнього віку та її наслідків у вигляді судинної епілепсії визначає актуальність вивчення особливостей її патогенезу, клінічного перебігу та ефективності лікування. Метою роботи була порівняльна оцінка клінічних, функціональних і гемодинамічних особливостей перебігу хронічної ішемії головного мозку хворих з епілептичними нападами та без них. Матеріали та методи. Нами проведено ретроспективний і проспективний аналіз історій хвороби 76 хворих із хронічним порушенням мозкового кровообігу, у 38 з яких спостерігалися епілептичні напади (перша група) та в яких нападів не було (друга група). Результати. В обох досліджуваних групах хворих вірогідно частіше спостерігалися друга стадія дисциркуляторної енцефалопатії та другий ступінь гіпертензивної хвороби. У хворих першої групи складні парціальні напади, що генералізувалися, вірогідно частіше спостерігалися у чоловіків, ніж у жінок (8 (47 %) чоловіків і 2 (9,5 %) жінки; χ2 = 5,65; р < 0,05); абсанси зареєстровані в 1 (5,9 %) чоловіка та 5 (23,8 %) жінок; тоніко-клонічні напади вірогідно частіше спостерігалися у чоловіків, ніж у жінок (17 (100 %) чоловіків і 12 (57 %) жінок; χ2 = 9,55; р < 0,05), що вказує на наявність гендерних відмінностей. Аналіз розподілу хворих за типом електроенцефалографії показав, що частота зустрічальності всіх її типів вірогідно не відрізняється, за винятком п'ятого типу, якій вірогідно частіше трапляється у хворих на епілепсію. Висновки. Встановлено, що вогнищеві зміни головного мозку вірогідно (р < 0,05) підвищують ризик виникнення епілепсії у 4,3 раза, наявність пароксизмальної активності — у 26,9 раза, дисфункції серединних структур — у 6,4 раза.
Актуальность. Среди механизмов возникновения эпилепсии у лиц старшего возраста ведущую роль играет хроническая ишемия головного мозга, связанная с медленно прогрессирующей недостаточностью его кровоснабжения. Значительная распространенность цереброваскулярной патологии у лиц пожилого возраста и ее последствий в виде сосудистой эпилепсии определяет актуальность изучения особенностей ее патогенеза, клинического течения и эффективности лечения. Целью исследования была сравнительная оценка клинических, функциональных и гемодинамических особенностей течения хронической ишемии головного мозга больных с эпилептическими припадками и без них. Материалы и методы. Нами проведен ретроспективный и проспективный анализ историй болезни 76 пациентов с хроническим нарушением мозгового кровообращения, у 38 из которых наблюдались эпилептические припадки (первая группа) и у которых припадков не было (вторая группа). Результаты. В обеих исследуемых группах у пациентов достоверно чаще наблюдались вторая стадия дисциркуляторной энцефалопатии и гипертензивная болезнь второй степени. У больных первой группы сложные парциальные и генерализованные припадки достоверно чаще наблюдались у мужчин (8 (47 %) мужчин и 2 (9,5 %) женщины; χ2 = 5,65; р < 0,05); абсансы зарегистрированы у 1 (5,9 %) мужчины и 5 (23,8 %) женщин; тонико-клонические припадки достоверно чаще наблюдались у мужчин (17 (100 %) мужчин и 12 (57 %) женщин; χ2 = 9,55; р < 0,05), что указывает на наличие достоверных гендерных различий. Анализ распределения больных по типу электроэнцефалографии показал, что частота встречаемости всех ее типов достоверно не отличается, за исключением пятого типа, который достоверно чаще встречался у больных эпилепсией. Выводы. Установлено, что очаговые изменения головного мозга достоверно (р < 0,05) повышают риск возникновения эпилепсии в 4,3 раза, наличие пароксизмальной активности — в 26,9 раза, дисфункции срединных структур — в 6,4 раза.
Background. Among the mechanisms of epilepsy in older persons, the leading role belongs to chronic cerebral ischemia associated with slowly progressive insufficiency of its blood supply. Significant prevalence of cerebrovascular pathology in the elderly and its consequences in the form of vascular epilepsy determine the relevance of the study of its pathogenesis, clinical course and effectiveness of treatment. We performeda comparative assessment of clinical, functional and hemodynamic features of the course of chronic cerebral ischemia in patients with and without epileptic seizures. Materials and methods. A retrospective and prospective analysis of the case histories of 76 patients with chronic cerebrovascular disorders was carried out; 38 of them had epileptic seizures (the first group), the second group involved patients with no seizures. Results. In both groups of patients, the second stage of dyscirculatory encephalopathy and stage 2 hypertension were significantly more frequently observed. In patients of the first group, complex partial generalized seizures were significantly more often observed in men (8 (47 %) and 2 (9.5 %) women; χ2 = 5.65; p < 0.05); absences accompanied consciousness were registered in one (5.9 %) men and 5 (23.8 %) women; tonic-clonic seizures were significantly more often observed in men (17 (100 %) men and 12 (57 %) women; χ2 = 9.55; p < 0.05), that indicates significant gender differences. Analysis of the distribution of patients by EEG type showed that the frequency of occurrence of all its types did not differ significantly, except for the fifth type, which was significantly more common in patients with epilepsy. Conclusions. It was found that focal changes in the brain significantly (p < 0.05) increase the risk of epilepsy by 4.3 times, the presence of paroxysmal activity by 26.9 times, dysfunction of median structures by 6.4 times.
Keywords
епілепсія; хронічні порушення мозкового кровообігу; електроенцефалографія; допплерографічне дослідження при епілепсії
эпилепсия; хронические нарушения мозгового кровообращения; электроэнцефалография; допплерографическое исследование при эпилепсии
epilepsy; chronic disorders of cerebral circulation; electroencephalography; doppler ultrasound examination in epilepsy
For the full article you need to subscribe to the magazine.
Bibliography
1. Гехт А.Б. Эпилепсия у пожилых. Журнал неврологии и психиатрии. 2005. № 11. С. 66–67.
2. Головач І.Ю. Дисциркуляторна енцефалопатія: деякі патогенетичні, клінічні та лікувальні аспекти. Ліки України. 2011. № 4(150). С. 60–67.
3. Евтушенко С.К. Дисциркуляторная энцефалопатия как анахронизм отечественной неврологии. Международный неврологический журнал. 2010. № 6. С. 181–187.
4. Жирмунская Е.А., Лосев В.С. Система описания и классификация ЭЭГ человека. Москва: Наука, 1984. 80 с.
5. Карлов В.А. Эпилепсия у детей и взрослых женщин и мужчин. Москва: Медицина, 2010. 720 с.
6. Лакин Г.Ф. Биометрия. Москва: Высшая школа, 1990. 352 с.
7. Левин О.С. Дисциркуляторная энцефалопатия: анахронизм или клиническая реальность. Современная терапия в психиатрии и неврологии. 2012. № 3. С. 40–45.
8. Минцер О.П. Методы обработки медицинской информации. Киев: Вища школа, 1992. 270 с.
9. Морозова О.Г. Хронические цереброваскулярные заболевания: современные принципы диагностики и лечения. Здоров'я України. 2013. № 3(26). С. 2–3.
10. Мурашко Н.К., Сулік Р.В. Хронічне порушення мозкового кровообігу в вертебробазилярній системі: клініко–діагностичні і лікувально–профілактичні алгоритми. Мистецтво лікування. 2013. № 4. С. 3–9.
11. Парфенов В.А. Дисциркуляторная энцефалопатия и сосудистые когнитивные расстройства. Москва: ИМА–ПРЕСС, 2017. 128 с.
12. Рекомендації Європейського товариства кардіологів з діагностики та лікування захворювань периферичних артерій. Серце і судини. 2011. № 4. С. 19–35.
13. Сікорська Т.А. Функціональний стан церебральної гемодинаміки у хворих з гіпертонічною хворобою в поєднанні з хронічною ішемією мозку. Практична ангіологія. 2011. № 1(40). С. 44–47.
14. Хасанова Д.Р., Данилова Т.В. Эпилепсия при острой и хронической церебральной ишемии. Наука и здравоохранение. 2016. № 2. С. 70–83.
15. Beghi E., Carpio A., Forsgren L., Hesdorffer D.C., Malmgren K., Sander J.W., Tomson T., Hauser W.A. Recommendation for a definition of acute symptomatic seizure. Epilepsia. 2010. 51(4). Р. 671–675.
16. Beleza P. Acute symptomatic seizures: a clinically oriented review. Neurologist. 2012. 18(3). Р. 109–190.
17. Conrad J., Pawlowski M., Dogan M., Kovac S., Ritter M.A., Evers S. Seizures after cerebrovascular events: risk factors and clinical features. Seizure. 2013. 22(4). Р. 275–82.
18. Evangelista O. Review of cardiovascular risk factors in women Gend. Med. 2011. Vol. 17, № 1. P. 17–36.
19. Fisher R.S., Acevedo C., Arzimanoglou A., Bogacz A., Cross J.H., Elger C.E., Engel Jr J., Forsgren L., French J.A., Glynn M. et al. ILAE official report: a practical clinical definition of epilepsy. Epilepsia. 2014. 55(4). Р. 475–482.
20. Fisher R.S., van Emde Boas W., Blume W., Elger C., Genton P. et al. (2005).Epileptic seizures and epilepsy: definitions proposed by the International League Against Epilepsy (ILAE) and the International Bureau for Epilepsy (IBE).
21. Fisher R.S., Cross J.H., D'Souza C., French J.A., Haut S.R. et al. ILAE classification of the epilepsies: position paper of the ILAE Commission for Classification and Terminology. Epilepsia. 2017. 58(4). Р. 512–521.
22. Gibson L.M., Allan S.M., Parkes L.M., Emsley H.C. Occult cerebrovascular disease and late–onset epilepsy: could loss of neurovascular unit integrity by a viablemodel? Cardiovasc. Psychiatry Neurol. 2011. 130406. http://dx.doi.org/10.1155/2011/13040621461380.
23. Gaspard N., Manganas L., Rampal N., Petroff O.A., Hirsch L.J. Similarity of lateralized rhythmic delta activity to periodic lateralized epileptiform discharges in critically ill patients. JAMA Neurol. 2013. 70. Р. 1288–1295.
24. Hirsch L.J., LaRoche S.M., Gaspard N., Gerard E., Svoronos A., Herman S.T., Mani R., Arif H., Jette N., Minazad Y., Kerrigan J.F., Vespa P., Hantus S., Claassen J., Young G.B., So E., Kaplan P.W., Nuwer M.R., Fountain N.B., Drislane F.W. Americanclinical neurophysiology society's standardized critical care EEG terminology: 2012 version. J. Clin. Neurophysiol. 2013. 30. Р. 1–27.
25. Hesdorffer D.C., Benn E.K., Cascino G.D., Hauser W.A. Is a first acute symptomatic seizure epilepsy? Mortality and risk for recurrent seizure. Epilepsia. 2009. 50(5). Р. 1102–1108.
26. Nair P.P., Kalita J., Misra U.K. Status epilepticus: why, what, and how. J. Postgrad. Med. 2011. 57(3). Р. 242–252.
27. Shafi M.M., Westover M.B., Cole A.J., Kilbride R.D., Hoch D.B., Cash S.S. Absence of early epileptiform abnormalities predicts lack of seizures on continuous EEG. Neurology. 2012. 79. Р. 1796–1801.
28. Sloten T.T., Protogerou A.D., Henry R.M. et al. Association between arterial stiffness, cerebral small vessel disease and cognitive impairment: A systematic review and meta–analysis. Neurosci Biobehav. Rev. 2015 Jun. 53. 12130. doi: 10.1016/j.neubiorev.2015.03.011. Epub 2015 Mar 28.
29. Westover M.B., Shafi M.M., Bianchi M.T., Moura L.M., O'Rourke D., Rosenthal E.S., Chu C.J., Donovan S., Hoch D.B., Kilbride R.D., Cole A.J., Cash S.S. The probability of seizures during EEG monitoring in critically ill adults. Clin. Neurophysiol. 2015. 126. Р. 463–471.
Similar articles

Authors:
Софілканич Н.В., Орос М.М., Смоланка В.І., Луц В.В. - Ужгородський національний університет, м. Ужгород, Україна; Мукачівська центральна районна лікарня, м. Мукачево, Україна


International neurological journal 4 (82) 2016
Date: 2016.08.10
Categories: Neurology
Sections: Clinical researches




Authors: Мар'єнко Л.Б.(1), Літовченко Т.А.(2), Дубенко А.Є.(3)
(1) — Львівський національний медичний університет ім. Данила Галицького, м. Львів, Україна
(2) — Харківська медична академія післядипломної освіти, м. Харків, Україна
(3) — ДУ «Інститут неврології, психіатрії і наркології НАМН України», м. Харків, Україна
International neurological journal 7 (93) 2017
Date: 2017.12.19
Categories: Neurology
Sections: Specialist manual