"Emergency medicine" №4(99), 2019
Сlinical cases of symptomatic hyponatremia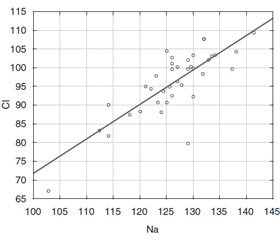 Authors:

Фесенко У.А.(1), Степанюк О.С.(2), Жовнір Т.Б.(2)
(1) — Львівський національний медичний університет імені Данила Галицького, м. Львів, Україна
(2) — Військово-медичний клінічний центр Західного регіону, м. Львів, Україна



Categories:

Medicine of emergency



Sections:

Specialist manual
Summary
Поданий аналіз чотирьох випадків симптоматичної гіпонатріємії у пацієнтів відділення нейроінтенсивної терапії. У всіх випадках мала місце гіпонатріємія тяжкого ступеня (плазмовий рівень натрію < 125 ммоль/л) з ознаками набряку головного мозку, що важко піддавалась корекції. Корекцію гіпонатріємії проводили внутрішньовенним введенням 7,5% натрію хлориду, середній темп корекції становив 9 ммоль/л на добу. Клінічні прояви гіпонатріємії нагадували картину ішемічного інсульту, епілепсії. При помірному рівні гіпонатріємії (125–129 ммоль/л) симптоми набряку головного мозку зникали. Імовірною причиною гіпонатріємії були: травматичне ураження мозку, введення рентген-контрасту, фуросеміду, інфузія 5% глюкози. Усі пацієнти, окрім основної причини, мали інші чинники, які могли сприяти розвитку гіпонатріємії. У всіх пацієнтів спостерігалась гіпохлоремія.
Представлен анализ четырех случаев симптоматической гипонатриемии у пациентов с церебральной патологией. Во всех случаях имела место гипонатриемия тяжелой степени (плазменный уровень натрия < 125 ммоль/л) с проявлениями отека головного мозга, которая тяжело поддавалась коррекции. Коррекцию гипонатриемии проводили внутривенным введением 7,5% натрия хлорида, средний темп коррекции составил 9 ммоль/л в сутки. Клинические проявления гипонатриемии напоминали картину ишемического инсульта, эпилепсии. При умеренном уровне гипонатриемии (125–129 ммоль/л) симптомы отека головного мозга исчезали. Вероятной причиной гипонатриемии были: травматическое поражение мозга, введение рентген-контраста, фуросемида, инфузия 5% глюкозы. Все пациенты имели кроме основной и другие причины, которые могли способствовать развитию гипонатриемии. У всех пациентов наблюдалась гипохлоремия.
The case series of four symptomatic hyponatremia in patients with cerebral diseases are analyzed. In all cases hyponatremia was severe (serum sodium level < 125 mmol/L) with the signs of cerebral edema, and poorly corrected. For the correction of hyponatremia, we used the intravenous infusion of 7.5% NaCl, and the average rate of correction was 9 mmol/L per day. The clinical signs of hyponatremia mimic as ischemic stroke and epilepsy. The moderate level of hyponatremia (125–129 mmol/L) did not correspond to the symptoms of cerebral edema. The most possible causes of hyponatremia were: traumatic brain injury, administration of X-ray contrast and furosemide, and infusion of 5% dextrose. Except the main suspected causing factor, all patients had several other factors that could predispose the development of hyponatremia. All patients presented with hypochloremia.
Keywords
гіпонатріємія; церебральна патологія; гіпохлоремія
гипонатриемия; церебральная патология; гипохлоремия
hyponatremia; cerebral pathology; hypochloremia
For the full article you need to subscribe to the magazine.
Bibliography
1. Adrogué H.J., Madias N.E. The challenge of hyponatremia. J. Am. Soc. Nephrol. 2012. 23(7). 1140-1148. doi: 10.1681/ASN.2012020128. PMID:22626822
2. McCarthy K., Conway R., Byrne D., Cournane S., O'Riordan D., Silke B. Hyponatraemia during an emergency medical admission as a marker of illness severity & case complexity. Eur. J. Intern. Med. 2019. 59. 60-64. https://doi.org/10.1016/j.ejim.2018.08.002
3. Turgutalp K., Ozhan O., GokOguz E., Horoz M., Camsari A., Yilmaz A., Kiykim A., Arici M. Clinical features, outcome and cost of hyponatremia-associated admission and hospitalization in elderly and very elderly patients: a single-center experience in Turkey. Int. Urol. Nephrol. 2013. 45. 265. https://doi.org/10.1007/s11255-012-0307-9
4. Cohen D.M., Ellison D.H. Evaluatin ghyponatremia. JAMA. 2015. 313(12). 1260-1261. doi: 10.1001/jama.2014.13967 PMID: 25803349 PMCID: PMC4620993
5. Maesaka J.K., Imbriano L.J, Miyawaki N. Application of established pathophysiologic processes brings greater clarity to diagnosis and treatment of hyponatremia. World J. Nephrol. 2017. 6(2). 59-71. doi: 10.5527/wjn.v6.i2.59
6. Sterns R.H. Disorders of plasma sodium-causes, consequences, and correction. N. Engl. J. Med. 2015. 372(1). 55-65. doi: 10.1056/NEJMra1404489.
7. Hoorn E.J., Zietse R. Diagnosis and Treatment of Hyponatremia: Compilation of the Guidelines. J. Am. Soc. Nephrol. 2017. 28(5). 1340-1349. doi: 10.1681/ASN.2016101139 PMID: 28174217 PMCID: PMC5407738
8. Sahay M., Sahay R. Hyponatremia: A practical approach. Indian. J. Endocrinol. Metab. 2014. 18(6). 760-771. doi: 10.4103/ 2230-8210.141320 PMCID: PMC4192979 PMID: 25364669
9. Imbriano L.J., Mattana J., Drakakis J., Maesaka J.K. Identifying Different Causes of Hyponatremia with Fractional Excretion of Uric Acid. Am. J. Med. Sci. 2016. 352. 385-390. PMID: 27776720. doi: 10.1016/j.amjms.2016.05.035
10. Verbalis J.G., Goldsmith S.R., Greenberg A., Korzelius C., Schrier R.W., Sterns R.H., Thompson C.J. Diagnosis, evaluation, and treatment of hyponatremia: Expert panel recommendations. Am. J. Med. 2013. 126 (10 Suppl 1). S1–42. doi: 10.1016/j.amjmed.2013.07.006. PMID: 24074529
11. Spasovski G., Vanholder R., Allolio B., Annane D., Ball S., Bichet D., Decaux G., Fenske W., Hoorn E.J., Ichai C., Joannidis M., Soupart A., Zietse R., Haller M., vander Veer S., van Biesen W., Nagler E., Gonzalez-Espinoza L., Ortiz A., Hyponatraemia Guideline Development Group. Hyponatraemia diagnosis and treatment clinical practice guidelines. Nefrologia. 2017. 37(4). 370-380. PMID: 28619670. doi: 10.1016/j.nefro.2017.03.021
12. Blair H.A., Keating G.M. Tolvaptan: A Review in Autosomal Dominant Polycystic Kidney Disease. Drugs. 2015. 75(15). 1797-1806. PMID: 26407729. doi: 10.1007/s40265-015-0475-x
13. Sterns R.H., Silver S.M., Hix J.K. Urea for hyponatremia? Kidney Int. 2015. 87(2). 268-270. PMID: 25635717. doi: 10.1038/ki.2014.320
14. Gankam Kengne F., Couturier B.S., Soupart A., Decaux G. Urea minimizes brain complications following rapid correction of chronic hyponatremia compared with vasopressin antagonist or hypertonic saline. Kidney Int. 2015. 87(2). 323-331. PMID: 25100046. doi: 10.1038/ki.2014.273
Similar articles



Authors:
Таран О.І. - Кафедра нефрології та нирково-замісної терапії НМАПО імені П.Л. Шупика, м. Київ


"Kidneys" 4 (06) 2013
Date: 2013.12.03
Categories: Family medicine/Therapy, Nephrology
Sections: Medical education


Authors: Галушко О.А., Болюк М.В.
Національна медична академія післядипломної освіти імені П.Л. Шупика, м. Київ, Україна
"Emergency medicine" №2(89), 2018
Date: 2018.04.13
Categories: Medicine of emergency
Sections: Specialist manual