International journal of endocrinology Том 15, №4, 2019
St. Vincent Declaration after 30 years: the fight against diabetes in the 21st century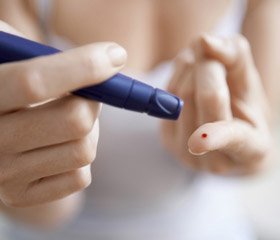 Authors:

Прудиус П.Г. (1), Сторожук М.О. (1), Прудиус В.Є. (2)
1 - Вінницький обласний клінічний високоспеціалізований ендокринологічний центр, м. Вінниця, Україна
2 - Вінницький національний медичний університет ім. М.І. Пирогова, м. Вінниця, Україна



Categories:

Endocrinology



Sections:

Нistory of medicine
Summary
В статті розглядаються заходи щодо втілення Сент-Вінсентської декларації в Україні за минулі 30 років. Попри виконання двох державних програм боротьби з цукровим діабетом (ЦД), на сьогодні залишається більше недоліків, ніж досягнень. В Україні відсутні служба допомоги хворим із синдромом діабетичної стопи, статистика поширеності ЦД і його ускладнень. Акцентується увага на розробці конкретних заходів щодо боротьби з епідемією ЦД на державному і регіональних рівнях.
В статье рассматриваются мероприятия по внедрению Сент-Винсентской декларации в Украине за прошедшие 30 лет. Несмотря на наличие двух государственных программ по борьбе с сахарным диабетом (СД), на сегодняшний день остается больше недостатков, чем достижений. В Украине отсутствует служба помощи больным с синдромом диабетической стопы, статистика распространенности СД и его осложнений. Акцентируется внимание на разработке конкретных мер по борьбе с эпидемией СД на государственном и региональных уровнях.
The article discusses measures to implement the St. Vincent Declaration in Ukraine over the past 30 years. Despite implementation of two government programs for the management of diabetes, today there are more shortcomings than achievements. In Ukraine, there are no service for patients with diabetic foot syndrome, statistics on the prevalence of diabetes and its complications. Attention is focused on the development of specific measures to control diabetes mellitus epidemic at the state and regional levels.
Keywords
Сент-Вінсентська декларація; цукровий діабет
Сент-Винсентская декларация; сахарный диабет
St. Vincent Declaration; diabetes mellitus
For the full article you need to subscribe to the magazine.