«Practical Oncology» Том 2, №2, 2019
Colorectal cancer in Ukraine: the epidemiological and organizational aspects of the problem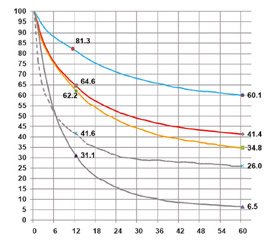 Authors:

Федоренко З.П., Колеснік О.О., Гулак Л.О., Рижов А.Ю., Сумкіна О.В.
Національний інститут раку, м. Київ, Україна



Categories:

Oncology



Sections:

Clinical researches
Summary
Колоректальному раку належить провідне місце в структурі захворюваності на злоякісні новоутворення населення України — 2-ге у чоловіків та 3-тє у жінок; у структурі смертності — 2-ге як у чоловіків, так і у жінок. Динамічні моделі захворюваності на злоякісні новоутворення товстої кишки населення України впродовж 20 останніх років свідчать про стабільне зростання показника як у чоловічого, так і у жіночого населення із переважанням рівня захворюваності в чоловіків. Пікових значень захворюваність на колоректальний рак набуває в старших вікових групах. Співвідношення показників смертності та захворюваності в середньому по Україні перебуває в межах 51,8–57,3 %, із підвищенням в окремих областях до 76,0 %. Суттєві недоліки в профілактиці, діагностиці та лікуванні хворих на колоректальний рак призводять до того, що 27,6–33,3 % хворих помирає протягом першого року після встановлення діагнозу, в окремих областях цей показник перевищує 40 %. Виживаність хворих на колоректальний рак безпосередньо залежить від своєчасності виявлення злоякісної пухлини, і тому показник відносної 5-річної виживаності хворих із ранніми стадіями раку у 8–10 разів вищий, ніж у хворих із занедбаними стадіями.
Колоректальный рак занимает ведущее место в структуре заболеваемости злокачественными новообразованиями населения Украины — 2-е у мужчин и 3-е у женщин; в структуре смертности — 2-е как у мужчин, так и у женщин. Динамические модели заболеваемости злокачественными новообразованиями толстой кишки населения Украины за последние 20 лет свидетельствуют о стабильном росте заболеваемости как у мужского, так и у женского населения с преобладанием уровня заболеваемости у мужчин. Пиковых значений заболеваемость колоректальным раком достигает в старших возрастных группах. Соотношение смертности и заболеваемости в среднем по Украине находится в пределах 51,8–57,3 %, с повышением этой величины в отдельных областях до 76,0 %. Существенные недостатки в профилактике, диагностике и лечении больных колоректальным раком приводят к тому, что 27,6–33,3 % больных умирает в течение одного года от момента установления диагноза, в отдельных областях этот показатель превышает 40 %. Выживаемость больных колоректальным раком непосредственно зависит от своевременности выявления злокачественной опухоли, поэтому показатель относительной 5-летней выживаемости больных с ранними стадиями рака в 8–10 раз выше, чем у больных с запущенными стадиями.
Colorectal cancer takes a leading place in the structure of cancer incidence in Ukraine — the second one among men and the third one among women; in the structure of morta­lity, it takes the second place in both men and women. Dynamic models of colorectal cancer incidence in Ukraine for the last 20 years show a steady increase in both male and female population, with the predominance in men. The peak incidence of colorectal cancer is registered in the older age groups. The average mortality-to-incidence ratio in Ukraine ranges from 51.8 to 57.3 %, with an increase of this value in some regions to 76.0 %. Significant shortcomings in the prevention, diagnosis and treatment of patients with colorectal cancer lead to the fact that 27.6–33.3 % of them died within one year since the time of diagnosis, and in some areas, this rate exceeds 40 %. Survival of persons with colorectal cancer directly depends on the timeliness of cancer detection; therefore, the 5-year relative survival rate of patients with early stages of the cancer is 8–10 times higher than of those with advanced stages.
Keywords
колоректальный рак; заболеваемость; смертность; выживаемость; канцер-реестр; противораковая борьба; онкоэпидемиология
колоректальний рак; захворюваність; смертність; виживаність; канцер-реєстр; протиракова боротьба; онкоепідеміологія
colorectal cancer; incidence; mortality; survival; cancer registry; cancer control; oncoepidemiology
For the full article you need to subscribe to the magazine.
Bibliography
1. Global Cancer Observatory: Colorectal cancer. [Internet]. Lyon. Fr. Int. Agency Res. Cancer 2018 [cited 2019 Jun 6]; аvailable from: https://gco.iarc.fr/today
2. Федоренко З.П., Михайлович Ю.Й., Гулак Л.О. та ін. Рак в Україні, 2017–2018. Захворюваність, смертність, показники діяльності онкологічної служби. Бюлетень Національного канцер–реєстру України, № 20. ПП Поліум, 2019. 102 с.
3. Holleczek B., Rossi S., Domenic A. et al. On–going improvement and persistent differences in the survival for patients with colon and rectum cancer across Europe 1999–2007 Result from the EUROCARE–5 study. Eur. J. Cancer, 2015. Vol. 51, Issue 15. P. 2158–2168.
4. American Cancer Society. Colorectal Cancer Facts & Figures 2017–2019. Atlanta: American Cancer Society, 2017. 36 p.