«Practical Oncology» Том 2, №2, 2019
Combined treatment of colorectal cancer patients with resectable metastases (professional experience)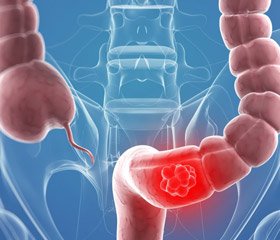 Authors:

Бойко В.В., Савви С.А., Старикова А.Б., Жидецкий В.В., Королевская А.Ю.
ГУ «Институт общей и неотложной хирургии им. В.Т. Зайцева НАМН Украины», г. Харьков, Украина



Categories:

Oncology



Sections:

Specialist manual
Summary
У статті наведено результати комбінованого лікування 34 хворих із резектабельними метастазами колоректального раку. На першому етапі усім хворим було проведено хірургічне лікування, на другому — від 3 до 6 циклів хіміотерапії за схемою FOLFOX. Виконання оптимальної чи субоптимальної циторедукції приводить до максимального скорочення пухлинної маси в організмі хворого, що дозволяє не тільки збільшити термін життя пацієнтів, але й покращити його якість завдяки тому, що з'являються світлі проміжки без системної хіміотерапії.
В статье приведены результаты комбинированного лечения 34 больных с резектабельными метастазами колоректального рака. На первом этапе всем больным проводилось хирургическое лечение, на втором — от 3 до 6 циклов химиотерапии по схеме FOLFOX. Выполнение оптимальной или субоптимальной циторедукции приводит к максимальному сокращению опухолевой массы в организме больного, что позволяет не только увеличить продолжительность жизни пациентов, но и улучшить ее качество благодаря появлению светлых промежутков без системной химиотерапии.
The article presents the results of combined treatment of 34 patients with resectable colorectal cancer metastases. In the first phase, all patients underwent surgical treatment. In the second one, they underwent from 3 to 6 cycles of FOLFOX chemotherapy. The optimal or suboptimal cytoreduction leads to a maximum reduction of tumor burden, which allows not only to increase life expectancy of patients, but also to improve its quality due to the emergence of intervals without systemic chemotherapy.
Keywords
метастатичний колоректальний рак; комбіноване лікування; резектабельні метастази
метастатический колоректальный рак; комбинированное лечение; резектабельные метастазы
metastatic colorectal cancer; combined treatment; resectable metastases
For the full article you need to subscribe to the magazine.
Bibliography
1. Патютко Ю.И. Современные подходы к лечению метастазов колоректального рака в печени. Вестник хирургической гастроэнтерологии. 2008. № 4. С. 14-28.
2. Ferrand F. Impact of primary tumor resection on survival of patients with colorectal cancer and synchronous metastases treated by chemotherapy: results from the multicenter, randomized trial Fede–ration Francophone de Cancerologie Degestive 9601. Eur. J. Cancer. 2013. Vol. 49. № 1. P. 90-97.
3. Folprecht G. Neoadjuvant therapy concepts for liver metastases. Chirurg. 2011. Vol. 82. № 11. P. 989-994.
4. Kato T. Therapeutic results for heratic metastasis of colorectal cancer with special reference of effectiveness of hepatectomy: analysis of prognostic factors for 763 cases recorded at 18 institution. Dis. Col. Rec. 2003. Vol. 49. P. 22-31.
5. Schmooll H.J. ESMO Consensus Guidelines for anagement of patients with colon and rectal cancer. A personalized approach to clini–cal decision marin. Ann. Oncol. 2012. Vol. 23. № 10. P. 2479-2516.
6. Siegel R. Cancer statistics. CA Cancer J. Clin. 2012. Vol. 62. P. 10-29.
7. Weiser M. Peri-operative chemotherapy for the treatment of resec–table liver metastases from colorectal cancer: A systematic review and meta-analysis of randomized trials. BMC Cancer. 2010. Vol. 21. № 10. P. 309.
Similar articles

Authors:
И.Б. Щепотин, Е.А. Колесник, О.В. Васильев, Г.В. Лаврик, А.В. Лукашенко, Р.Я. Палица, Национальный институт рака, Киев


Ukrainian journal of surgery 2 (17) 2012
Date: 2012.04.01
Categories: Surgery
Sections: Specialist manual


Authors:
Бойко В.В., Тищенко А.М., Скорый Д.И., Смачило Р.М., Козлова Т.В.,Писецкая М.Э.,Волченко И.В. - ГУ «Институт общей и неотложной хирургии им. В.Т. Зайцева НАМН Украины»; Мангов А.В., Кульпина Е.А. - Европейский радиологический центр, г. Харьков, Украина


Ukrainian journal of surgery 3(22) 2013
Date: 2013.09.02
Categories: Surgery
Sections: Clinical researches


Authors:
Б.С. Запорожченко, В.И. Шишлов, И.Е. Бородаев, А.А. Горбунов, А.Ю. Корытная, И.В. Гомонюк, В.В. Колодий - Одесский областной центр хирургии печени и поджелудочной железы


Ukrainian journal of surgery 3 (12) 2011
Date: 2011.05.01
Categories: Surgery
Sections: Clinical researches


Authors:
Полищук Л.О., Скипенко О.Г. - Федеральное государственное бюджетное учреждение «Российский научный центр хирургии имени академика Б.В. Петровского» РАМН, г. Москва, Россия


Ukrainian journal of surgery 3(22) 2013
Date: 2013.09.05
Categories: Surgery
Sections: In the first person