"Kidneys" Том 8, №3, 2019
Chronic kidney disease and anemia: application of ferrous bisglycinate chelate for correction of iron deficiency in patients with chronic kidney disease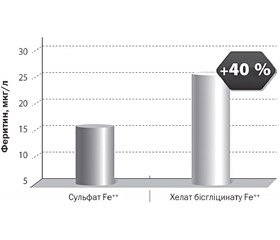 Authors:

Іванов Д.Д.
Національна медична академія післядипломної освіти імені П.Л. Шупика, м. Київ, Україна



Categories:

Nephrology



Sections:

Specialist manual
Summary
Анемія, маючи еритропоетин- і залізодефіцитний характер, є складовою хронічної хвороби нирок. Настанови KDIGO 2012 визначають анемію як концентрацію гемоглобіну < 120 г/л у жінок і < 130 г/л у чоловіків. Дефіцит заліза зустрічається в понад 50 % пацієнтів із недіаліззалежною хронічною хворобою нирок і в більшої частини пацієнтів, які отримують діаліз. Для діагностики залізодефіциту використовують визначення сироваткового рівня феритину й насичення трансферином. Зниження будь-якого із цих показників є підставою для корекції рівня гемоглобіну сполуками заліза. Дефіцит заліза збільшується за наявності запалення, потреба у ньому зростає при лікуванні еритропоетином. Серед пероральних молекул кращий профіль для всмоктування мають двовалентні солі заліза або ті, що не гідролізуються, мають високу біодоступність і добре корегують дефіцит заліза. У статті розглянутий Текнофер як приклад сполуки, що має певні переваги в корекції залізодефіциту при анемії в пацієнтів із хронічною хворобою нирок.
Анемия, имеющая эритропоэтин- и железодефицитный характер, является составляющей хронической болезни почек. Рекомендации KDIGO 2012 определяют анемию как концентрацию гемоглобина < 120 г/л у женщин и < 130 г/л у мужчин. Дефицит железа встречается у более 50 % пациентов с недиализзависимой хронической болезнью почек и у большей части пациентов, получающих диализ. Для диагностики железодефицита используют определение сывороточного уровня ферритина и насыщения трансферрином. Снижение любого из этих показателей является основанием для коррекции гемоглобина соединениями железа. Дефицит железа увеличивается при имеющемся воспалении, потребность в нем возрастает при лечении эритропоэтином. Среди пероральных молекул лучший профиль для всасывания имеют двухвалентные соли железа или те, которые не гидролизуются, имеют высокую биодоступность и хорошо корригируют дефицит железа. В статье рассмотрен Текнофер в качестве примера соединения, имеющего определенные преимущества в коррекции железодефицита при анемии у пациентов с хронической болезнью почек.
Anemia is a component of chronic kidney disease, having erythropoietin- and iron deficiency nature. 2012 KDIGO guidelines determine anemia as a hemoglobin concentration < 120 g/l in women and < 130 g/l in men. An iron deficiency occurs in more than 50 % of patients with non-dialysis-dependent chronic kidney disease and in the majority of patients receiving dialysis. For the diagnosis of iron deficiency, the value of serum ferritin level and transferrin saturation are used. Reduction of any of these indicators is the basis for hemoglobin correction by iron compounds. Iron deficiency increases with existing inflammation, its need increases with erythropoietin treatment. Among oral molecules, bivalent iron salts or those that are not hydrolyzed have the best absorption profile, high bioavailability and well regulate iron deficiency. The article considers Tecnofer as an example of compounds with certain advantages for the iron deficiency correction in anemia in patients with chronic kidney disease.
Keywords
анемія; хронічна хвороба нирок; залізодефіцит; Текнофер
анемия; хроническая болезнь почек; железодефицит; Текнофер
anemia; chronic kidney disease; iron deficiency; Tecnofer
For the full article you need to subscribe to the magazine.
Bibliography
1. Kidney Disease: Improving Global Outcomes (KDIGO) Anemia Work Group. KDIGO Clinical Practice Guideline for Anemia in Chronic Kidney Disease. Kidney inter., Suppl. 2012. 2. 279-335.
2. Fishbane S., Spinowitz B. Update on Anemia in ESRD and Earlier Stages of CKD: Core Curriculum 2018. AJKD. March 2018. 71 (3). 423-435. DOI: https://doi.org/10.1053/j.ajkd.2017.09.026.
3. Opinion of the Scientific Panel on Food Additives, Flavourings, Processing Aids and materials in Contact with Food on a request from the Commission related to: Ferrous bisglycinate as a source of iron for use in the manufacturing of foods and in food supplements. EFSA Journal. 2006.
4. DeWayne Ashmead Н. The absorption and metabolism of iron amino acid chelate. Archivos Latinoamericanos de Nutricion. 2001. 51.
5. Двухвалентное железо нового поколения для предотвращения анемии у беременных. Материалы круглого стола. Здоровье Украины, тематический номер. Гинекология. Декабрь 2018.
6. Pineda O., Ashmead H.D. Effectiveness of treatment of iron-deficiency anemia in infants and young children with ferrous bis-glycinate chelate. Nutrition. 2001 May. 17(5).
7. Szarfarc S.C. Relative effectiveness of iron bis-glycinate chelate and ferrous sulfate in the control of iron deficiency in pregnant woman. Arch. latinoam. Nutr. 2001. Mar. 51.