"Kidneys" Том 8, №3, 2019
Studying the effectiveness of the increased dosage of Сanephron® N drops in the treatment of acute uncomplicated cystitis in women of reproductive age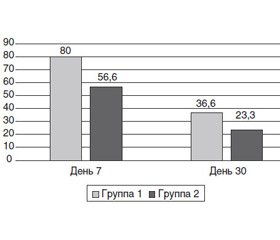 Summary
У статті розглядається лікування гострого неускладненого циститу відповідно до сучасних рекомендацій, у яких, як і раніше, препаратами першої лінії терапії є антибіотики. Однак з урахуванням можливих проблем стійкості патогенів до антибіотикотерапії актуальною є можливість застосування фітопрепаратів. У даній роботі наведено дослідження ефективності та безпеки застосування підвищених доз препарату Канефрон® Н при неускладненому циститі в жінок у реальній клінічній практиці. У дослідженні взяли участь 60 жінок із діагнозом «гострий неускладнений цистит», і тільки 5 (22,7 %) з них приймали антибіотики протягом одного року перед включенням у дослідження. Пацієнтки 1-ї групи (n = 30) отримували лікування Канефроном Н у стандартній дозі (50 крапель 3 р/добу протягом 7 днів). Пацієнтки 2-ї групи (n = 30) отримували подвійну дозу Канефрону Н краплі (100 крапель 3 р/добу протягом 7 днів). Також пацієнткам обох груп були надані рекомендації щодо дієти і загальних обмежень. Антибактеріальна терапія в обох групах призначалася в разі відсутності полегшення симптоматики протягом 3 днів. Отримані результати дозволили зробити висновок, що фітопрепарат Канефрон® Н є ефективним і добре переносимим засобом, який може розглядатися як альтернатива антибіотикотерапії при неускладненій інфекції нижніх сечовивідних шляхів у жінок. Збільшення дозування Канефрону Н до 100 крапель 3 р/добу дозволяє підвищити швидкість ліквідації симптомів гострого циститу порівняно зі стандартною дозою.
В статье рассматривается лечение острого неосложненного цистита согласно современным рекомендациям, в которых, как и ранее, препаратами первой линии терапии являются антибиотики. Однако с учетом возможных проблем устойчивости патогенов к антибиотикотерапии актуальной является возможность применения фитопрепаратов. В данной работе представлено исследование эффективности и безопасности применения повышенных доз препарата Канефрон® Н при неосложненном цистите у женщин в реальной клинической практике. В исследовании приняли участие 60 женщин с диагнозом «острый неосложненный цистит», и только 5 (22,7 %) из них принимали антибиотики в течение одного года перед включением в исследование. Пациентки 1-й группы (n = 30) получали лечение Канефроном Н в стандартной дозировке (50 капель 3 р/сут в течение 7 дней). Пациентки 2-й группы (n = 30) получали двойную дозу Канефрона Н капли (100 капель 3 р/сут в течение 7 дней). Также пациенткам обеих групп были даны рекомендации по диете и общим ограничениям. Антибактериальная терапия в обеих группах назначалась в случае отсутствия облегчения симптоматики в течение 3 дней. Полученные результаты позволили сделать вывод, что фитопрепарат Канефрон® Н является эффективным и хорошо переносимым средством, которое может рассматриваться как альтернатива антибиотикотерапии при неосложненной инфекции нижних мочевыводящих путей у женщин. Увеличение дозировки Канефрона Н до 100 капель 3 р/сут позволяет повысить скорость ликвидации симптомов острого цистита по сравнению со стандартной дозой.
The article discusses the treatment of acute uncomplicated cystitis according to current guidelines, in which, as before, the first-line therapy is antibiotics. However, given the possible problems of the resistance of pathogens to antibiotic therapy, the possibility of using herbal preparations is relevant. This paper presents a study on the effectiveness and safety of using high doses of Сanephron® N with uncomplicated cystitis in women in real clinical practice. The study involved 60 women with a diagnosis of acute uncomplicated cystitis, and only 5 (22.7%) of them took antibiotics for one year before being included in the study. Patients of group 1 (n = 30) received treatment with Сanephron N at a standard dosage (50 drops 3 times a day for 7 days). Patients of group 2 (n = 30) received a double dose of Сanephron® N drops (100 drops 3 times a day for 7 days). Also, patients of both groups were given recommendations on diet and general restrictions. Antibacterial therapy in both groups was prescribed in the absence of symptomatic relief within 3 days. The results obtained led to the conclusion that herbal preparation Сanephron N is an effective and well-tolerated drug, which can be considered as an alternative to antibiotic therapy for uncomplicated lower urinary tract infections in women. Increasing the dosage of Сanephron N to 100 drops 3 times a day allows you to increase the effectiveness of the treatment for acute cystitis in comparison with the standard dose.
Keywords
гострий неускладнений цистит; антибіотикотерапія; фітопрепарат; Канефрон® Н
острый неосложненный цистит; антибиотикотерапия; фитопрепарат; Канефрон Н
acute uncomplicated cystitis; antibiotic therapy; herbal preparation; Сanephron® N
For the full article you need to subscribe to the magazine.
Bibliography
1. Little P., Moore M.V., Turner S. et al. Effectiveness of five different approaches in management of urinary tract infection: randomized controlled trial. BMJ. 2010. 340. 199-204. doi: 10.1136/bmj.c199.
2. Ivanov D., Abramov-Sommariva D., Moritz К. et al. An open label, non-controlled, multicentre, interventional trial to investigate the safety and efficacy of Canephron® N in the managementof uncomplicatedurinary tract infections (uUTIs). Clinical Phytoscience. 2015. 1 (7). 1-11. doi: 10.1186/s40816-015-0008-x.
3. Wagenlehner F.M., Weidner W., Naber K.G. An update on uncomplicated urinary tract infections in women. Current Opinion in Urology. 2009. 19. 368-374. doi: 10.1097/mou.0b013e32832ae18c.
4. Ferry S.A., Holm S.E., Stenlund H. et al. The natural course of uncomplicated lower urinary tract infection in women illustrated by a randomized placebo controlled study. Scand. J. Inf. Dis. 2004. 36. 296-301. doi: 10.1080/00365540410019642.
5. Naber K.G. Efficacy and safety of the phytotherapeutic drug Canephron® N in prevention and treatment of urogenital and gestational disease: review of clinical experience in Eastern Europe and Central Asia. Research and reports in Urology. 2013. 5. 39-46. doi: 10.2147/rru.s39288
6. Amdiy R.E., Al-Shukri S.Kh., Kuz'min I.V. et al. Use of Сanephron in treatment of acute uncomplicated cystitis in women.Урологические ведомости. 2016. Т. 6, № 2.
7. Фоксман Б. Am. J. Med. 2002. 113 (1). 5S-13S.
8. Руководство ЕАУ, 2016.
9. Руководство ЕАУ, 2017.
10. Руководство ЕАУ, 2018.
11. EARSS: 2002–2007.
Similar articles

Authors:
Ivanov D. - Kyiv Regional Clinical Hospital, Kyiv, Ukraine; Abramov-Sommariva D., Moritz K. - Bionorica, Neumarkt, Germany; Eskötter H. - Cologne, Germany; Kostynenko T. - Centre of Nephrology and Dialysis, Mykolaiv Regional Hospital, Mykolaiv, Ukraine; Martyniuk L. - Ternopil Regional Clinical Hospital, Ternopil, Ukraine; Kolesnik N. - Institute of Nephrology of the Academy of Medical Sciences of Ukraine, Kyiv, Ukraine; Kurt G. Naber - Straubing, Germany


"Kidneys" 1 (15) 2016
Date: 2016.03.10
Categories: Nephrology
Sections: Specialist manual



Authors:
Иванов Д.Д., Кушниренко С.В. - Кафедра нефрологии и почечно-заместительной терапии Национальной медицинской академии последипломного образования имени П.Л. Шупика, г. Киев


"Kidneys" 3 (05) 2013
Date: 2013.08.22
Categories: Family medicine/Therapy, Pediatrics/Neonatology
Sections: Clinical researches