"Emergency medicine" №5(100), 2019
Dynamics of markers of the autoimmune response of the body to markers of nervous system disorder as a reaction of patients to surgical intervention with the use of artificial blood circulation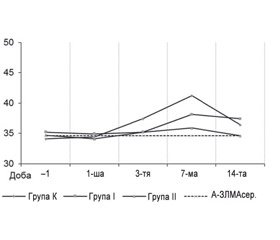 Authors:

Хижняк К.А.(1, 2), Волкова Ю.В.(1), Шарлай К.Ю.(1)
(1) — Харківський національний медичний університет, м. Харків, Україна
(2) — Національний інститут серцево-судинної хірургії імені М.М. Амосова НАМН України, м. Київ, Україна



Categories:

Medicine of emergency



Sections:

Clinical researches
Summary
Актуальність. Проблема ускладнень з боку центральної нервової системи в структурі кардіохірургічних ускладнень досі залишається актуальною. Тому мета цього дослідження — аналіз динаміки маркерів автоімунної відповіді організму на маркери порушення нервової системи як реакція хворих на проведене оперативне втручання з використанням штучного кровообігу (ШК). Матеріали та методи. В основі даного дослідження лежить аналіз результатів дослідження 118 хворих з хірургічною патологією аорти (ХПА). Пацієнти були розподілені на 2 групи за принципом застосування в складі інтенсивної терапії (ІТ) додаткових речовин. До групи І увійшли 46 пацієнтів, яким додатково до алгоритму ІТ було призначено розчин меглюміну натрію сукцинат (реамберин). До групи ІІ ввійшли 46 пацієнтів, яким додатково до алгоритму ІТ було призначено розчин D-фруктозо-1,6-дифосфат натрієвої солі гідрат (езафосфіна). Контрольну групу (К) становили 26 пацієнтів, які мали хірургічну патологію аорти, за всіма критеріями співпадали із пацієнтами групи І і ІІ, але не мали в складі ІТ додаткового призначення речовин з метою профілактики післяопераційної когнітивної дисфункції. Для вивчення автоімунної відповіді визначали рівні автоантитіл до мозкових антигенів (основного білка мієліну (ОБМ), кальційзв'язуючого білка S-100, нейроспецифічної енолази (НСЕ) та загального людського мозкового антигена (ЗЛМА)) у сироватці крові методом імуноферментного аналізу за день перед операцією і на 1-шу, 3-тю, 7-му і 14-ту добу після оперативного втручання. Результати. Виявлено, що сам по собі факт анестезіологічного забезпечення з використанням ШК негативно впливає на стан головного мозку в цілому. Це доведено динамікою показників А-ОБМ, А-S-100, А-НСЕ й А-ЗЛМА у хворих групи К, тобто без призначення додатково до чинного протоколу речовин з метою протидії наслідкам ШК. Зміни досліджуваних нами автоантитіл, які відповідають за різні гістолого-функціональні структури головного мозку, можна пояснити загальною реакцією організму на фізичні умови ШК. Але визначення найвпливовішого компонента штучної перфузії на функціональний стан головного мозку пацієнтів, який не залежить від вихідного їх стану, але є відмінним від стартового рівня імунних показників, ще потребує подальшого дослідження. Висновки. Таким чином, можна відзначити, що призначення розчину D-фруктозо-1,6-дифосфат натрієвої солі гідрат (езафосфіна) найбільш позитивно впливає на функціональний стан клітин, що відповідають за когнітивні функції пацієнтів з ХПА.
Актуальность. Проблема осложнений со стороны центральной нервной системы в структуре кардиохирургических осложнений по-прежнему остается актуальной. Поэтому цель данного исследования — анализ динамики маркеров аутоиммунного ответа организма на маркеры нарушения нервной системы как реакция больных на проведенное оперативное вмешательство с использованием искусственного кровообращения (ИК). Материалы и методы. В основе данного исследования лежит анализ результатов исследования 118 больных с хирургической патологией аорты (ХПА). Пациенты были разделены на 2 группы по принципу применения в составе интенсивной терапии (ИТ) дополнительных веществ. В группу I вошли 46 пациентов, которым дополнительно к алгоритму ИТ был назначен раствор меглюмина натрия сукцинат (реамберин). В группу II вошли 46 пациентов, которым дополнительно к алгоритму ИТ был назначен раствор D-фруктозо-1,6-дифосфат натриевой соли гидрат (эзафосфина). Контрольную группу (К) составили 26 пациентов с хирургической патологией аорты, которые по всем критериям совпадали с пациентами группы I и II, но не имели в составе ИТ дополнительного назначения веществ с целью профилактики послеоперационной когнитивной дисфункции (ПКД). Для изучения аутоиммунного ответа определяли уровни аутоантител к мозговым антигенам (основного белка миелина (ОБМ), кальцийсвязывающего белка S-100, нейроспецифической энолазы (НСЭ) и общего человеческого мозгового антигена (ОЧМА)) в сыворотке крови методом иммуноферментного анализа за день перед операцией и на 1-е, 3-и, 7-е и 14-е сутки после оперативного вмешательства. Результаты. Выявлено, что сам по себе факт анестезиологического обеспечения с использованием ИК негативно влияет на состояние головного мозга в целом. Это доказано динамикой показателей А-ОБМ, А-S-100, А-НСЭ и А-ОЧМА у больных группы К, то есть без назначения дополнительно к действующему протоколу веществ с целью противодействия последствиям ИК. Изменения исследуемых нами аутоантител, которые отвечают за различные гистолого-функциональные структуры головного мозга, можно объяснить общей реакцией организма на физические условия ИК. Но определение самого влиятельного компонента искусственной перфузии на функциональное состояние головного мозга пациентов, который не зависит от исходного их состояния, но отличается от стартового уровня иммунных показателей, еще требует дальнейшего исследования. Выводы. Таким образом, можно отметить, что назначение раствора D-фруктозо-1,6-дифосфат натриевой соли гидрат (эзафосфина) наиболее положительно влияет на функциональное состояние клеток, отвечающих за когнитивные функции пациентов с ХПА.
Background. The problem of central nervous system disorders in the structure of cardiac surgical complications remains relevant. Therefore, the purpose of this study is to analyze the dynamics of markers of the autoimmune response of the body to markers of nervous system disorders as a reaction of patients to surgical intervention performed using cardiopulmonary bypass (CPB). Materials and methods. The basis of this study is the analysis of the results of a survey of 118 patients with surgical aortic pathology. The patients were divided into 2 groups according to the principle of using additional substances as a part of intensive care (IC). Group I consisted of 46 patients who, in addition to the IC algorithm, received meglumine sodium succinate solution (reamberin). Group II included 46 persons who, in addition to the IC algorithm, received a solution of D-fructose-1,6-diphosphate sodium salt hydrate (esafosfina). The control group consisted of 26 patients who had surgical aortic pathology and the same criteria as patients of groups I and II, but they did not received additional supplements in IC for the purpose of preventing postoperative cognitive dysfunction. To study the autoimmune response, serum levels of autoantibodies to brain antigens (myelin basic protein (MBP), S-100 calcium binding protein, neuron-specific enolase (NSE) and total human brain antigen (THBA)) were determined by enzyme-linked immunosorbent assay the day before surgery, on days 1, 3, 7 and 14 after surgery. Results. It was found that the fact of anesthesia support with the use of CPB itself negatively affects the state of the brain as a whole. This is proved by the dynamics of A-MBP, A-S-100, A-NSE and A-THBA indicators in patients of control group, that is, without additional administration of substances as a part of current protocol in order to control CPB consequences. Changes in the studied autoantibodies, which are responsible for the various histological and functional structures of the brain, can be explained by the general reaction of the body to the physical conditions of CPB. But determination of the component of artificial perfusion, which most influences the functional state of patient's brain, does not depend on their initial state, but makes a difference from the baseline level of immune parameters and requires further research. Conclusions. Thus, it can be noted that the administration of a solution of D-fructose-1,6-diphosphate sodium salt hydrate (esafosfina) has the most positive effect on the functional state of the cells responsible for the cognitive functions in patients with surgical aortic pathology.
Keywords
маркери автоімунної відповіді; маркери пошкодження нервової системи; штучний кровообіг
маркеры аутоиммунного ответа; маркеры повреждения нервной системы; искусственное кровообращение
markers of autoimmune response; markers of damage to the nervous system; extracorporeal circulation
For the full article you need to subscribe to the magazine.
Bibliography
1. Newman M.F., Kirchner J.L., Philips–Bute B. et al. Longitudinal assessment of neurocognitive function after coronary–artery bypass surgery. New England Journal of Medicine. 2001. Vol. 344. P. 395–402.
2. Давыдов В.В., Неймарк М.И. Состояние высших психических функций у больных, перенесших анестезию с применением дипривана и кетамина. Общая реаниматология. 2005. Т. 1, № 2. С. 48–52.
3. Усенко Л.В., Полинчук И.С. Когнитивные нарушения после общей анестезии при экстракардиальных вмешательствах и эффект раннего введения тиоцетама в послеоперационном периоде. Международный неврологический журнал. 2011. № 6(44). С. 132–136.
4. Monk T.G., Price C.C. Postoperative cognitive disorders.Current Opinion in Critical Care. 2011. Vol. 17, № 4. Access mode: doi: 10.1097/MCC.0b013e328348bece.
5. Parkin A.J. Memory: Phenomena, Experiment and Theory. Cornwell: Psychology Press, a member of the Taylor & Francis group, 2017. 226 p.
6. Шнайдер Н.А. Новый взгляд на проблему послеоперационной когнитивной дисфункции. Острые и неотложные состояния в практике врача. 2008. № 5–6. С. 64–68.
7. Шнайдер Н.А. Постоперационная когнитивная дисфункция. Неврологический журнал. 2005. Т. 10, № 4. С. 37–43.
8. Kadoi Y., Goto F. Sevoflurane anesthesia did not affect postoperative cognitive dysfunction in patients undergoing coronary artery bypass graft surgery. Journal of Anesthesiology. 2007. Vol. 21, № 3. P. 330–335.
9. Исаев С.В., Лихванцев В.В., Кичин В.В. Влияние периоперационных факторов и выбора метода анестезии на частоту когнитивных расстройств в послеоперационный период. Вестник интенсивной терапии. 2004. № 3.
С. 67–69.
10. Lawrence V.A., Hazuda H.P., Cornell J.E. et al. Functional independence after major abdominal surgery in the elderly. Journal of the American College of Surgeons. 2004. Vol. 199, № 5. P. 762–772. Access mode: DOI: 10.1016/j.jamcollsurg.2004.05.280.
11. Исаев С.В., Лихванцев В.В., Кичин В.В. и др. Влияние периоперационных факторов и выбора метода анестезии на частоту когнитивных расстройств в послеоперационном периоде. Материалы IX съезда анестезиологов и реаниматологов РФ. Иркутск, 27–29 сентября 2004. С. 113–114.