International journal of endocrinology Том 15, №5, 2019
Is there any relationship between Hashimoto's thyroiditis and urinary iodine level?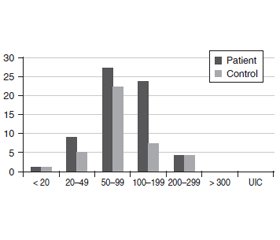 Authors:

A. Turgut(1), M. Erdogan(2), B.S. Yurekli(2), E. Sezer(3), I.Y. Simsir(2), H. Rouhrazi(3), N. Turgan(3,4) (1) — Ege University Medical School, Department of İnternal Medicine, Bornova, Izmir, Turkey (2) — Ege University Medical School, Department of Endocrinology and Metabolic Diseases, Bornova, Izmir, Turkey (3) — Ege University Medical School, Department of Medical Biochemistry, Bornova, Izmir, Turkey (4) — Medical Biochemistry Department of the Medical Faculty of Near East University in Nicosia, Cyprus



Categories:

Endocrinology



Sections:

Clinical researches
Summary
Мета. Хвороба Хашимото (ХХ) є автоімунним захворюванням, у патогенезі якого відіграють роль як генетичні, так і зовнішні чинники. До останніх належить надходження йоду з їжею. Виведення йоду з сечею при збалансованому харчуванні рівною мірою відповідає його надходженню ззовні. Існує думка, згідно з якою висока концентрація йоду в сечі може бути пов'язана з автоімунним захворюванням щитоподібної залози. Мета нашої роботи — вивчити, чи підвищений рівень йоду в сечі у пацієнтів з ХХ порівняно з загальною популяцією. Матеріали та методи. Дослідження включало 64 пацієнтів з ХХ і 39 здорових добровольців. У всіх пацієнтів вивчали такі показники: вік, стать, рівень у сироватці крові вільного трийодтироніну (сТ3), вільного тироксину (сТ4), тиреотропного гормона (ТТГ), антитіл до тиреоїдної пероксидази (АТ-ТПО), антитіл до тиреоглобуліну (АТГ), а також концентрацію йоду в сечі. Було проведено ультрасонографію щитоподібної залози. Концентрацію йоду в сечі визначали з використанням реакції Санделла — ­Колтхофа. Результати. У нашому дослідженні не було виявлено вірогідного зв'язку між загальним обсягом щитоподібної залози і концентрацією йоду в сечі (p > 0,05). Також не було виявлено вірогідної різниці між рівнями сТ3, сТ4, АТ-ТПО, АТГ і об'ємом щитоподібної залози в осіб із концентрацією йоду в сечі вище і нижче від 100 мкг/л. Різниця сягала вірогідного рівня тільки при порівнянні показників ТТГ (р = 0,04). Не було виявлено різниці між загальним обсягом щитоподібної залози. У нашому дослідженні не було виявлено зв'язку між ХХ і рівнем йоду в сечі. З огляду на те, що поширеність ХХ у нашій країні відповідає даним, зазначеним у літературі, постає питання про роль йоду, що надходить з їжею, в патогенезі захворювання. Висновки. У йододефіцитних регіонах, до яких належить зокрема й наша країна, необхідно вивчати зв'язок між рівнем йоду в сечі та ХХ.
Цель. Болезнь Хашимото (БХ) является аутоиммунным заболеванием, в патогенезе которого играют роль как генетические, так и внешние факторы. К последним относится поступление йода с пищей. Выведение йода с мочой при сбалансированном питании в равной мере соответствует его поступлению извне. Существует мнение, согласно которому высокая концентрация йода в моче может быть связана с аутоиммунным заболева­нием щитовидной железы. Цель нашей работы — изучить, повышен ли уровень йода в моче у пациентов с БХ по сравнению с общей популяцией. Материалы и методы. Исследование включало 64 пациентов с БХ и 39 здоровых добровольцев. У всех пациентов изучали следующие показатели: возраст, пол, уровень в сыворотке крови свободного трийодтиронина (сТ3), свободного тироксина (сТ4), тиреотропного гормона (ТТГ), антител к тиреоидной пероксидазе (АТ-ТПО), антител к тиреоглобулину (АТГ), а также концентрацию йода в моче. Была проведена ультрасонография щитовидной железы. Концентрацию йода в моче определяли с использованием реакции Санделла — ­Колтхофа. Результаты. В нашем исследовании не было выявлено достоверной связи между общим объемом щитовидной железы и концентрацией йода в моче (p > 0,05). Также не было обнаружено достоверной разницы между уровнями сТ3, сТ4, АТ-ТПО, АТГ и объемом щитовидной железы у лиц с концентрацией йода в моче выше и ниже 100 мкг/л. Разница достигала достоверного уровня только при сравнении показателей ТТГ (р = 0,04). Не было выявлено разницы между общим объемом щитовидной железы. В нашем исследовании не было обнаружено связи между БХ и уровнем йода в моче. Ввиду того, что распространенность БХ в нашей стране соответствует данным, указанным в литературе, встает вопрос о роли йода, поступающего с пищей, в патогенезе заболевания. Выводы. В йододефицитных регионах, к которым относится в том числе и наша страна, необходимо изучать связь между уровнем йода в моче и БХ.
Background. Hashimoto's thyroiditis (HT) is an autoimmune disease which genetic and environmental factors play a role. One of the environmental risk factors is dietary iodine intake. Urinary iodine excretion in balanced diet is equally acceptable with received iodine. It's thought that high urinary iodine excretion was associated with autoimmune thyroid diseases. We purposed to investigate whether urinary iodine level is higher in patients with HT than population. Materials and methods. 64 new patients with HT and 39 healthy volunteers were included. Age, gender, serum free-triiodothyronine (fT3), free-thyroxine (fT4), thyroid-stimulating hormone (TSH), anti thyroid peroxidase antibody (anti-TPO), anti thyroglobulin antibody (anti-TG) and urinary iodine concentration (UIC) were evaluated. Thyroid ultrasonography was performed. UIC were measured by Sandell-Kolthoff method. Results. There was no significant relationship was found between total thyroid volume and UIC in our study (p > 0.05). There was no significant difference between the fT3, fT4, anti-TPO, anti-TG and thyroid volume values of the individuals with urinary iodine levels below and above 100 μg/L. The difference between two subgroups was found to be significant only when TSH values were compared (p = 0.04). There was no significant difference between total thyroid volumes. No relation was found between HT and urine iodine levels in our study. The fact that the prevalence of HT in our country is similar to the literature makes us question the role of dietary iodine in the etiology. Conclusions. At the iodine-deficient regions such as our country relationship between urinary iodine excretion and HT needs to be investigated.
Keywords
рівень йоду в сечі; хвороба Хашимото
уровень йода в моче; болезнь Хашимото
urinary iodine; autoimmune; Hashimoto's thyroiditis
For the full article you need to subscribe to the magazine.
Bibliography
1. Hollowell J.G., Staehling N.W., Flanders W.D., Hannon W.H., Gunter E.W. et al. Serum TSH, T(4), and thyroid antibodies in the United States population (1988 to 1994): National Health and Nutrition Examination Survey (NHANES III). J. Clin. Endocrinol. Metab. 2002. 87. 489-499.
2. Amino N., Tada H., Hidaka Y., Hashimoto K. Hashimoto's disease and Dr. Hakaru Hashimoto. Endocr. J. 2002. 49. 393-397.
3. Saravanan P., Dayan C.M. Thyroid autoantibodies. Endocrinol. Metab. Clin. North Am. 2001. 30. 315-337, viii.
4. Dayan C.M., Daniels G.H. Chronic autoimmune thyroiditis. N. Engl. J. Med. 1996. 335. 99-107.
5. Chistiakov D.A. Immunogenetics of Hashimoto's thyroiditis. J. Autoimmune Dis. 2005. 2. 1.
6. Andersen S., Karmisholt J., Pedersen K.M., Laurberg P. Reliability of studies of iodine intake and recommendations for number of samples in groups and in individuals. Br. J. Nutr. 2008. 99. 813-818.
7. World Health Organization, UNICEF & International Council for Control of Iodine Deficiency Disorders. Assessment of Iodine Deficiency Disorders and Monitoring Their Elimination: A Guide for Programme Managers, 3rd ed. Geneva: WHO, 2007.
8. Knudsen N., Christiansen E., Brandt-Christensen M., Nygaard B., Perrild H. Age- and sex-adjusted iodine/creatinine ratio. A new standard in epidemiological surveys? Evaluation of three different estimates of iodine excretion based on casual urine samples and comparison to 24 h values. Eur. J. Clin. Nutr. 2000. 54. 361-363.
9. Ebner S.A., Lueprasitsakul W., Alex S., Fang S.L., Appel M.C., et al. Iodine Content of Rat Thyroglobulin Affects its Antigenicity in Inducing Lymphocytic Thyroiditis in the BB/Wor Rat AU. Autoimmunity. 1992. 13. 209-214.
10. Pino S., Fang S.L., Braverman L.E. Ammonium persulfate: a safe alternative oxidizing reagent for measuring urinary iodine. Clin. Chem. 1996. 42. 239-243.
11. Zois C., Stavrou I., Kalogera C., Svarna E., Dimoliatis I. et al. High prevalence of autoimmune thyroiditis in schoolchildren after elimination of iodine deficiency in northwestern Greece. Thyroid. 2003. 13. 485-489.
12. Zhang J.Y., Li S.M., Leng J.L., Chen Y.J., Pu J. et al. Changes of the spectrum on thyroid disease after the ten-year implementation of universal salt iodization in Guangxi Zhuang Autonomous Region. Zhonghua Liu Xing Bing Xue Za Zhi. 2013. 34. 970-974.
13. Camargo R.Y., Tomimori E.K., Neves S.C., GS Rubio I., Galrão A.L. et al. Thyroid and the environment: exposure to excessive nutritional iodine increases the prevalence of thyroid disorders in Sao Paulo, Brazil. Eur. J. Endocrinol. 2008.159. 293-299.
14. Palaniappan S., Shanmughavelu L., Prasad H.K., Subramaniam S., Krishnamoorthy N. et al. Improving iodine nutritional status and increasing prevalence of autoimmune thyroiditis in children. Indian J. Endocrinol. Metab. 2017. 21. 85-89.
15. Pedersen I.B., Knudsen N., Carlé A., Vejbjerg P., Jørgensen T. et al. A cautious iodization programme bringing iodine intake to a low recommended level is associated with an increase in the prevalence of thyroid autoantibodies in the population. Clin. Endocrinol. (Oxf.). 2011. 75. 120-126.
16. Laurberg P., Bülow Pedersen I., Knudsen N., Ovesen L., Andersen S. Environmental iodine intake affects the type of nonmalignant thyroid disease. Thyroid. 2001. 11. 457-469.
17. Xu C., Wu F., Mao C., Wang X., Zheng T. et al. Excess iodine promotes apoptosis of thyroid follicular epithelial cells by inducing autophagy suppression and is associated with Hashimoto thyroiditis disease. J. Autoimmun. 2016. 75. 50-57.
18. Zimmermann M.B., Moretti D., Chaouki N., Torresani T. Introduction of iodized salt to severely iodine-deficient children does not provoke thyroid autoimmunity: a one-year prospective trial in northern Morocco. Thyroid. 2003. 13. 199-203.
19. Erdoğan M.F., Ağbaht K., Altunsu T., Ozbaş S., Yücesan F. et al. Current iodine status in Turkey. J. Endocrinol. Invest. 2009. 32. 617-622.
20. Darcan S., Unak P., Yalman O., Lambrecht F.Y., Biber F.Z. et al. Determination of iodine concentration in urine by isotope dilution analysis and thyroid volume of school children in the west coast of Turkey after mandatory salt iodization. Clin. Endocrinol. (Oxf.). 2005. 63. 543-548.
21. Demircan H.Ç., Kadioglu U.O. Autoimmune thyroiditis diet with case urinary iodine levels of salt iodization in the relationship between levels of zz İzmir E.A.H Tip. Journal. 2005. 19. 6-14.
22. Erdogan M., Erdem N., Cetinkalp S., Ozgen A.G., Saygılı F. et al. Demographic, clinical, laboratory, ultrasonographic, and cytological features of patients with Hashimoto's thyroiditis: results of a university hospital of 769 patients in Turkey. Endocrine. 2009. 36. 486-490.
23. Chen W., Li X., Wu Y., Bian J., Shen J. et al. Associations between iodine intake, thyroid volume, and goiter rate in school-aged Chinese children from areas with high iodine drinking water concentrations. Am. J. Clin. Nutr. 2017. 105. 228-233.
24. Henjum S., Barikmo I., Gjerlaug A.K., Mohamed-Lehabib A., Oshaug A. et al. Endemic goitre and excessive iodine in urine and drinking water among Saharawi refugee children. Public Health Nutr. 2010. 13. 1472-1477.
25. Zimmermann M.B., Ito Y., Hess S.Y., Fujieda K., Molinari L. High thyroid volume in children with excess dietary iodine intakes. Am. J. Clin. Nutr. 2005. 81. 840-844.
26. Barrère X., Valeix P., Preziosi P., Bensimon M., Pelletier B. et al. Determinants of thyroid volume in healthy French adults participating in the SU.VI.MAX cohort. Clin. Endocrinol. (Oxf). 2000. 52. 273-278.
27. Bayram F., Beyazyildiz A., Gökçe C., Budak N., Erdoğan N. et al. The prevalence of iodine deficiency, serum thyroglobulin, anti-thyroglobulin and thyroid peroxidase antibody levels in the urban areas of Kayseri, Central Anatolia. Exp. Clin. Endocrinol. Diabetes. 2009. 117. 64-68.
28. Als C., Keller A., Minder C., Haldimann M., Gerber H. Age- and gender-dependent urinary iodine concentrations in an area-covering population sample from the Bernese region in Switzerland. European Journal Endocrinology. 2000. 143. 629-637.
29. Pearce E.N., Caldwell K.L. Urinary iodine, thyroid function, and thyroglobulin as biomarkers of iodine status. Am. J. Clin. Nutr. 2016. 104. 898-901.
30. Kim H.I., Oh H.K., Park S.Y., Jang H.W., Shin M.H., Kim S.W., Kim T.H., Chung J.H. Urinary iodine concentration and thyroid hormones: Korea National Health and Nutrition Examination Survey 2013–2015. Eur. J. Nutr. 2019. 58 (1). 233-240. doi: 10.1007/s00394-017-1587-8.
31. Joung J.Y., Cho Y.Y., Park S.M., Kim T.H., Kim N.K., Sohn S.Y., Kim S.W., Chung J.H. Effect of iodine restriction on thyroid function in subclinical hypothyroid patients in an iodine-replete area: a long period observation in a large-scale cohort. Thyroid. 2014. 24 (9). 1361-8.
Similar articles


Authors: Лузанчук І.А. (1), Кравченко В.І. (1), Андрусишина І.М. (2), Голінько О.М.(3)
1 - ДУ «Інститут ендокринології та обміну речовин імені В.П. Комісаренка НАМН України», м. Київ, Україна
2 - ДУ «Інститут медицини праці НАМН України», м. Київ, Україна
3 - Науковий центр превентивної токсикології, харчової та хімічної безпеки імені Л.І. Медведя МОЗ України, м. Київ, Україна
International journal of endocrinology Том 15, №4, 2019
Date: 2019.08.14
Categories: Endocrinology
Sections: Clinical researches