International journal of endocrinology Том 15, №5, 2019
Peculiarities of the antioxidant protection and nitrogen oxide systems of the brain in rats with experimental type 2 diabetes mellitus after carbacetam administration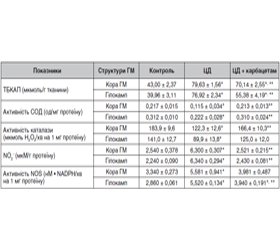 Authors:

Кметь О.Г.(1), Зябліцев С.В.(2), Філіпець Н.Д.(1) (1) — Вищий державний навчальний заклад України «Буковинський державний медичний університет», м. Чернівці, Україна (2) — Національний медичний університет ім. О.О. Богомольця, м. Київ, Україна



Categories:

Endocrinology



Sections:

Clinical researches
Summary
Актуальність. Одним з органів-мішеней при цукровому діабеті (ЦД) є центральна нервова система, гіперглікемічні пошкодження якої проявляються прогресуючими когнітивними порушеннями та зниженням якості життя хворих. Значущою патогенетичною ланкою ЦД і його ускладнень є активація процесу вільнорадикального окиснення біомолекул, що у ЦНС залежить від стану центральних ­ГАМКергічних регуляторних механізмів. Мета дослідження: вивчення впливу нового модулятора активності ГАМК карбацетаму на стан прооксидантно-антиоксидантної системи та системи оксиду азоту (NO) кори головного мозку (ГМ) і гіпокампа щурів при експериментальному ЦД 2-го типу. Матеріали та методи. Експерименти проводили на нелінійних лабораторних білих щурах-самцях масою 0,18–0,20 кг. ЦД 2-го типу моделювали шляхом введення стрептозотоцину (30 мг/кг) в поєднанні зі збагаченою жирами дієтою. Карбацетам вводили внутрішньоочеревинно в дозі 5 мг/кг протягом 14 днів. Інтенсивність перекисного окиснення ліпідів оцінювали за вмістом продуктів, що реагують із 2-тіобарбітуровою кислотою (ТБКАП). Антиоксидантний захист оцінювали за активністю супероксиддисмутази (СОД) та каталази. Стан системи NO визначали за вмістом стабільних метаболітів монооксиду азоту — нітрит-аніонів (NO2–) та активністю NO-синтази (NOS). Для статистичної обробки даних застосовували програму Statistica 10 (StatSoft, Inc., США). Результати. У корі ГМ і гіпокампі щурів із ЦД збільшувався вміст ТБКАП, зменшувалась активність СОД та каталази. Водночас в обох структурах підвищувались вміст NO2– та активність NOS. Після введення карбацетаму порівняно з контролем у щурів з діабетом вміст ТБКАП знижувався як у корі ГМ, так і в гіпокампі, зростала активність СОД. Однак активність каталази збільшувалася у корі ГМ, а у гіпокампі спостерігалась лише тенденція до зростання даного показника. Вміст NO2– зменшувався в обох досліджуваних структурах. Активність NOS знижувалась після введення карбацетаму лише в гіпокампі. Висновки. Наявність корегувального впливу на прооксидантно-антиоксидантний баланс та систему оксиду азоту в корі головного мозку та гіпокампі щурів вказує на нейропротекторні властивості карбацетаму при експериментальному ЦД 2-го типу.
Актуальность. Одним из органов-мишеней при сахарном диабете (СД) является центральная нервная система (ЦНС), гипергликемическое повреждение которой проявляется прогрессирующими когнитивными нарушениями и снижением качества жизни больных. Важным патогенетическим звеном СД и его осложнений является активация процесса свободнорадикального окисления биомолекул, которое в ЦНС зависит от состояния ­ГАМКергических регуляторных процессов. Цель исследования: изучение влияния нового модулятора активности ГАМК карбацетама на состояние прооксидантно-антиоксидантной системы и системы оксида азота (NO) коры головного мозга (ГМ) и гиппокампа крыс при экспериментальном СД 2-го типа. Материалы и методы. Эксперименты проводили на нелинейных лабораторных белых крысах-самцах массой 0,18–0,20 кг. СД 2-го типа моделировали введением стрептозотоцина (0,30 мг/кг) в сочетании с обогащенной жирами диетой. Карбацетам вводили внутрибрюшинно в дозе 5 мг/кг в течение 14 дней. Интенсивность перекисного окисления липидов оценивали по содержанию продуктов, реагирующих с 2-тиобарбитуровой кислотой (ТБКАП). Антиоксидантную защиту оценивали по активности супероксиддисмутазы (СОД) и каталазы. Состояние системы NO определяли по содержанию стабильных метаболитов оксида азота — нитрит-анионов (NO2–) и активности NO-синтазы (NOS). Для статистической обработки данных использовали программу Statistica 10 (StatSoft, Inc., СШA). Результаты. В коре ГМ и гиппокампе крыс с СД увеличивалось содержание ТБКАП, уменьшалась активность СОД и каталазы. В то же время в обеих исследуемых структурах повышались содержание NO2– и активность NOS. После введения карбацетама по сравнению с контролем у крыс с диабетом содержание ТБКАП снижалось как в коре ГМ, так и в гиппокампе, возростала активность СОД. Однако активность каталазы повышалась в коре ГМ, а в гиппокампе наблюдалась только тенденция к росту данного показателя. Содержание NO2– уменьшалось в обеих исследуемых структурах. Активность NO-синтазы снижалась после введения карбацетама только в гиппокампе. Выводы. Наличие корректирующего влияния на прооксидантно-антиоксидантный баланс и систему оксида азота в коре головного мозга и гиппокампе крыс указывает на нейропротекторные свойства карбацетама при экспериментальном СД 2-го типа.
Background. The central nervous system (CNS) is one of the target organs for diabetes mellitus (DM). Hyperglycemic damages to the CNS are manifested with progres­sing cognitive disorders and decreased quality of life of patients. An important pathogenic link of DM and its complications is activation of the process of free radical biomolecule oxidation depending on the condition of GABA-ergic regulatory process. The purpose was to study the effect of carbacetam, a new modulator of GABA activity, on the state of the rat brain cortex and hippocampus prooxidant-antioxidant and oxide nitrogen (NO) systems in experimental type 2 DM. Materials and methods. The experiments were conducted on nonlinear laboratory albino male rats with the body weight of 0.18–0.20 kg with type 2 DM simulated by streptozotocin and high-fat diet. Carbacetam was introduced intraperitoneally at the dose of 5 mg/kg during 14 days. The intensity of lipid peroxide oxidation was estimated by the content of products reacting with 2-thiobarbituric acid. Antioxidant protection was evaluated by the activity of supero­xide dismutase (SOD) and catalase. The state of NO system was determined by the content of stable metabolites of nitrogen mo­noxide: nitrite-anions (NO2–) and NO-synthase (NOS) activity. Results. In the cerebral cortex and hippocampus of DM rats, the content of 2-thiobarbituric acid increased, and activity of SOD and catalase decreased. At the same time, NO2– content and NOS acti­vity increased in both structures. After administration of carbacetam, the content of 2-thiobarbituric acid decreased both in the cerebral cortex and hippocampus, and SOD activity increased in DM rats. Though catalase activity increased in the cerebral cortex, in the hippocampus this parameter is characte­rized by a tendency to increase only. NO2– content decreased in both examined structures. NO-synthase activity decreased after carbacetam administration in the hippocampus only. Conclusions. A correcting effect produced on the prooxidant-antioxidant balance and nitrogen oxide system in the cerebral cortex and hippocampus of rats is indicative of the neuroprotective properties of carbacetam in experimental type 2 DM.
Keywords
цукровий діабет 2-го типу; система оксиду азоту; супероксиддисмутаза; каталаза; карбацетам
сахарный диабет 2-го типа; система оксида азота; супероксиддисмутаза; каталаза; карбацетам
type 2 diabetes mellitus; nitrogen oxide systems; superoxide dismutase; catalase; carbacetam
For the full article you need to subscribe to the magazine.
Bibliography
1. Acherjya G.K., Moslem Uddin M.D., Jalil Chowdhury M.A., Srinivas A.V. Central Nervous System Manifestations in Diabetes Mellitus: A Review. J. Medicine. 2017. 18. 109-112. doi: 10.3329/jom.v18i2.33689.
2. Zishan M., Ahmad Z., Idris S., Parveen Z., Hussain M.W. Diabetes mellitus: role of free radicals and oxidative stress. World Journal of Pharmacy and Pharmaceutical Sciences. 2017. 6 (5). 448-470. doi: 10.20959/wjpps20175-9135.
3. Ito F., Sono Y., Ito T. Measurement and Clinical Significance of Lipid Peroxidation as a Biomarker of Oxidative Stress: Oxidative Stress in Diabetes, Atherosclerosis, and Chronic Inflammation. Antioxidants. 2019. 8 (72). 1-28. doi: 10.3390/antiox8030072.
4. Hertz L. The glutamateglutamine (GABA) cycle: importance of late postnatal development and potential reciprocal interactions between biosynthesis and degradation. Front. Endocrinol. 2013. 4 (59). 1-16. doi: 10.3389/fendo.2013.00059.
5. Schousboe A., Scafidi S., Lasse K.B, Waagepetersen S., Mc Kenna C. Glutamate Metabolism in the Brain Focusing on Astrocytes. Adv Neurobiol. 2014. 11. 13-30. doi: 10.1007/978-3-319-08894-5_2.
6. Trujeque-Ramos S., Castillo-Rolón D., Galarraga E., Tapia D., Arenas-López G., Mihailescu S., Hernández-Lópe S. Insulin Regulates GABAA Receptor-Mediated Tonic Currents in the Prefrontal Cortex. Front. Neurosci. 2018. 1-15. doi.org/10.3389/fnins.2018.00345.
7. Guo X., Wang Y., Wang K., Ji B., Zhou F. Stability of a type 2 diabetes rat model induced by high-fat diet feeding with low-dose streptozotocin injection. J. Zhejiang Univ. Sci B. 2018. 19 (7). 559-569. doi: 10.1631/jzus.B1700254.
8. Jurgoński A., Juśkiewicz J., Zduńczyk Z.A. High-Fat Diet Differentially Affects the Gut Metabolism and Blood Lipids of Rats Depending on the Type of Dietary Fat and Carbohydrate. Nutrients. 2014. 3; 6 (2). 616-626. doi: 10.3390/nu6020616.
9. Ruiza G.A., Gracia F.Y. The Role of Fructose in Type 2 Diabetes and Other Metabolic Diseases. Journal of Nutrition & Food Sciences. 2018. 8. 659. doi: 10.4172/2155-9600.1000659.
10. Paxinos G., Watson Ch. The Rat Brain in Stereotaxic Coordinates. 7th ed. Academic Press. 2013. 472 p.
11. Kushnir O.Yu., Yaremii I.M., Shvets V.I., Shvets N.V. Influence of melatonin on glutathione system in rats skeletal muscle under alloxan induced diabetes. Fiziol. Zh. 2018. 64 (5). 54-62.
12. Dubinina E.E., Sal'nikova L.A., Efimova L.F. Activity and isoenzyme spectrum of erythrocytes and human blood plasma superoxide dismutase. Clinical laboratory diagnostics. 1983. 10. 30-33. (in Russian).
13. Koroljuk M.A., Ivanova L.I., Majorova I.G. Method for determination of catalase activity. Laboratory work.1988. 1. 16-19. (in Russian).
14. Chekman І.S., Belenіchev І.F., Nagorna O.O., Gorchakova N.O., Luk'janchuk V.D., Buhtіjarova N.V., Gorbachova S.V., Sirova G.O. Preclinical study of the specific activity of potential primary and secondary neuroprotection drugs. Methodical Recommendations of the State Expert Center of the Ministry of Health of Ukraine. Kyiv, 2016. 92 p. (in Ukrainian).
15. Ceban E., Banov P., Galescu A., Botnari V. Oxidative stress and antioxidant status in patients with complicate urolithiasis. Journal of Medicine and Life. 2016. 9 (3). 259-62.
16. Ziablіcev S.V., Starodubska O.O., Dyadik O.O. Carbacetam effect on processes of neurodestruction in hippocampus during experimental traumatic brain injury. Morphologia. 2017. 11 (2). 12-18. doi: 10.26641/1997-9665.2017.2.12-18. (in Ukrainian).
Similar articles

Authors: Зябліцев С.В, Стародубська О.О., Богза С.Л.
Національний медичний університет ім. О.О. Богомольця, м. Київ, Україна
"Тrauma" Том 18, №2, 2017
Date: 2017.05.25
Categories: Traumatology and orthopedics
Sections: Clinical researches


Authors: Тріщинська М.А. (1), Полівода М.В. (2)
1 - Національна медична академія післядипломної освіти імені П.Л. Шупика, м. Київ, Україна
2 - КНП «Херсонська мiська клiнiчна лiкарня iм. О.С. Лучанського», м. Херсон, Україна
"Тrauma" Том 20, №5, 2019
Date: 2019.12.20
Categories: Traumatology and orthopedics
Sections: Clinical researches


Authors: Тріщинська М.А. (1), Полівода М.В. (2)
1 - Національна медична академія післядипломної освіти імені П.Л. Шупика, м. Київ, Україна
2 - КНП «Херсонська мiська клiнiчна лiкарня iм. О.С. Лучанського», м. Херсон, Україна
International neurological journal №6 (108), 2019
Date: 2019.10.30
Categories: Neurology
Sections: Specialist manual