"News of medicine and pharmacy" №12 (700), 2019
Липопротеин-ассоциированная фосфолипаза А2 как независимый маркер риска сердечно-сосудистых заболеваний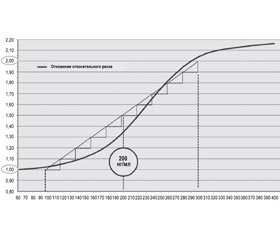 Authors:

Мельник А.А., к.б.н.
Специализированный медицинский центр «Оптима-фарм», г. Киев, Украина



Sections:

Specialist manual
Сердечно-сосудистые заболевания (ССЗ) являются основной причиной смерти в мире. По оценкам экспертов, ССЗ уносят жизни 17,9 миллиона человек ежегодно, что составляет примерно 31 % всех смертей в мире, из которых 85 % связаны с ишемической болезнью сердца (ИБС), включая инфаркт миокарда и инсульт. Из-за их широкой распространенности и высокой смертности ССЗ стали основной проблемой общественного здравоохранения [1, 2]. Хотя традиционные факторы риска для этих патологических состояний, к которым относятся гипертензия, сахарный диабет, табакокурение и гиперхолестеринемия, позволили создать модель для прогнозирования риска, тем не менее до 20 % пациентов с ишемической болезнью сердца не имеют этих факторов, а 40 % имеют только один [3 ...
For the full article you need to subscribe to the magazine.
Bibliography
1. Benjamin E.J., Virani S.S., Callaway C.W. et al. Heart Disease and Stroke Statistics 2018 update: a report from the American Heart Association. Circulation. 2018. 137(12). Р. e67-e492.
2. Forouzanfar M.H., Alexander L., Anderson H.R. et al. Global, regional, and national comparative risk assessment of 79 behavioural, environmental and occupational, and metabolic risks or clusters of risks in 188 countries, 1990–2013: a systematic analysis for the global burden of disease study 2013. Lancet. 2015. 386. Р. 2287-2323.
3. Hozawa A., Folsom A.R., Sharrett A.R. et al. Absolute and attributable risks of cardiovascular disease incidence in relation to optimal and borderline risk factors: comparison of African American with white subjects-atherosclerosis risk in communities study. Arch. Intern. Med. 2007. 167. Р. 573-579.
4. Khot U.N., Khot M.B., Bajzer C.T. et al. Prevalence of conventional risk factors in patients with coronary heart disease. JAMA. 2003. 290(7). Р. 898-904.
5. Schaloske R.H., Dennis E.A. The phospholipase A2 superfamily and its group numbering system. Biochim. Biophys. Acta. 2006. 1761(11). Р. 1246-1259.
6. Burke J.E., Dennis E.A. Phospholipase A2 biochemistry. Cardiovasc. Drugs. Ther. 2009. 23. Р. 49-59.
7. Zalewski A., Macphee C. Role of lipoprotein-associa–ted phospholipase A2 in atherosclerosis: biology, epidemio–logy, and possible therapeutic target. Arterioscler. Thromb. Vasc. Biol. 2005. 25(5). Р. 923-931.
8. Tjoelker L.W., Eberhardt C., Unger J., Trong H.L., Zimmerman G.A., McIntyre T.M., Stafforini D.M., Prescott S.M., Gray P.W. Plasma platelet-activating factor acetylhydrolase is a secreted phospholipase A2 with a catalytic triad. J. Biol. Chem. 1995. 270. Р. 25481-25487.
9. Samanta U., Bahnson B.J. Crystal structure of human plasma platelet-activating factor acetylhydrolase: structural implication to lipoprotein binding and catalysis. J. Biol. Chem. 2008. 283. Р. 31617-31624.
10. Asano K., Okamoto S., Fukunaga K., Shiomi T., Mori T., Iwata M., Ikeda Y., Yamaguchi K. Cellular source(s) of platelet-activating-factor acetylhydrolase activity in plasma. Biochem. Biophys. Res. Commun. 1999. 261(2). Р. 511-514.
11. Stafforini D.M., Tjoelker L.W., McCormick S.P. et al. Molecular basis of the interaction between plasma platelet-activating factor acetylhydrolase and low-density lipoprotein. J. Biol. Chem. 1999. 274. Р. 7018-7024.
12. Packard C.J., O'Reilly D.S., Caslake M.J., McMahon A.D., Ford I., Cooney J., Macphee C.H., Suckling K.E., Krishna M., Wilkinson F.E., Rumley A., Lowe G.D. Lipoprotein-associated phospholipase A2 as an independent predictor of coronary heart disease: West of Scotland Coronary Prevention Study Group. N. Engl. J. Med. 2000. 343. Р. 1148-1155.
13. Koenig W., Khuseyinova N., Lowel H., Trischler G., Meisinger C. Lipoprotein-associated phospholipase A2 adds to risk prediction of incident coronary events by C-reactive protein in apparently healthy middle-aged men from the general population: results from the 14-year follow-up of a large cohort from southern Germany. Circulation. 2004. 110. Р. 1903-1908.
14. Oei H.H., van der Meer I.M., Hofman A., Koudstaal P.J., Stijnen T., Breteler M.M., Witteman J.C. Lipoprotein-associated phospholipase A2 activity is associated with risk of coronary heart disease and ischemic stroke: the Rotterdam Study. Circulation. 2005. 111. Р. 570-575.
15. Daniels L.B., Laughlin G.A., Sarno M.J., Bettencourt R., Wolfert R.L., Barrett-Connor E. Lipoprotein-associated phospholipase A2 is an independent predictor of incident coronary heart disease in an apparently healthy older population: the Rancho Bernardo Study. J. Am. Coll. Cardiol. 2008. 51. Р. 913-919.
16. Kiechl S., Willeit J., Mayr M., Viehweider B., Oberhollenzer M., Kronenberg F., Wiedermann C.J., Obertha–ler S., Xu Q., Witztum J.L., Tsimikas S. Oxidized phospholipids, lipoprotein(a), lipoprotein-associated phospholipase A2 activity, and 10-year cardiovascular outcomes: prospectiveresults from the Bruneck study. Arterioscler. Thromb. Vasc. Biol. 2007. 27. Р. 1788-1795.
17. Thompson A., Gao P., Orfei L., Watson S., Di Angelantonio E., Kaptoge S., Ballantyne C., Cannon C.P., Criqui M., Cushman M., Hofman A., Packard C., Thompson S.G., Collins R., Danesh J. Lipoprotein-associated phospholipase A(2) and risk of coronary disease, stroke, and mortality: collaborative analysis of 32 prospective studies. Lancet. 2010. 375. Р. 1536-1544.
18. Garza C.A., Montori V.M., Mcconnell J.P. Association Between Lipoprotein-Associated Phospholipase A2 and Cardiovascular Disease: A Systematic Review. Mayo Clin Proc. February 2007. 82(2). Р. 159-165.
19. Jellinger P.S., Smith D.A., Mehta A.E., Ganda O., Handelsman Y., Rodbard H.W., Shepherd M.D., Seibel J.A. AACE task force for management of dyslipidemia and prevention of atherosclerosis: American Association of Clinical Endocrinologists' Guidelines for Management of Dyslipidemia and Prevention of Atherosclerosis: Executive summary. Endocr. Pract. 2012. 18. Р. 269-293.
20. Perk J., De Backer G., Gohlke H., Graham I., Reiner Z., Verschuren W.M., Albus C., Benlian P., Boysen G., Cifkova R. et al; European Association for Cardiovascular Prevention & Rehabilitation (EACPR): European guidelines on cardiovascular disease prevention in clinical practice (version 2012): The fifth joint task force of the European society of cardiology and other societies on cardiovascular disease prevention in clinical practice (constituted by representatives of nine societies and by invited experts). Int. J. Behav. Med. 2012. 19. Р. 403-488.
21. US Food and Drug Administration. 510(k) Summary: diaDexus PLAC™ test. http://www.accessdata.fda.gov/cdrh_docs/pdf5/K050523.pdf.
22. Gazi I., Lourida E.S., Filippatos T., Tsimihodimos V., Elisaf M., Tselepis A.D. Lipoprotein-associated phospholipase A2 activity is a marker of small, dense LDL particles in human plasma. Clin. Chem. 2005. 51. Р. 2264-2273.
23. Corson M.A. et al. Review of the evidence for the clinical utility of lipoprotein-associated phospholipase A2 as a cardiovascular risk marker. Am. J. Cardiol. 2008. 101(12A). Р. 41F-50F.
24. Davidson M.H., Alberts M.J., Anderson J.L. et al. Consensus panel recommendation for incorporating
Lp-PLA2 testing into cardiovascular disease risk assessment guidelines. Am. J. Cardiol. 2008. 101. Р. 51F-7F.
25. Winkler K., Hoffmann M.M., Winkelmann B.R. et al. Lipoproteinassociated phospholipase A2 predicts 5-year cardiac mortality independently of established risk factors and adds prognostic information in patients with low and medium high-sensitivity Creactive protein (the Ludwigshafen risk and cardiovascular health study). Clin. Chem. 2007. 53. Р. 1440-7.
26. Gerber Y., McConnell J.P., Jaffe A.S., Weston S.A., Killian J.M., Roger V.L. Lipoprotein-associated phospholipase A2 and prognosis after myocardial infarction in the community. Arterioscler. Thromb. Vasc. Biol. 2006. 26. Р. 2517-22.
Similar articles

Authors:
Мельник А.А., к.б.н., руководитель проекта специализированного медицинского центра «Оптима Фарм», г. Киев, Украина


"News of medicine and pharmacy" №10 (697), 2019
Date: 2019.10.31
Sections: Specialist manual

Authors:
Скоромец А.А., Дамбинова С.А., Дьяконов М.М., Гранстрем О.К., Билецкий П.С., Седова О.А., Скоромец А.П., Скоромец Т.А., Смолко Д.Г., Хунтеев Г.В., Шикуев А.В., Шумилина М.В., Санкт-Петербургский государственный медицинский университет им. акад. И.П. Павлова, академическая группа академика РАМН А.А. Скоромца (Санкт-Петербург, Россия; Университет Эмори, Атланта, США; Сумы, Винница, Украина)


International neurological journal 5(27) 2009
Date: 2010.07.09
Categories: Neurology


Authors: O.Yu. Horodynska
Higher State Education Institution of Ukraine "Ukrainian Medical Stomatological Academy", Poltava, Ukraine
International journal of endocrinology Том 13, №7, 2017
Date: 2017.11.27
Categories: Endocrinology
Sections: Specialist manual