International neurological journal №7 (109), 2019
Origin of dizziness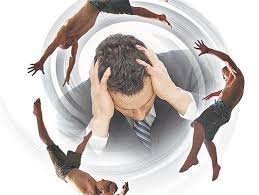 Authors:

Гончарук О.О., Трінус К.Ф.
Київський Лівобережний нейроцентр з медичною реабілітацією, м. Київ, Україна
Київський європейський медичний університет, м. Київ, Україна



Categories:

Neurology



Sections:

Clinical researches
Summary
Актуальність. Запаморочення описані у 23 % працездатного населення Німеччини. Серед причин запаморочення називають серцево-судинні порушення, зміни метаболізму, психогенні, загальномозкові ураження. Тому завданням нашого дослідження було вивчення етіології запаморочення. Матеріали та методи. Були обстежені 640 хворих. Контрольну групу становили 70 умовно здорових осіб. Обстеження включали загальноклінічні, неврологічні, невроотологічні, інструментальні методи обстеження та статистичний аналіз результатів. Інструментальні методи: 1) електрофізіологічні: електрокардіографія, електроенцефалографія; 2) ультразвукові: щитоподібної залози, органів черевної порожнини, нирок, серця; 3) рентгенологічні; 4) комп'ютерна томографія черепа. Після реєстрації даних електрокардіографії в спокої проводили навантаження за методом Такагаші, а також електроенцефалографію та реєстрацію довголатентних викликаних потенціалів: вестибулярних, слухових, зорових, соматосенсорних. Результати. Усі хворі скаржились на запаморочення. Отримані результати вказують на те, що лейкози й анемії, загальні порушення метаболізму, загальноневрологічну симптоматику, серцево-судинну патологію, ураження шлунково-кишечного тракту, гепатоцеребральну дегенерацію та порушення системи травлення, патологію щитоподібної залози, діабетичну поліневропатію, ниркову патологію можна виключити з етіології запаморочень, крім патології вестибулярної системи. У хворих латенції піка Р1 вестибулярних викликаних потенціалів становили 53,6 ± 29,4 мс (у групі контролю — 30,8 ± 14,1 мс, р < 0,001), N1 — 98,6 ± 33,9 мс у хворих (у групі контролю — 68,6 ± 18,4 мс, р < 0,001), Р2 — 160,1 ± 35,1 мс (у групі конт-ролю — 139,8 ± 28,9 мс, р = 0,002). Критерій Фішера вибраний для ідентифікації якісних змін. Висновки. Реєстрація вестибулярних викликаних потенціалів разом з аналізом скарг та результатів, отриманих за допомогою опитувальника NOASC, дала змогу задокументувати наявність порушень у вестибуло-кірковій проєкції хворих.
Актуальность. Головокружения описаны у 23 % работоспособного населения Германии. Среди причин головокружения называют сердечно-сосудистые нарушения, изменения метаболизма, психогенные, общемозговые поражения. Поэтому задачей нашего исследования было изучение этиологии головокружения. Материалы и методы. Были обследованы 640 больных. Контрольную групу составили 70 условно здоровых лиц. Обследования включали общеклинические, неврологические, невроотологические, инструментальные методы и статистический анализ результатов. Инструментальные методы: 1) электрофизиологические: электрокардиография; электроэнцефалография; 2) ультразвуковые: щитовидной железы, органов брюшной полости, почек, сердца; 3) рентгенологические, компьютерная томография черепа. После регистрации данных электрокардиографии в покое проводили нагрузку по методу Такагаши, а также электроэнцефалографию и регистрацию длиннолатентных вызванных потенциалов: вестибулярных, слуховых, зрительных, соматосенсорных. Результаты. Все больные жаловались на головокружение. Полученные результаты указывают на то, что лейкозы и анемии, общие нарушения метаболизма, общеневрологическую симптоматику, сердечно-сосудистую патологию, поражения желудочно-кишечного тракта, гепатоцеребральную дегенерацию и нарушения системы пищеварения, патологию щитовидной железы, диабетическую полиневропатию, почечную патологию можно исключить из этиологии головокружений, кроме патологии вестибулярной системы. У больных латентности пика Р1 вестибулярных вызванных потенциалов составили 53,6 ± 29,4 мс (в группе контроля — 30,8 ± 14,1 мс, р < 0,001), N1 — 98,6 ± 33,9 мс у больных (в группе контроля — 68,6 ± 18,4 мс, р < 0,001), Р2 — 160,1 ± 35,1 мс (в группе контроля — 139,8 ± 28,9 мс, р = 0,002). Критерий Фишера выбран для идентификации качественных изменений. Выводы. Регистрация ВВП вместе с анализом жалоб и результатов, полученных с помощью опросника NOASC, дала возможность документировать наличие нарушений в вестибулокорковой проекции
больных.
Background. Dizziness is described in 23 % of the German adult population. Its causes are cardiovascular diseases, metabolic changes, psychogenic and general brain pathologies. Therefore, the objective was to study the etiology of dizziness. Materials and methods. Six hundred and forty patients have been examined. Control group consisted of 70 apparently healthy persons. Investigations included general clinical, neurological, neurootological methods and statistical data analysis. Instrumental methods: 1) electrophysiological: electrocardiography, electroencephalography; 2) ultrasound examination: of thyroid gland, abdominal cavity, kidneys and heart; 3) X-ray; 4) cranial computed tomography. After recording of electrocardiography data at rest, Takahashi test was performed, as well as electroencephalography and registration of long-latency evoked potentials: vestibular, auditory, visual, somatosensory. Results. All the patients have complained of dizziness. The results obtained indicate that leukemia and anemia, general metabolism disorders, general neurological symptoms, cardiovascular pathology, gastrointestinal diseases, hepatocerebral degeneration and digestive disorders, thyroid disease, diabetic polyneuropathy, renal pathology can be excluded from the list of dizziness causes, except for pathology of the vestibular system. In patients, vestibular evoked potential latencies of Р1 peak appeared to be 53.6 ± 29.4 ms (in controls — 30.8 ± 14.1 ms, р < 0.001), N1 — 98.6 ± 33.9 ms (in controls — 68.6 ± 18.4 ms, р < 0.001), and Р2 — 160.1 ± 35.1 ms (in controls — 139.8 ± 28.9 ms, р = 0.002). Fisher criterion has been chosen to demonstrate the quality changes. Conclusions. The registration of vestibular evoked potentials, together with the analysis of complaints and results obtained through the NOASC questionnaire, allowed us to detect the presence of abnormalities in the vestibular cortical projection of patients.
Keywords
запаморочення; вестибулокіркова проєкція
головокружение; вестибулокорковая проекция
dizziness, vestibular cortical projection
For the full article you need to subscribe to the magazine.
Bibliography
1. Верещагин Н.В., Брагина Л.К., Вавилов С.Б., Левина Г.Я. Компьютерная томография мозга. Москва: Медицина, 1986. 252 с.
2. Нетяженко В.З. Класифікації внутрішніх хвороб. Київ, 2001. 280 с.
3. Ніколенко В.Ю. Хвороби нервової системи в гірників і імунопатологія. Донецьк: Донеччина, 1999. 266 с.
4. Мостова Т.С., Денисюк А.Б., Кисельова І.Г. Стан вестибулярної функції. Післярадіаційна енцефалопатія (за ред. Ромоданова А.П.). Київ, 1993. С. 181-188.
5. Bergenius J., Borg E., Hirsch A. Stapedius reflex test, brainstem audiometry and optovestibular tests in diagnosis of acousticus neurinomas. A comparison of test sensitivity in patients with moderate hearing loss. Scand. Audiol. 1983. Vol. 12. P. 3-9.
6. Bodnar P.M., Peshko A.O., Krymovska O.P. et al. Diagnostic importance of long latency multisensory evoked potentials (MEP). Neurootol. Newsletter. 2002. Vol. 6, № 1. P. 117.
7. Claussen C.F. Der schwindelkranke patient. Grundlagen der Neurootologie und Aequilibriometrie. Medizin+pharmacie Dr.Werner Rudat. Hamburg, 1992. 143 p.
8. Doly M., Droy-Lefaix M.T., Bonhomme B., Braquet P. Effet de l'extrait de de ginkgo biloba sur l'electophysiologie de la retine isolee de rat diabetique. Press. Med. 1986. Vol. 15, № 31. Р. 1480-1483.
9. Money K.E., Cheung B.S. Another function of the inner ear: facilitation of the emetic response to poisons. Aviat. Space Environ. Med. 1983. Vol. 54, № 3. P. 208-211.
10. Lang T. Twenty statisticasl errors even YOU can find in biomedical research articles. Croatian Medical Journal. 2004. Vol. 45, № 4. Р. 361-370.
11. Lastkov D., Kolganov A., Mukhin V., Dudnik I., Soloviev A. Methodological approaches to assessing the impact of general vibration on coal miners. Proceedings of the 2nd International Workshop "Criteria for the evaluation of effects of whole-body vibration on man". Moscow: ILO-WHO, 1992. Р. 67-71.
12. Rossi G., Solero P., Cortesina M.F. Brainstem electric response audiometry: Value and significance of 'latency' and 'amplitude' in absolute sense and in relation to the auditory threshold. Acta Otolaryngol. Suppl. (Stockh). 1979. Vol. 364. P. 1-13.
13. Takahashi S. Head shaking nystagmus and right/left vestibular asymmetry. Vertigo, nausea, tinnitus and hypoacousia due to head and neck trauma. Claussen C.F., Kirtane M.E. (eds.). 1991. P. 57-62.
14. The Merk Manuel of Diagnosis and Therapy. Berkow R. (Ed.-in-Chief). New York: Merk & Co. Inc. Rahway, 1992. 2844 p.
15. Trinus K. Multisensory evoked potentials (MEP) in differentiation of neurosis, encephalitis and epilepsy. Soc for Neurosci 29 Ann. Meeting. Miami Beach, 1999. Vol. 25. Рart 2. 1417.
16. Zubkova O.V. Investigation of long latency brain evoked potentials in response to rotatory stimulus in patients with light head trauma. Neurootol. Newsletter, 2008. Vol. 8. 2. Р. 89-91.
Similar articles

Authors:
Трінус К.Ф., ДНУ «Науково-практичний центр профілактичної та клінічної медицини» Державного управління справами, м. Київ


International neurological journal 7 (53) 2012
Date: 2013.03.05
Categories: Neurology
Sections: Specialist manual


Authors:
Трінус К.Ф., ДНУ «Науково-практичний центр профілактичної та клінічної медицини» Державного управління справами, м. Київ


International neurological journal 3 (49) 2012
Date: 2013.03.12
Categories: Neurology
Sections: Specialist manual


Authors:
Трінус К.Ф. Приватний вищий навчальний заклад «Міжнародна академія екології та медицини», м. Київ, Україна


International neurological journal 6 (84) 2016
Date: 2016.11.25
Categories: Neurology
Sections: Specialist manual


Authors:
Трінус К.Ф. - Приватний вищий навчальний заклад «Міжнародна академія екології та медицини», ДНУ «Науково-практичний центр профілактичної та клінічної медицини» Державного управління справами, м. Київ


International neurological journal 4 (74) 2015
Date: 2015.12.28
Categories: Neurology
Sections: Clinical researches