"News of medicine and pharmacy" №12 (700), 2019
Суть медреформы — убить науку?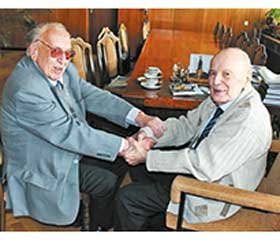 Одна из наиболее обсуждаемых в последнее время тем — медицинская реформа. –Равнодушных в этом вопросе нет, поскольку речь идет о нашем с вами здоровье и об экспериментах, которым его подвергают чиновники от медицины.
---
Пройдясь реформаторским катком по системе здравоохранения и оказания медицинских услуг, добрались до академической науки. С ней тоже решили разобраться радикально, по испытанному революционному принципу «Отречемся от старого мира!», и закрыть академии «за ненадобностью». Как подчеркивает президент Национальной академии наук Украины Борис Евгеньевич Патон, «тенденция начинать все сначала — старое разрушим, а потом начнем строить — губительна для страны. Таким образом будет отброшен весь накопленный опыт, традиции, которые в цивилизационном понимании ...
For the full article you need to subscribe to the magazine.