"News of medicine and pharmacy" №12 (700), 2019
Выгорание у медицинских работников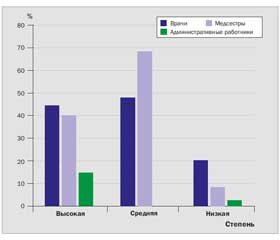 Authors:

Вашадзе Ш., Кекенадзе М.
Батумский государственный университет им. Шота Руставели, г. Батуми, Грузия



Sections:

Specialist manual
Введение
Выгорание — это состояние физического, психического и эмоционального истощения человека, вызванного длительным пребыванием в эмоционально перегруженных ситуациях. Данная формулировка близка к пониманию выгорания как синдрома хронической усталости. Вторая модель состоит из эмоционального истощения и деперсонализации, которая проявляется в ухудшении отношения как к другим людям (подчиненным, коллегам), так и к самому себе. Согласно трехкомпонентной модели (Маслоу К. и Джексон С.) выгорание понимается как синдром эмоционального истощения, деперсонализации и редукции своих личных достижений [5, 6].
Актуальность проблемы здоровья медицинских работников обусловлена тем, что качество и эффективность их работы зависят не только от квалификации и материально–технического оснащения, но и от их состояния ...
For the full article you need to subscribe to the magazine.
Bibliography
1. Профессиональная патология: Национальное руководство / Под ред. Н.Ф. Измерова. — М.: ГЭОТАР–Медиа, 2011. — 784 с.
2. Педагогика: Учебно–методическое пособие для студентов медицинских специальностей / А.С. Татров, М.Р. Абаева, Р.Р. Аветисян, Р.Р. Датиева. — М.: Академия естествознания, 2010. — 180 с.
3. Саблина Т.А., Бутенко Т.В. Синдром профессионального выгорания средних медицинских работников // Медицинская –сестра. — 2011. — № 2. — С. 22–25.
4. Bianchi R., Boffy C., Hingray C., Truchot D., Laurent E. Comparative symptomatology of burnout and depression // Journal of Health Psychology. — 2013. — 18(6). — Р. 782–787.
5. Shirom A., Melamed S. Does burnout affect physical health? A review of the evidence // A.S.G. Antoniou, C.L. Cooper (еds.). Research companion to organizational health psycho–logy. — Cheltenham, UK: Edward Elgar, 2005. — Р. 599–622.
6. Kraft U. Burned Out // Scientific American Mind. — June/July 2006. — Р. 28–33.