International journal of endocrinology Том 15, №6, 2019
Features of melatonin and serotonin secretion in young women with different body weight and their relationship with the development of insulin resistance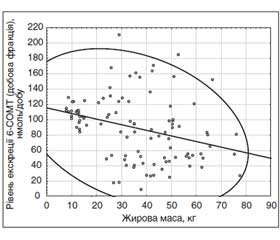 Authors:

Місюра К.В., Манська К.Г.
ДУ «Інститут проблем ендокринної патології ім. В.Я. Данилевського НАМН України», м. Харків, Україна



Categories:

Endocrinology



Sections:

Clinical researches
Summary
Актуальність. Актуальність дослідження обумовлена значною поширеністю надлишку маси тіла різного ступеня серед молодого жіночого населення України та необхідністю деталізації підходів до ранньої профілактики у них гормонально-метаболічних ускладнень цих патологічних станів. Мета: деталізувати особливості балансу в системі «мелатонін — серотонін — лептин — чутливість периферичних тканин до інсуліну» у жінок молодого віку — представниць української популяції із різною масою тіла, у тому числі з урахуванням особливостей його складу. Матеріали та методи. Обстежено 130 жінок, середній вік яких становив 28,64 ± 6,91 року, з екзогенно-конституційним надлишком маси тіла різного ступеня. Шляхом анкетування оцінювалась наявність порушень сну. Визначали індекс маси тіла, окружність талії; методом біоімпедансного аналізу — склад тіла (жирову, відносну жирову, безжирову, активну клітинну маси тіла); імуноферментним методом — рівні інсулін- та лептинемії. Розраховувався індекс НОМA. Секреція мелатоніну оцінювалася за вмістом у сечі рівня його метаболіту 6-сульфатоксимелатоніну (6-СОМТ) за методом Друекса в модифікації Г.В. Зубкова; серотоніну — флуориметричним методом В.І. Кулинського та Л.С. Костюковської. Результати. Встановлено, що у молодих жінок — представниць української популяції ступінь накопичення жирової тканини в організмі негативно корелює із рівнем серотонінемії, нічної та середньодобової екскреції 6-СОМТ з сечею; позитивно — із рівнем денної фракції екскреції 6-СОМТ з сечею. Зниження середньодобової екскреції 6-СОМТ та вмісту серотоніну у циркуляції має зв'язок із зростанням значення індексу НОМА та рівня лептинемії. Розвиток абдомінального ожиріння у молодих жінок — представниць української популяції характеризується зниженням рівня серотоніну у циркуляції, нічної фракції екскреції 6-СОМТ з сечею при одночасному зростанні денної. При подальшому збільшенні окружності талії вищезазначені зміни поглиблюються. Висновки. Зниження рівня серотоніну у циркуляції, нічної фракції екскреції мелатоніну при одночасному зростанні денної є значущою відмінністю пацієнток із ожирінням порівняно із жінками з надлишковою масою тіла.
ктуальность. Актуальность исследования обус­ловлена значительным распространением избытка массы тела разной степени среди молодого женского населения Украины и необходимостью детализации подходов к ранней профилактике у них гормонально-метаболических осложнений этих патологических состояний. Цель: детализировать особенности баланса в системе «мелатонин — серотонин — лептин — чувствительность периферических тканей к инсулину» у женщин молодого возраста — представительниц украинской популяции с разной массой тела, в том числе с учетом особенностей его состава. Материалы и методы. Обследованы 130 женщин, средний возраст которых составил 28,64 ± 6,91 года, с экзогенно-конституциональным избытком массы тела разной степени. Путем анкетирования оценивалось наличие нарушений. Определяли индекс массы тела, окружность талии; методом биоимпедансного анализа — состав тела (жировую, относительную жировую, безжировую, активную клеточную массы тела); иммуноферментным методом — уровни инсулин- и лептинемии. Рассчитывался индекс НOMA. Секреция мелатонина оценивалась по содержанию в моче уровня его метаболита 6-сульфатоксимелатонина (6-СОМТ) по методу Друекса в модификации Г.В. Зубкова; серотонина — флуориметрическим методом В.И. Кулинского и Л. Костюковской. Результаты. Установлено, что у молодых женщин — представительниц украинской популяции степень накопления жировой ткани в организме отрицательно коррелирует с уровнем серотонинемии, ночной и среднесуточной экскреции 6-СОМТ с мочой; положительно — с уровнем дневной фракции экскреции 6-СОМТ с мочой. Снижение среднесуточной экскреции 6-СОМТ и содержания серотонина в циркуляции связано с ростом значения индекса НOMA и уровня лептинемии. Развитие абдоминального ожирения у молодых женщин — представительниц украинской популяции характеризуется снижением уровня серотонина в циркуляции, ночной фракции экскреции 6-СОМТ с мочой при одновременном росте дневной. При последующем увеличении окружности талии вышеуказанные изменения усугубляются. Выводы. Снижение уровня серотонина в циркуляции, ночной фракции экскреции мелатонина при одновременном росте дневной является значимым отличием пациенток с ожирением по сравнению с женщинами с избыточной массой тела.
Background. The relevance of the study is due to the significant prevalence of excess body weight of varying degrees among the young female population of Ukraine and the need for detail approaches to the early prevention of hormonal and metabolic complications of these pathological conditions in them. The purpose was to detail the peculiarities of the balance in the system of melatonin-serotonin-leptin sensitivity of peripheral tissues to insulin in women of reproductive age — representatives of the Ukrainian population with different body weight, including and taking into account the features of body composition. Materials and methods. We examined 130 women, whose average age was 28.64 ± 6.91 years, with exo­genously constitutional excess body weight of varying degrees. Questionnaires assessed the presence of sleep disorders. The body mass index and waist circumference were determined. The method of bioimpedance analysis helped evaluate the composition of the body (fatty, relative fatty, lean, active body cell mass), enzyme-linked immunosorbent assay — the level of insulin- and leptinemia. Homeostasis model assessment was calculated. Melatonin secretion was evaluated by the urine content of its metabolite 6-sulfate-oxymelatonin (6-SOMT) according to the Druex method modified by V. Zubkov; serotonin — using fluorimetric method of V.I. Kulynskyi and L. Kostiukovska. Results. In young women — representatives of the Ukrainian population, the degree of adipose tissue accumulation in the body negatively correlates with the level of serotoninemia, night and average daily urine excretion of 6-SOMT; positively — with the level of the daily fraction of 6-SOMT urine excretion. A decrease in the average daily excretion of 6-SOMT and the serotonin content in the circulation are associated with an increase in the homeostasis model assessment and the level of leptinemia. The development of abdominal obesity in young women — representatives of the Ukrainian population is characterized by a decrease in serotonin level in the circulation, a reduction in the urine excretion of nighttime 6-SOMT fraction, while the daily increase is observed. With a subsequent increase in waist circumference, the above changes are exacerbated. Conclusions. Reduced serotonin levels in the circulation, decreased nocturnal melatonin excretion fraction with a simultaneous increase of a daytime one is a significant difference in obese patients compared to overweight women.
Keywords
ожиріння; надлишкова маса тіла; мелатонін; серотонін; лептин; інсулінорезистентність
ожирение; избыточная масса тела; мелатонин; серотонин; лептин; инсулинорезистентность
obesity; overweight; melatonin; serotonin; leptin; insulin resistance
For the full article you need to subscribe to the magazine.
Bibliography
Handbook of performance indicators of the endocrinological care of Ukraine for 2014. Endocrinology. 2015;20(Suppl 1):1-38. (in Ukrainian).
Misiura KV. Some aspects concerning abdominal obesity diagnosis in city population of Ukraine. Mìžnarodnij endokrinologìčnij žurnal. 2017;13(6). doi: 10.22141/2224-0721.13.6.2017.11288.
WHO. Obesity and overweight. 2016. Available from: https://www.who.int/news-room/fact-sheets/detail/obesity-and-overweight.
Hall KD. A review of the carbohydrate-insulin model of obesity. Eur J Clin Nutr. 2017 Mar;71(3):323-326. doi: 10.1038/ejcn.2016.260.
Brown A, Guess N, Dornhorst A, Taheri S, Frost G. Insulin-associated weight gain in obese type 2 diabetes mellitus patients: What can be done? Diabetes Obes Metab. 2017 Dec;19(12):1655-1668. doi: 10.1111/dom.13009.
Crujeiras AB, Carreira MC, Cabia B, Andrade S, Amil M, Casanueva FF. Leptin resistance in obesity: An epigenetic landscape. Life Sci. 2015 Nov 1;140:57-63. doi: 10.1016/j.lfs.2015.05.003.
Crane JD, Palanivel R, Mottillo EP, et al. Inhibiting peripheral serotonin synthesis reduces obesity and metabolic dysfunction by promoting brown adipose tissue thermogenesis. Nat Med. 2015 Feb;21(2):166-72. doi: 10.1038/nm.3766.
McCuen-Wurst C, Ruggieri M, Allison KC. Disordered eating and obesity: associations between binge-eating disorder, night-eating syndrome, and weight-related comorbidities. Ann N Y Acad Sci. 2018 Jan;1411(1):96-105. doi: 10.1111/nyas.13467.
World Health Organization. Obesity: preventing and managing the global epidemic Report of a WHO Consultation (WHO Technical Report Series 894). Geneva; 2000. 252 p.
World Medical Association Declaration of Helsinki. Ethical Principles for Medical Research Involving Human Subjects. WMA, 2004. 32 p.
International Diabetes Federation. The IDF consensus worldwide definition of the metabolic syndrome, 2005. Available from: https://www.idf.org/e-library/consensus-statements/60-idfconsensus-worldwide-definitionof-the-metabolic-syndrome.html.
De Lorenzo A, Andreoli A, Matthie J, Withers P. Predicting body cell mass with bioimpedance by using theoretical methods: a technological review. J Appl Physiol (1985). 1997 May;82(5):1542-58. doi: 10.1152/jappl.1997.82.5.1542.
Gudivaka R, Schoeller DA, Kushner RF, Bolt MJ. Single- and multifrequency models for bioelectrical impedance of body water compartments. J Appl Physiol (1985). 1999 Sep;87(3):1087-96. doi: 10.1152/jappl.1999.87.3.1087.
Taheri S, Lin L, Austin D, Young T, Mignot E. Short sleep duration is associated with reduced leptin, elevated ghrelin, and increased body mass index. PLoS Med. 2004 Dec;1(3):e62. doi: 10.1371/journal.pmed.0010062.
Malazonia A, Zerekidze T, Giorgadze E, Chkheidze N, Asatiani K. Melatonin Level Variations with Different Behavioural Risk Factors in Obese Female Patients. Open Access Maced J Med Sci. 2017 Aug 12;5(5):613-617. doi: 10.3889/oamjms.2017.063.
Similar articles


Authors: Місюра К.В.(1), Кравчун П.П.(2)
(1) — ДУ «Інститут проблем ендокринної патології ім. В.Я. Данилевського НАМН України», м. Харків, Україна
(2) — Харківський національний медичний університет, м. Харків, Україна
International journal of endocrinology Том 13, №3, 2017
Date: 2017.06.23
Categories: Endocrinology
Sections: Clinical researches


Authors: Місюра К.В.(1), Кравчун П.П.(2)
(1) — ДУ «Інститут проблем ендокринної патології ім. В.Я. Данилевського НАМН України», м. Харків, Україна
(2) — Харківський національний медичний університет, м. Харків, Україна
International journal of endocrinology Том 13, №4, 2017
Date: 2017.07.17
Categories: Endocrinology
Sections: Clinical researches