International journal of endocrinology Том 15, №6, 2019
Correction of endothelial dysfunction and impaired microcirculation in patients with critical ischemia of the lower extremities and a high risk of development of reperfusion-reoxygenation complications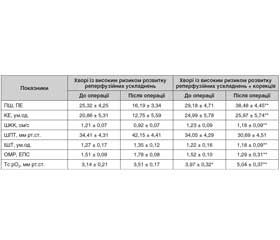 Authors:

Колотило О.Б.
Вищий державний навчальний заклад України «Буковинський державний медичний університет», м. Чернівці, Україна



Categories:

Endocrinology



Sections:

Clinical researches
Summary
Актуальність. Епідеміологічні дослідження свідчать, що критична ішемія нижніх кінцівок трапляється в 500–1000 пацієнтів на один мільйон населення на рік. В Україні щорічно проводиться близько 10 000 реконструктивних операцій із приводу оклюзійних уражень артерій нижніх кінцівок. Одночасно щорічно виконується близько 8–10 тис. ампутацій нижніх кінцівок на ґрунті атеросклерозу. Метою дослідження було вивчення можливості корекції ендотеліальної дисфункції та порушень мікроциркуляції в пацієнтів із хронічною критичною ішемією нижніх кінцівок та високим ризиком розвитку реперфузійно-реоксигенаційних ускладнень після реконструктивних операцій. Матеріали та методи. В основу роботи покладено аналіз комплексного обстеження та хірургічного лікування 220 хворих на облітеручий атеросклероз аорти та магістральних артерій нижніх кінцівок. Ендотеліальну дисфункцію оцінювали шляхом визначення рівня маркерів: Р-селектину, Е-селектину, тканинного активатора плазміногену, ендотеліну-1, молекули адгезії судинного ендотелію 1-го типу, циркулюючих ендотеліальних клітин. Результати. Порівнюючи рівень ендотеліальної дисфунції та стан мікроциркуляції в ранньому післяопераційному періоді в пацієнтів із спеціальною доопераційною підготовкою й без такої, можна говорити про потребу та ефективність перед­операційного застосування бета-блокатора небівололу, інгібітора АПФ периндоприлу аргініну та L-аргініну. Висновки. Застосування в передопераційному періоді бета-блокатора небівололу, інгібітора АПФ периндоприлу аргініну, L-аргініну та сольового гіперосмотичного гіпертонічного розчину декстрану в пацієнтів із високим ризиком реперфузійно-реоксигенаційних ускладнень дає можливість запобігти значним порушенням при розвитку ендотеліальної дисфункції та погіршенню функціонування мікроциркуляторного русла й забезпечити оксигенацію тканин на рівні 5,04 ± ,37 мм рт.ст. після реваскуляризації нижніх кінцівок.
Актуальность. Эпидемиологические исследования показывают, что критическая ишемия нижних конечностей встречается у 500–1000 пациентов на один миллион населения в год. В Украине ежегодно проводится около 10 000 реконструктивных операций по поводу окклюзионных поражений артерий нижних конечностей. Одновременно ежегодно выполняется около 8–10 тыс. aмпутаций нижних конечностей на почве атеросклероза. Целью исследования было изучение возможности коррекции эндотелиальной дисфункции и нарушений микроциркуляции у пациентов с хронической критической ишемией нижних конечностей и высоким риском развития реперфузионно-реоксигенационных осложнений после реконструктивных операций. Материалы и методы. В основу работы положен анализ комплексного обследования и хирургического лечения 220 больных облитерирующим атеросклерозом аорты и магистральных артерий нижних конечностей. Эндотелиальную дисфункцию оценивали путем определения уровня маркеров Р-селектина, Е-селектина, тканевого активатора плазминогена, эндотелина-1, молекулы адгезии сосудистого эндотелия 1-го типа, циркулирующих эндотелиальных клеток. Результаты. Сравнивая уровень эндотелиальной дисфунции и состояние микроциркуляции в раннем послеоперационном периоде у пациентов со специальной дооперационной подготовкой и без таковой, можно говорить о необходимости и эффективности предоперационного применения бета-адреноблокатора небиволола, ингибитора АПФ периндоприла аргинина и L-аргинина. Выводы. Применение в предоперационном периоде бета-блокатора небиволола, ингибитора АПФ периндоприла аргинина, L-аргинина и солевого гиперосмотического гипертонического раствора декстрана у пациентов с высоким риском реперфузионно-реоксигенационных осложнений позволяет предот­вратить значительные нарушения при развитии эндотелиальной дисфункции и ухудшение функционирования микроциркуляторного русла и обеспечить оксигенацию тканей на уровне 5,04 ± 0,37 мм рт.ст. после реваскуляризации нижних конечностей.
Background. Epidemiological studies show that critical ischemia of the lower extremities occurs in 500–1,000 patients per million population per year. About 10,000 reconstructive operations are performed annually in Ukraine for occlusive arterial lesions of the lower extremities. At the same time, about 8–10 thousand amputations of the lower extremities due to atherosclerosis are performed annually. The objective was to study the possibility of correcting endothelial dysfunction and microcirculation disorders in patients with chronic critical lower limb ischemia and a high risk of reperfusion-reoxygenation complications after reconstructive operations. Materials and methods. The work is based on an analysis of a comprehensive examination and surgical treatment of 220 patients with obliterated atherosclerosis of the aorta and main arteries of the lower extremities. Endothelial dysfunction was assessed by determining the level of the following markers: P-selectin, E-selectin, tissue plasminogen activator, endothelin-1, vascular cell adhesion molecule 1, circulating endothelial cells. Results. Comparing the severity of endothelial dysfunction and the state of microcirculation in the early postoperative period in patients with and without special preoperative preparation, it is possible to state the necessity and effectiveness of the preoperative use of nebivolol beta-blocker, angiotensin-converting enzyme inhibitor perindopril arginine and L-arginine. Conclusions. The use of beta-blocker nebivolol, angiotensin-converting enzyme inhibitor perindopril arginine, L-arginine and saline hyperosmotic hypertonic dextran solution in the preoperative period in patients at high risk of reperfusion-reoxygenation complications can prevent significant disturbances in the development of endothelial dysfunction and impaired microcirculation and provide tissue oxygenation at the level of 5.04 ± 0.37 mmHg after revascula­rization of the lower extremities.
Keywords
реперфузійно-реоксигенаційний синдром; ендотеліальна дисфункція; мікроциркуляторне русло; критична ішемія; реваскуляризація
реперфузионно-реоксигенационный синдром; эндотелиальная дисфункция; микроциркуляторное русло; критическая ишемия; реваскуляризация
reperfusion-reoxygenation syndrome; endothelial dysfunction; microvasculature; critical ischemia; revasculari­zation
For the full article you need to subscribe to the magazine.
Bibliography
Cherniak VA. Surgery of critical ischemia of the lower extremities. UMJ Heart and Vessels. 2013;(41):54-63. (in Ukrainian).
Hallett JV, Bower TC, Cherry KJ. Selection and preparation of high-risk patients for repair of abdominal aortic aneurysm. Mayo Clin Proc. 1994 Aug;69(8):763-768. doi: 10.1016/s0025-6196(12)61096-9.
Nikulnikov PI, Ratushnuk AV, Furkalo SN, Guch AA, Liskunov AV. Tactics of treatment of the multifocal atherosclerosis. Actual problems of modern medicine: Bulletin of Ukrainian Medical Stomatological Academy. 2009;9(1):318-321. (in Russian).
Kalmykov EL, Skrypnik DA, Vinogradov RA, Gaibov AD. 30th Annual Meeting of the European Society for Vascular Surgery (Copenhagen, Denmark, September 28-30, 2016). Angiology and vascular surgery. 2017;23(1):143-147. (in Russian).
Poluektov LV, Poluektov VL, Dudarev VE. The choice of reconstruction method for multiple occlusive lesions of the brachiocephalic arteries. Angiology and vascular surgery. 2000;6(3):131-135. (in Russian).
Honcharuk ND. By the method of determining the type of central hemodynamic. Naukovi praci. Tehnogenna bezpeka. 2009;226(238):40-44. (in Russian).
Horobets NM. New strategic approaches towards correction of endothelial dysfunction. Liky Ukrainy. 2015;(188):20-24. (in Ukrainian).
Genyk SM, Simchich AV. Reperfusion syndrome after revascularization of the ischemic lower limbs. UMJ Heart and Vessels. 2016;(3):104-108. (in Ukrainian).
Sabatine MS, Giugliano RP, Keech AC, et al. Evolocumab and clinical outcomes in patients with cardiovascular disease. N Engl J Med. 2017 May 4;376(18):1713-1722. doi: 10.1056/NEJMoa1615664.
Strobl FF, Brechtel K, Schmehl J, et al. Twelve-month results of a randomized trial comparing mono with dual antiplatelet therapy in endovascularly treated patients with peripheral artery disease. J Endovasc Ther. 2013 Oct;20(5):699-706. doi: 10.1583/13-4275MR.1.
Teraa M, Conte MS, Moll FL, Verhaar MC. Critical limb ischemia: current trends and future directions. J Am Heart Assoc. 2016 Feb 23;5(2). pii: e002938. doi: 10.1161/JAHA.115.002938.
Goshchyhsky VB, Pyatnychka OZ, Migenko BO. Place of the therapeutic neoangyogenesis in critical ischemia treatment of lower limbs. Art of medicine. 2018;(4):44-47. (in Ukrainian).
Kalinin RE, Pshennikov AS, Suchkov IA. Reperfusion injury of tissues in lower limb arterial reconstructive surgery. Novosti Khirurgii. 2015;23(3):348-352. (in Russian).
Antoniou GA, Fisher RK, Georgiadis GS, Antoniou SA, Torella F. Statin therapy in lower limb peripheral arterial disease: systematic review and meta-analysis. Vascul Pharmacol. 2014 Nov;63(2):79-87. doi: 10.1016/j.vph.2014.09.001.
Fakhry F, Spronk S, van der Laan L, et al. Endovascular revascularization and supervised exercise for peripheral artery disease and intermittent claudication: a randomized clinical trial. JAMA. 2015 Nov 10;314(18):1936-44. doi: 10.1001/jama.2015.14851.
Similar articles


Authors:
О.Л. Ковальчук, Т.В. Романюк, Д.Б. Фіра, В.В. Мельничук - Тернопільський державний медичний університет ім. І.Я. Горбачевського


Ukrainian journal of surgery 2 (11) 2011
Date: 2011.03.06
Categories: Surgery
Sections: Clinical researches


Authors: Зябліцев С.В.(1), Чернобривцев О.П.(1), Зябліцев Д.С.(2)
1 - Національний медичний університет імені О.О. Богомольця, м. Київ, Україна
2 - Київський медичний університет, м. Київ, Україна
International journal of endocrinology Том 14, №7, 2018
Date: 2018.12.27
Categories: Endocrinology
Sections: Clinical researches