International journal of endocrinology Том 15, №7, 2019
Transketolase activators as a novel therapy: their significance in the pathogenesis and treatment of diabetic microvascular complications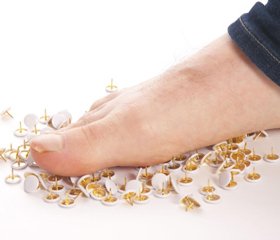 Authors:

Singh K., Yuzvenko T., Kogut D.
Ukrainian Research and Practical Centre for Endocrine Surgery, Transplantation of Endocrine Organs and Tissues of the Ministry of Health of Ukraine, Kyiv, Ukraine



Categories:

Endocrinology



Sections:

Specialist manual
Summary
В оглядовій статті наведено аналіз літературних даних про вплив тіаміну і його похідних на метаболізм у клітинах і його роль у патогенезі ускладнень цукрового діабету. Розглянуто особливості перетворення неактивної форми, яка потрапляє в організм людини з продуктами харчування та препаратами, в активну форму тіаміну. Також розглянуті особливості метаболічних шляхів тіаміну і його похідних. Описані особливості алітіаміну і прикладне значення його метаболізму в клітинах для лікування ускладнень цукрового діабету, зокрема діабетичної полінейропатії. Дані, наведені в цій статті, допоможуть клініцистам зрозуміти важливість та необхідність використання в своїй практиці препаратів, що містять тіамін.
В обзорной статье приведен анализ литературных данных о влиянии тиамина и его производных на метаболизм в клетках и его роли в патогенезе осложнений сахарного диабета. Рассмотрены особенности пре­образования неактивной формы, которая попадает в организм человека с продуктами питания и препаратами, в активную форму тиамина. Также рассмотрены особенности метаболических путей тиамина и его производных. Описаны особенности аллитиамина и прикладное значение его метаболизма в клетках для лечения осложнений сахарного диабета, в частности диабетической полинейропатии. Данные, приведенные в этой статье, помогут клиницистам понять значимость и необходимость использования в своей практике препаратов, содержащих тиамин.
The review article presents an analysis of the literature on the effect of thiamine and its derivatives on the metabolism in cells and its role in the pathogenesis of complications of diabetes mellitus. The features of the conversion of an inactive form that enters the human body with food and drugs into the active form of thiamine are considered. The metabolic pathways of thiamine and its derivatives are also clarified. The article describes the features of allithiamine and the practical importance of its metabolism in cells for the treatment of complications of diabetes mellitus, in particular, diabetic polyneuropathy. The data in this article will help clinicians understand the relevance and necessity of using drugs containing thiamine in their practice.
Keywords
цукровий діабет; мікросудинні ускладнення; транскетолаза; діабетична полінейропатія; тіамін; алітіамін; огляд
сахарный диабет; микрососудистые осложнения; транскетолаза; диабетическая полинейропатия; тиамин; аллитиамин; обзор
diabetes mellitus; microvascular complications; transketolase; diabetic polyneuropathy; thiamine; allithiamines; review
For the full article you need to subscribe to the magazine.
Bibliography
1. Sarwar N., Gao P., Seshasai S.R., Gobin R., Kaptoge S., Di Angelantonio et al. Diabetes mellitus, fasting blood glucose concentration, and risk of vascular disease: a collaborative meta-analysis of 102 prospective studies. Emerging Risk Factors Colla–boration. Lancet. 2010. 26. 375. 2215-2222. doi: 10.1016/S0140-6736(10)60484-9.
2. Kaiser N., Sasson S., Feener E.P., Boukobza-Vardi N., Higashi S., Moller D.E., Davidheiser S., Przybylski R.J., King G.L. Differential regulation of glucose transport and transporters by glucose in vascular endothelial and smooth muscle cells. Diabetes. 1993. 42. 80-89. doi: 10.2337/diab.42.1.80.
3. Heilig C.W., Concepcion L.A., Riser B.L., Freytag S.O., Zhu M., Cortes P. Overexpression of glucose transporters in rat mesangial cells cultured in a normal glucose milieu mimics the diabetic phenotype. J. Clin. Invest. 1995. 96. 1802-1814. doi: 10.1172/JCI118226.
4. Brownlee M. The pathobiology of diabetic complications, a unifying mechanism. Diabetes. 2005. 54(6). 1615-1625. doi: 10.2337/diabetes.54.6.1615.
5. Fowler M.J. Microvascular and Macrovascular Complications of Diabetes. Clinical Diabetes. 2008. 26(2). 77-82. doi: 10.2337/diaclin.26.2.77.
6. Du X.L., Edelstein D., Rossetti L., Fantus I.G., Goldberg H., Ziyadeh F., Wu J., Brownlee M. Hyperglycemia-induced mitochondrial superoxide overproduction activates the hexosa–mine pathway and induces plasminogen activator inhibitor-1 expression by increasing Sp1 glycosylation. Proc. Natl. Acad. Sci. U.S.A. 2000. 97. 12222-12226. doi: 10.1073/pnas.97.22.12222.
7. Dyck P.J., Kratz K.M., Karnes J.L., Litchy W.J., Klein R., Pach J.M. et al. The prevalence by staged severity of various types of diabetic neu-ropathy, retinopathy, and nephropathy in a population-based cohort: The Rochester Diabetic Neuropathy Study. Neurology. 1993. 43. 817-24. doi: 10.1212/wnl.43.4.817.
8. Tesfaye S., Boulton A.J., Dyck P.J., Freeman R., Horo–witz M., Kempler P. et al. Diabetic neuropathies: update on definitions, diagnostic criteria and estimation of severity (The Toronto Expert Group Meeting 2009). Diabetes Care. 2010. 33(10). 2285-93. doi: 10.2337/dc10-1303.
9. Vamos E.P., Bottle A., Edmonds M.E., Valabhji J., Majeed A., Millett C. Trends in lower extremity amputations in people with and without diabe-tes in England. 1996–2005. Diabetes Res. Clin. Pract. 2010. 87(2). 275-82. doi: 10.1016/j.diabres.2009.11.016.
10. Singh N., Armstrong D.G., Lipsky B.A. Preventing foot ulcers in patients with diabetes. JAMA. 2005. 293. 217-28. doi: 10.1001/jama.293.2.217.
11. Llewelyn J.G., Tomlinson D.R., Thomas P.K. Diabetic Neuropathies. In: Dyck P.J., Thomas P.K., editors. Peripheral Neuropathy. Fourth Edi-tion. Philadelphia: Elsevier, 2005. 1951-92.
12. Dyck P.J. Severity and staging of diabetic polyneuropathy. In: Gries F.A., Cameron N.E., Low P.A., Ziegler D., editors. Textbook of Diabetic Neuropathy. Stuttgart: Thieme, 2003. 170-5. doi: 1007/978-81-322-2635-2.
13. Dyck P.J., Overland C.J., Low P.A., Litchy W.J., Davies J.L., Dyck P.J. et al. Signs and symptoms versus nerve conduction studies to diagnose diabetic sensorimotor polyneuropathy. Muscle Nerve. 2011. 42. 157-64. doi: 10.1002/mus.21661.
14. Boulton A.J.M., Malik R.A., Arezzo J.C., Sosensko J.M. Diabetic Somatic neuropathies. Technical Review. Diabetes Care. 2004. 27(6). 1458-78. doi: 10.2337/diacare.27.6.1458.
15. Boulton A.J., Vinik A.I., Arezzo J.C., Bril V., Feldman E.L., Freeman R., Malik R.A., Maser R.E., Sosenko J.M., Ziegler D. Diabetic neuropa-thies: a statement by the American Diabetes Association. Diabetes Care. 2005. 28. 956-962.
16. Hammes H.P., Du X., Edelstein D., Taguchi T., Matsumura T., Ju Q. et al. Benfotiamine blocks three major pathways of hyperglycemic damage and prevents experimental diabetic retinopathy. Nat. Med. 2003. 9. 294-299. doi: 10.1038/nm834.
17. Rote Liste. Fachinfo-Service, Fach informations verzeichnis Deutschland (einschlie.lich EU-Zulassungen), Verlag Rote Liste Service GmbH, Frankfurt/Main, 2008.
18. Volvert M.L., Seyen S., Piette M., Evrard B., Gangolf M., Plumier J.P., Bettendorff L. Benfotiamine, a synthetic S-acyl thiamine derivative, has different mechanisms of action and a diffe–rent pharmacological profile than lipid-soluble thiamine disulfide derivatives. BMC Pharmacology. 2008. 12. 8-10.
19. Loew D. Pharmacokinetics of thiamine derivatives especially of benfotiamine. Int. J. Clin. Pharmacol. Ther. 1996. 34. 47-50. doi: 10.1186/1471-2210-8-10.
20. Hammes H.P., Du X., Edelstein D. et al. Benfothaimine blocks three major pathways of hyperglycemic damage and prevents experimental diabe-tes. Nat. Med. 2003. 9. 294-299. doi: 10.1038/nm834.
21. Beltramo E., Berrone E. Thiamine and benfotiamine prevent increased apoptosis in endothelial cells and pericytes cultured in high glucose. Dia-betes Metab. Res. Rev. 2004. 20. 330-363. doi: 10.1002/dmrr.470.
Similar articles

Authors: K. Singh(1), T. Yuzvenko(1), I. Pankiv(2), D. Kogut(1)
(1) — Ukrainian Research and Practical Centre of Endocrine Surgery, Transplantation of Endocrine Organs and Tissues of the Ministry of Health of Ukraine, Kyiv, Ukraine
(2) — State Higher Education Institution of Ukraine "Bukovinian State Medical University", Chernivtsi, Ukraine
International journal of endocrinology Том 14, №3, 2018
Date: 2018.07.17
Categories: Endocrinology
Sections: Specialist manual


Authors:
V.A. Serhiyenko(1), V.B. Segin(2), L.M. Serhiyenko(1), A.A. Serhiyenko(1) (1) — Danylo Halytsky Lviv National Medical University, Lviv, Ukraine (2) — Lviv Regional State Clinical Treatment and Diagnostic Endocrinology Center, Lviv, Ukraine


International journal of endocrinology Том 16, №3, 2020
Date: 2020.07.09
Categories: Endocrinology
Sections: Specialist manual

Authors:
K. Federlin, R.C. Bretzel, Медицинская клиника и поликлиника III, Университетская больница Гиссена и Марбурга, Гиссен; W. Gaus, Институт биометрии, Университет Ульма; H. Stracke, U. Achenbach, Верваг Фарма ГмбХ и Ко КГ, Беблинген, Германия


International journal of endocrinology 4(16) 2008
Date: 2009.02.06
Categories: Neurology, Endocrinology
Sections: Clinical researches